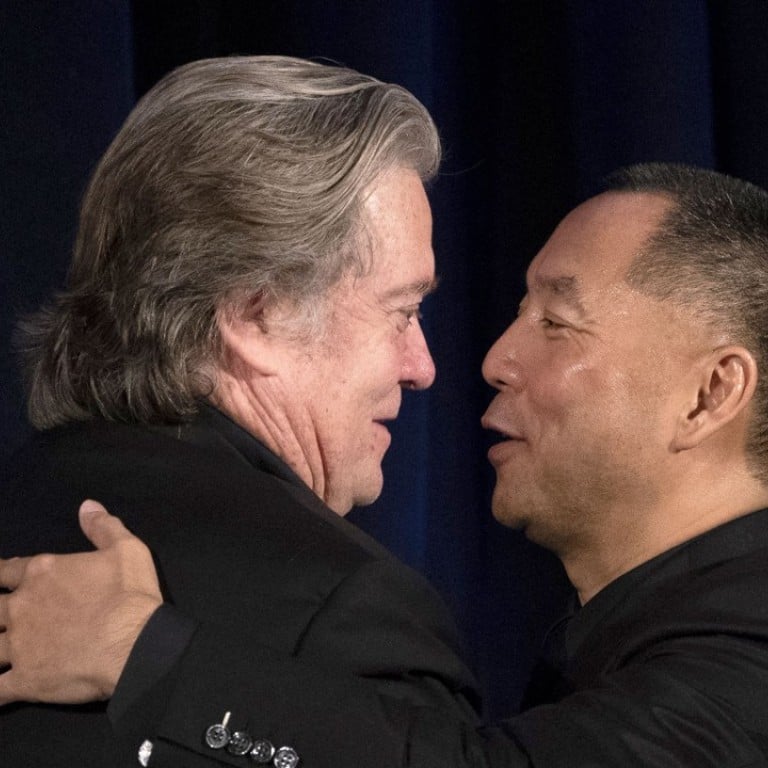 Guo Wengui and Steve Bannon join forces to imply Beijing involvement in Wang Jian's death
The ex-Trump adviser compared Wang's death to the killing of Saudi journalist Jamal Khashoggi and the poisoning of former Russian spy Sergei Skripal
Bannon said he partnered with Guo to draw attention to the disappearance of high-profile investors in China and the country's growing overseas investments

The much-discussed shock death earlier this year of Wang Jian, the former chairman of Chinese conglomerate HNA Group, was not an accident, according to a fugitive Chinese tycoon known for making allegations about corruption in China.
Self-made billionaire Guo Wengui, who fled to the United States in 2014, made the claim at a press conference on Tuesday in New York. He was joined at the event by Steve Bannon, US President Donald Trump's former chief strategist.
Wang, 57, died on July 3 during a trip to the village of Bonnieux in the Provence region of France. Law enforcement officials there concluded that he fell off a wall and have ruled out foul play.
Guo sought to support his allegation by presenting footage collected from surveillance cameras in the village, which he claimed contradicted the conclusions of the French investigation. However, the film appeared to show nothing out of the ordinary and included only footage of people moving around in and around the hotel in which Wang was staying. Guo offered no other evidence.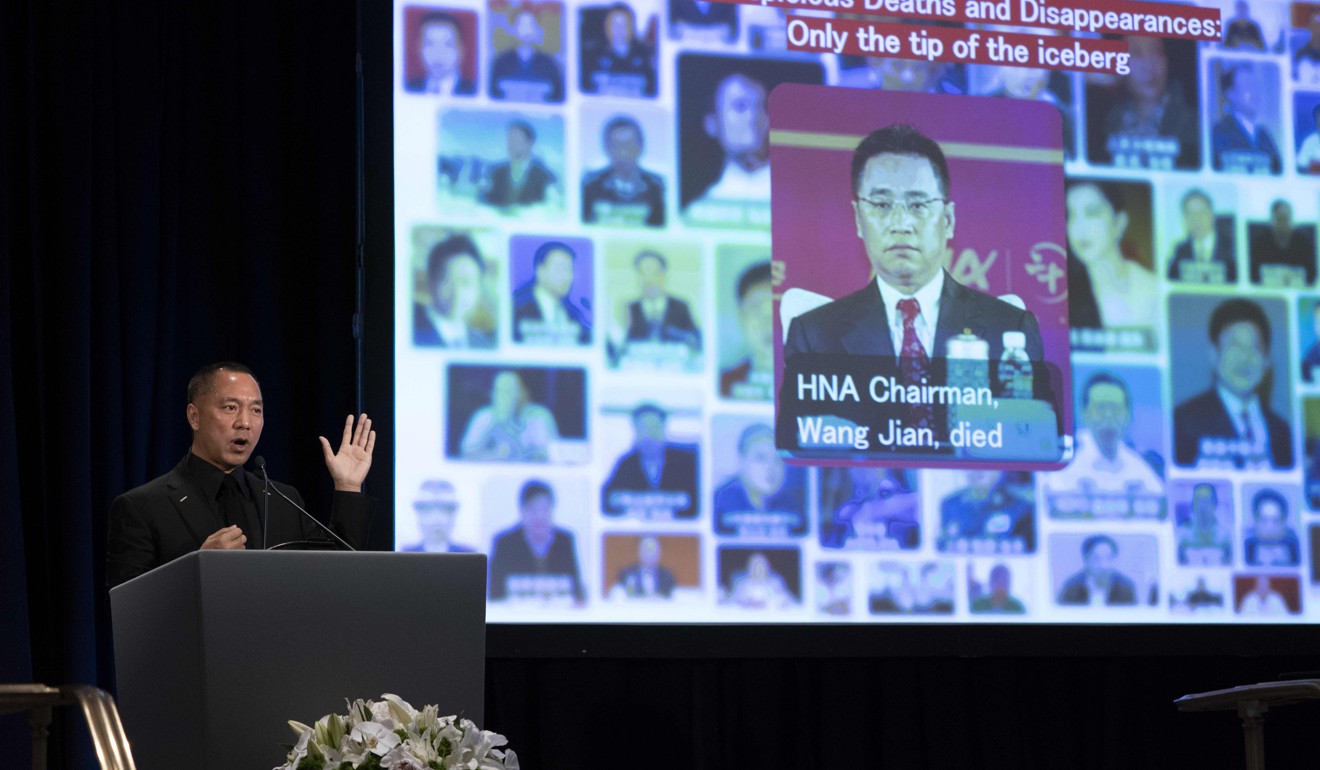 Wang's death attracted considerable attention as he was regarded by some as the mastermind behind HNA's ambitious global shopping spree. HNA had been on a leveraged buying binge until about a year ago, spending an estimated US$40 billion since 2015 on a 25 per cent stake in the Hilton hotel group, shares in Deutsche Bank, several golf courses and four pieces of land in Hong Kong that sold for record prices.
"Mr Wang Jian was executing all the financing activities for HNA Group and knew all the secrets and the persons and the related beneficial interests behind the scenes," Guo said.
Bannon said at the event that he got to know Guo when he was working at the White House, adding that he had joined forces with him to draw attention to the disappearance of high-profile investors in China as well as the country's growing overseas investments. HNA was one of China's largest global investors.
"It's the entire financial situation of China, I believe, along with other members of the hedge fund community, that the senior leaders of Chinese government have been reckless in the financial structure that they put together to finance the growth of China," Bannon said. The US "cannot look the other way" any longer, he said.
Guo's accusations come as the US government is growing increasingly wary of investments by Chinese companies, amid tension with Beijing on strategic and national security fronts.
During the press conference, Bannon compared Wang's death to the killing of Saudi journalist Jamal Khashoggi and the poisoning of former Russian spy Sergei Skripal in Britain.
"The situation with these what I would call the best and the brightest of China, they are either missing, suicide, dead, in prison or their assets stripped," Bannon said.
Guo and Bannon also announced the establishment of the Rule of Law Foundation, which, they said, would collect evidence in cases like Wang's and those of former Interpol chair Meng Hongwei and energy tycoon Ye Jianming, both of whom are under investigation in China.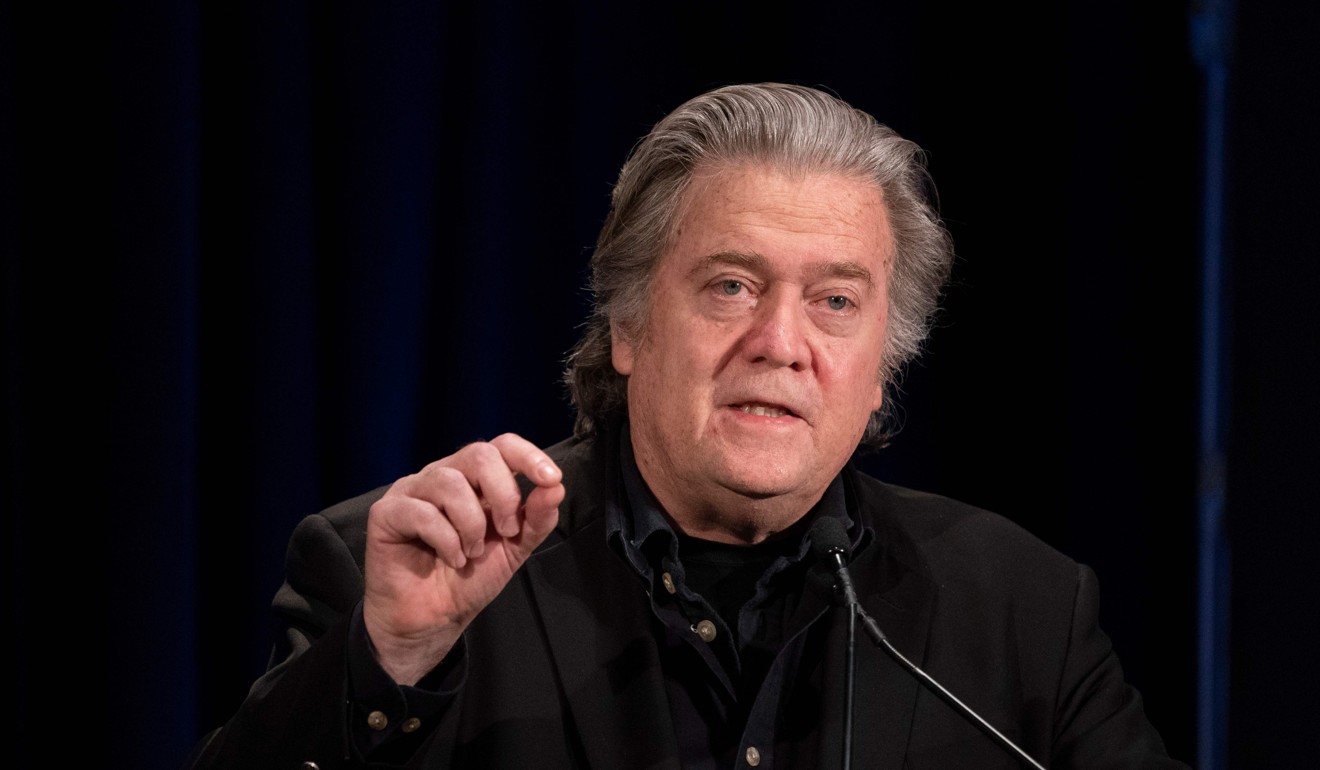 Last year, HNA filed a lawsuit with a New York court seeking US$300 million in damages from Guo, whom it accused of making defamatory statements that accused the company of engaging in corrupt activities and having secret ties to the family of a high-ranking Communist Party official.
Guo repeated the latter allegation on Tuesday, but did not provide any evidence to support it.
After initially keeping a low profile in the US, Guo stepped into the international spotlight by making a torrent of corruption allegations against senior Chinese Communist Party leaders – an embarrassment and headache for Beijing before the party's key National Congress last autumn.
Chinese authorities have accused Guo of a long list of misdoings, including paying bribes, economic crimes, rape and illegal donation to members of the US Congress and former officials, all of which he has denied.