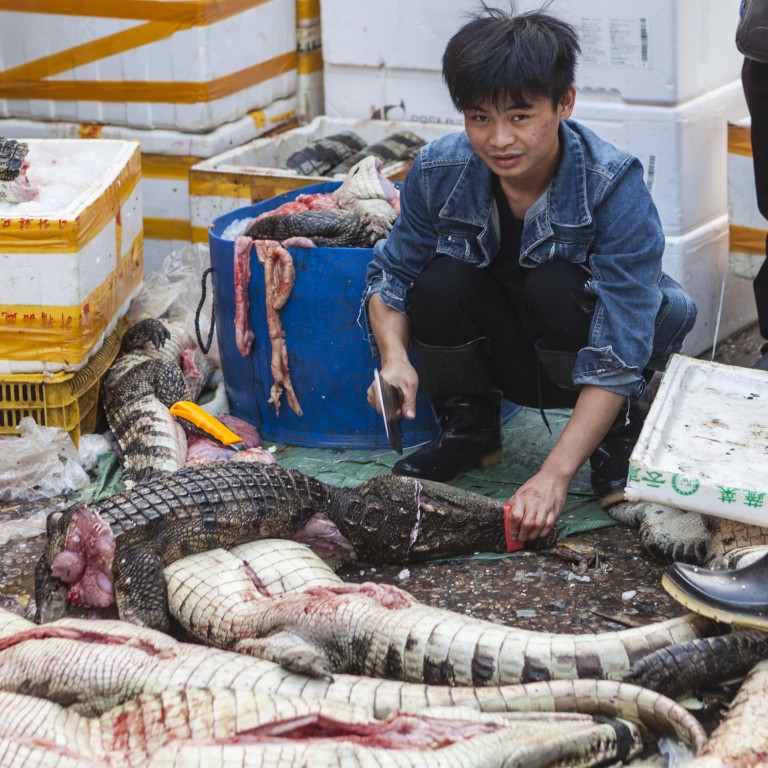 China bans trade, eating of wild animals in battle against coronavirus
Fast-tracked decision to prohibit consumption of wildlife comes into effect immediately
China's wildlife trade and consumption industry is valued at 520 billion yuan (US$74 billion), according to a government-sponsored report published in 2017
China said it will ban the trade and consumption of wild animals, a multibillion dollar industry that employs millions of people, as part of efforts to curb virus outbreaks.
"Since the Covid-19 outbreak, the eating of wild animals and the huge hidden threat to public health from the practice have attracted wide attention," the Standing Committee of the National People's Congress said, state broadcaster CCTV reported on Monday.
The fast-track decision
prohibited the consumption of wild animals and included a crackdown on the illegal wildlife trade to protect public health, the report said, adding that the ban took effect immediately.
Demand for such meat has created a breeding industry in China for animals such as civet cats. The epidemic 17 years ago of severe acute respiratory syndrome, or Sars, which killed more than 800 people worldwide, has been linked to consumption of civet cats in China by the World Health Organisation.
The WHO says 70 per cent of global disease-causing pathogens discovered in the past 50 years came from animals.
Environmentalists and wildlife conservationists welcomed the decision, though other commentators said the government would need to give financial aid to companies running breeding farms for such animals.
China's wildlife trade and consumption industry is valued at 520 billion yuan (US$74 billion) and employs more than 14 million people, according to a government-sponsored report published by the Chinese Academy of Engineering in 2017.
Yang Heqing, deputy director of the Office for Economic Law – part of the NPC Standing Committee's Legislative Affairs Commission – said the ban on consumption included wildlife protected by the law, other terrestrial animals, and terrestrial wild animals in breeding farms, according to People's Daily. The ban also prohibits hunting, trading and transport of terrestrial wild animals for eating.
Aquatic animals, livestock, poultry, and other animals that have a long been bred in the country were not included in the ban, Yang added. Use of wild animals for scientific and medical purposes will be allowed but management of such facilities will be strengthened, according to the report.
"Finally there is a complete ban on eating and the trade in wild animals," said Zhou Haixiang, a member of the Chinese National Committee for Man and Biosphere, an environmental protection group. "It's a big step in wildlife protection."
The decision by the NPC Standing Committee follows Chinese President Xi Jinping's call to crack down on illegal wildlife markets and trade.
China's existing wildlife protection law, which covers wildlife conservation, trade and utilisation, was enacted in 1989, but it was riddled with loopholes as consumption of wild animals and captive breeding was allowed for commercial purposes.
"The current law only protects limited species of wildlife, but the ban forbids eating in a general sense, not only animals living in the wild, but also the ones in the breeding industry," Zhou said.
Zhou Ke, a professor on environmental and resources law at Renmin University, said the wildlife-related business had become a huge industry in China and so was hard to regulate from the processing end of the industry chain.
"But if consumption is banned and the demand falls off, then no one will breed such animals," he said.
More than half of people in the industry – about 7.6 million – work in the fur and leather industry, which is worth about 390 billion yuan. About 6.2 million people work in breeding farms or processing animals for food.
In some of China's impoverished regions, such as Guizhou or Guangxi province, wildlife farming is an important source of income for people.
"The decision will mean economic losses for breeders, so relevant local governments should support them while they shift into other businesses and offer financial support," Yang said.
Wang Canfa, a professor in environmental law at China University of Political Science and Law in Beijing, said the Chinese government should offer help to transform the breeding industry, considering its large size.
"The policy will influence a large number of people in currently legal operations, so the government should supply schemes to help them adjust," he said.
Advisers to the NPC Standing Committee on revision to the laws included Zhou Ke and Wang as well as 12 other environmental law professionals. They discussed revisions to the wildlife protection law and submitted six suggestions to NPC members. They included finding alternatives to wild animals for use in Chinese medicine and setting a timetable for an overhaul of the breeding industry.
"The transformation of the breeding industry should be combined with China's poverty alleviation programmes that have budgets announced every year," Zhou Ke said.
Purchase the China AI Report 2020 brought to you by SCMP Research and enjoy a 20% discount (original price US$400). This 60-page all new intelligence report gives you first-hand insights and analysis into the latest industry developments and intelligence about China AI. Get exclusive access to our webinars for continuous learning, and interact with China AI executives in live Q&A. Offer valid until 31 March 2020.
This article appeared in the South China Morning Post print edition as: Beijing bans trade and consumption of wild animals