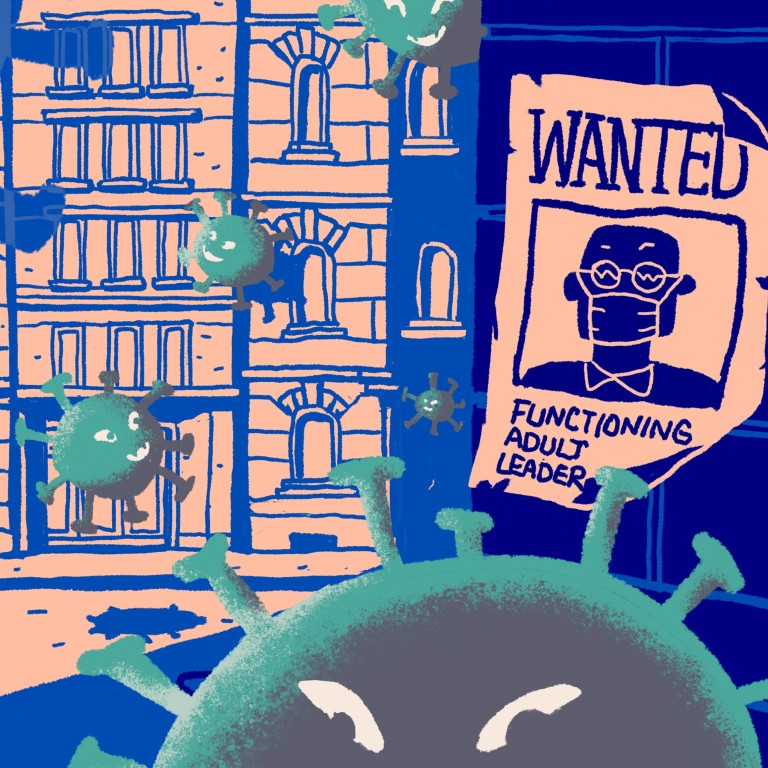 Wanted: world leaders to answer the coronavirus pandemic alarm
The outbreak is everybody's problem but so far countries are not working together to take on an ever more challenging crisis
The international community has sleepwalked into an emergency that it could have prepared for years ago, analysts say
Olga Jonas worked as an economic adviser at the World Bank when hundreds of staff focused on the global threats from climate change. During the same period, as few as two people were looking at risks from disease pandemics. Jonas was one of them.
She spent seven years at the bank coordinating the organisation's response to global avian and pandemic flu threats between 2006 and 2013, and it was an uphill fight to get attention, according to a report she wrote for the International Monetary Fund in 2014.
"Although a recent World Bank report identified pandemics as one of the three major global risks – together with climate change and financial crises – most official discussions, reports and communications take no notice of pandemic risk," she wrote at the time about global policymaking.
Not much had changed in the interim to prepare nations for a disease like Covid-19, now sweeping the planet, she said.
"Very little was done to help countries improve their preparedness, and that's absolutely necessary and was in every report after every pandemic, but nobody was accountable," said Jonas, who is now a senior fellow with the Harvard Global Public Health Institute in the United States after a 33-year career at the World Bank. "So costs are now so much higher than would have been necessary."
Jonas was not the only one raising the alarm about the threat from pandemics. The World Health Organisation and health bodies have pointed to the risk of encroachment on the habitats of wild animals, which host viruses that can jump to humans.
Another factor is the thousands of international airline routes criss-crossing the world, creating rapid transmission pathways for pathogens.
Poor preparation for this pandemic has been reflected in the shortage of supplies, equipment and treatment in most countries where Covid-19 has gained a foothold, leaving frontline medical staff vulnerable to infection. Warnings from the WHO for other countries to prepare for an epidemic were largely ignored as China took the initial brunt of the crisis.
Pandemics should bring countries together to collaborate and cooperate more, said Yanzhong Huang, a senior fellow for global health at the US-based Council on Foreign Relations think tank.
"But apparently it is not the case for the coronavirus outbreak," he said.
"Instead of working together and showing empathy and sympathy towards each other, all we have seen is finger pointing, a war of words, [the] expelling [of] reporters and the spread of conspiracy theories. I don't think it would help reinvigorate bilateral relations when a world in crisis looks to them for leadership."
'Pandemic era'
In a pre-Covid-19 political world characterised by populism, centralised authorities were seen as part of the problem. Post-Covid-19, governments and other groups now are wondering how to develop an international, unified response to what disease specialist Peter Daszak calls a pandemic era.
"Viruses don't make political distinctions, they just get out and invade us all, infect us all, they don't care which passport you've got, we're all at risk," said Daszak, a disease ecologist and president of the New York City-based non-profit EcoHealth Alliance. "And if we don't work together we're not going to be able to fight back."
Daszak, who has researched bat coronaviruses in China and Southeast Asia for 15 years and advised the WHO on emerging infectious diseases, said there were potentially hundreds of thousands of undiscovered viruses in animals that could cause disease in humans.
He said there had been "exponential growth in new viruses emerging" as disease, increasing the risk to humans – an assessment that others share.
"Coronaviruses clearly have the capacity to jump species boundaries and adapt to new hosts, making it straightforward to predict that more will emerge in the future," Zhang Yongzhen from the Shanghai Public Health Clinical Centre and School of Life Sciences at Fudan University and Edward Holmes from the University of Sydney wrote in a research paper published in the journal Cell on Thursday.
In the same vein, a body called the Global Preparedness Monitoring Board released its first report warning of rising pandemic risk just a few months before the Covid-19 outbreak in China at the end of 2019.
It was a call to arms against pandemic threats and addressed to G7, G20, G77 organisations, the United Nations, donors, multilateral institutions, development banks and all countries. The body, which is backed by the WHO and the World Bank, said it found a raft of deficiencies in national and international preparations for pandemics.
The report said the World Bank's pandemic emergency financing mechanism lacked essential flexibility, and a WHO emergency fund was still depleted from the last major Ebola outbreak that started in 2018.
The report also said that most nations had failed to comply with the WHO's International Health Regulations for protecting against disease outbreaks.
The regulations were toughened in 2005 after the outbreak of severe acute respiratory syndrome (Sars) led to countries being required to meet a minimum of surveillance, laboratory and public health response capacities for outbreaks.
The monitoring board report said that by 2018, only one-third of nations were compliant with the regulations. "Not only does this impact their own ability to respond to outbreaks, it puts the whole world at risk," the report said.
"Many of the recommendations [made after past epidemics] reviewed were poorly implemented, or not implemented at all, and serious gaps persist," wrote the board's co-chairs – former WHO director general Gro Harlem Brundtland and Elhadj As Sy, secretary general of the International Federation of Red Cross and Red Crescent Societies.
"For too long, we have allowed a cycle of panic and neglect when it comes to pandemics: we ramp up efforts when there is a serious threat, then quickly forget about them when the threat subsides. It is well past time to act."
The world was not prepared for the threat of a "rapidly moving, highly lethal pandemic of a respiratory pathogen" that could kill 50 to 80 million people and wipe 5 per cent off the global economy, the board's report said.
Meantime, the WHO had a budget for 2020-2021 of US$4.8 billion, with 80 per cent of that made up of voluntary funding and much of it tied to specific projects, the authors found. A project on pandemic influenza preparedness had only a US$39 million two-year budget, according to the WHO website.
"The WHO is well-imagined and probably well-funded enough to give guidance to countries on how to vaccinate, prioritise medicines, advise on training healthcare workers and so on," said Antoine Flahault, director of the Institute of Global Health at the University of Geneva.
"But if you expect them to go to the field for all these new outbreaks and emergencies and provide healthcare workers and ventilators, you need a much more funded agency, not an agency that receives the budget of a big university hospital in the Western world."
Time to step up
Jonas, the former World Bank economic adviser who specialises in healthcare finance, said tougher basic standards were needed to face the pandemic challenge and they could be tied to financial aid.
Banks could make it part of due diligence to check if countries had adequate systems in place to detect emerging diseases and intercept them before they went global. "It's perfectly doable," she said, but right now checking on preparedness was "nobody's job".
Infectious disease researcher Daszak said innovation was needed in every country to contain epidemics, because outbreaks were no longer slowed by distance.
"Diseases that never in our history have escaped to this level are suddenly escaping and becoming international events," he said. "We demand cheaper and cheaper air travel and we use it a lot, and no matter how remote, [a new viral infection] is always just a day away from New York, London, Moscow."
That requires every country to sign on to fight outbreaks, according to Swee Kheng Khor, a Malaysia-based doctor and global public health specialist.
"The individual capacity of each country will never be enough to fight species-level threats like outbreaks and climate change," Khor said.
"Global collaboration is necessary to fight these trends, and although there is a temptation to succumb to nationalism, countries must be prepared to give up appropriate amounts of their sovereignty in order to save themselves."
The urgency of the Covid-19 pandemic did compel leaders from the Group of 20 developed and emerging economies to hold a videoconference summit last week.
"[The disease] is the defining health crisis of our time," WHO director general Tedros Adhanom Ghebreyesus said on the call. "We are at war with a virus that threatens to tear us apart."
The number of infections had surpassed 790,000 as of Tuesday, killing nearly 39,000 people around the world, with the US overtaking China and Italy on the list of countries with the most confirmed cases.
Despite the lofty pledges, analysts said tackling the disease might largely depend on cooperation between the US and China – and so far there is little sign of that.
Trump infuriated Beijing by labelling the disease the "China virus", while China's foreign ministry spokesman insinuated that the US military could have brought the coronavirus to the central Chinese city of Wuhan where it was first detected in December. Trump stopped using the reference in the lead-up to the G20 meeting.
In his speech to the summit, Xi called on world leaders to support the WHO's role in the coronavirus fight. His remarks came hours after Trump criticised the WHO at a White House briefing for being what he called "biased toward China".
Zhu Feng, an international affairs expert at Nanjing University, said the world was looking increasingly leaderless and the major powers needed to find ways to de-escalate tensions, rebuild trust and work toward common solutions.
"Both sides have stepped up their rhetoric and politicised their responses to the coronavirus outbreak," he said.
Chen Xi, assistant professor at the Yale School of Public Health, said the coronavirus had been a stress test that had exposed flaws in all countries, including China and the US.
"The childish actions between China and the US are very unfortunate. I don't think any country could win this battle without joining hands," he said. "The most important lessons we may learn from this pandemic include substantially enhancing transparency and global coordination."
Beijing has argued that the coronavirus crisis has shown that international institutions and multilateralism are indispensable in a global emergency, but others are less certain of how the pandemic will strengthen any world order.
"The reality is there is no global governance, all our multilateral mechanisms are only as strong as the sum of what individual countries are willing to do," said Roland Rajah, director of the International Economy Programme at the Lowy Institute in Australia.
"These mechanisms exist, but the question is whether or not countries will use them as a vehicle for coordination, and we are not seeing that still, today."
International institutions have also emerged as battlegrounds for the US-China competition in recent years, with Washington and its allies expressing concerns over Beijing's growing sway over top multilateral organisations, such as the WHO, the World Bank and the United Nations.
Their intense bickering had fuelled distrust, eroded their credibility and made multilateral cooperation increasingly difficult, analysts said.
Rajah said the rise of populism, nationalism and protectionism had mixed with geopolitics between major powers to "create a dangerous cocktail", leaving a leadership vacuum on the world stage.
"The big risk from a lack of international coordination is to the emerging and developing world," he said. This throws the onus onto international financing organisations.
"If they are not able to step up when these countries actually need them, then there will be serious questions about their legitimacy."
This is one in a series of articles that examine the early lessons learned from the Covid-19 pandemic.
This article appeared in the South China Morning Post print edition as: A shortfall in leadership