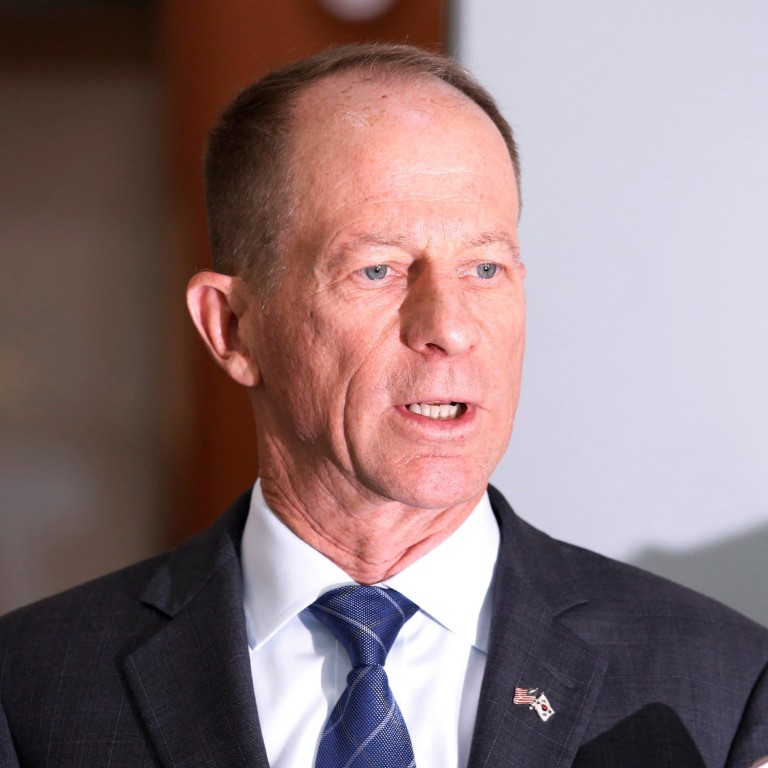 US could apply sanctions for 'illegal' South China Sea claims, senior diplomat says
'This is a language the Chinese understand – demonstrative and tangible action,' says senior diplomat
The comments follow an announcement Monday that the US will take a tougher line in the contested region
The United States could apply sanctions on Chinese officials and companies that pursue "illegal" claims in the South China Sea, the nation's senior East Asia diplomat said on Tuesday. This follows the announcements in recent weeks of sanctions against those involved in cracking down on
Hong Kong
and
Xinjiang
.
"Nothing is off the table," said David Stilwell, US assistant secretary of state for East Asia. "There is room for that. This is a language the Chinese understand – demonstrative and tangible action."
Stilwell's comments follow an announcement on Monday that the US will take a
tougher line
in the contested region, variously claimed by China, Vietnam, Malaysia, the Philippines, Brunei and Taiwan, in a bid to check China's expanding footprint. The maritime region is rich in mineral deposits, seafood, strategic sea lanes and untapped oil, estimated at 11 billion barrels.
Stilwell, speaking at a conference sponsored by the Centre for Strategic and International Studies, said Beijing's behaviour in the South China Sea – including strong-arm tactics against smaller nations and defiance of international treaties – has implications far beyond the region as China's influence expands globally.
"You could be a university student in Australia, a book publisher in Europe or the general manager of an NBA [National Basketball Association] franchise in Houston. You might work for an international hotel chain, a German car company, or a US airline," he said. "Wherever you are, Beijing increasingly wants to stake claims, coerce, and control.
"These are gangster tactics," he added.
On Tuesday, a bipartisan group of senior congressional representatives on the powerful Senate Foreign Relations and House Foreign Affairs committees voiced strong support for the US shift.
"The United States is committed to upholding international law; to flying, sailing, and operating where international law allows; and to supporting our regional partners and regional institutions who seek peaceful diplomatic resolution of disputes," they said in a statement.
This week's stiffening of US policy comes amid growing tension between the two superpowers, ranging from trade and Covid-19 to human rights, accused espionage and education.
On Wednesday, China's foreign ministry slammed the US policy shift, saying Beijing had no fear of US sanctions.
"It is pathetic that the US, as the world's most developed country, keeps threatening countries with sanctions," said ministry spokeswoman Hua Chunying.
"[We hope that] the US can reflect on itself – does it want to be remembered by people as a country of sanctions only?" she asked. "But if the US really does want to start a storm, then so be it and China is not afraid of sanctions."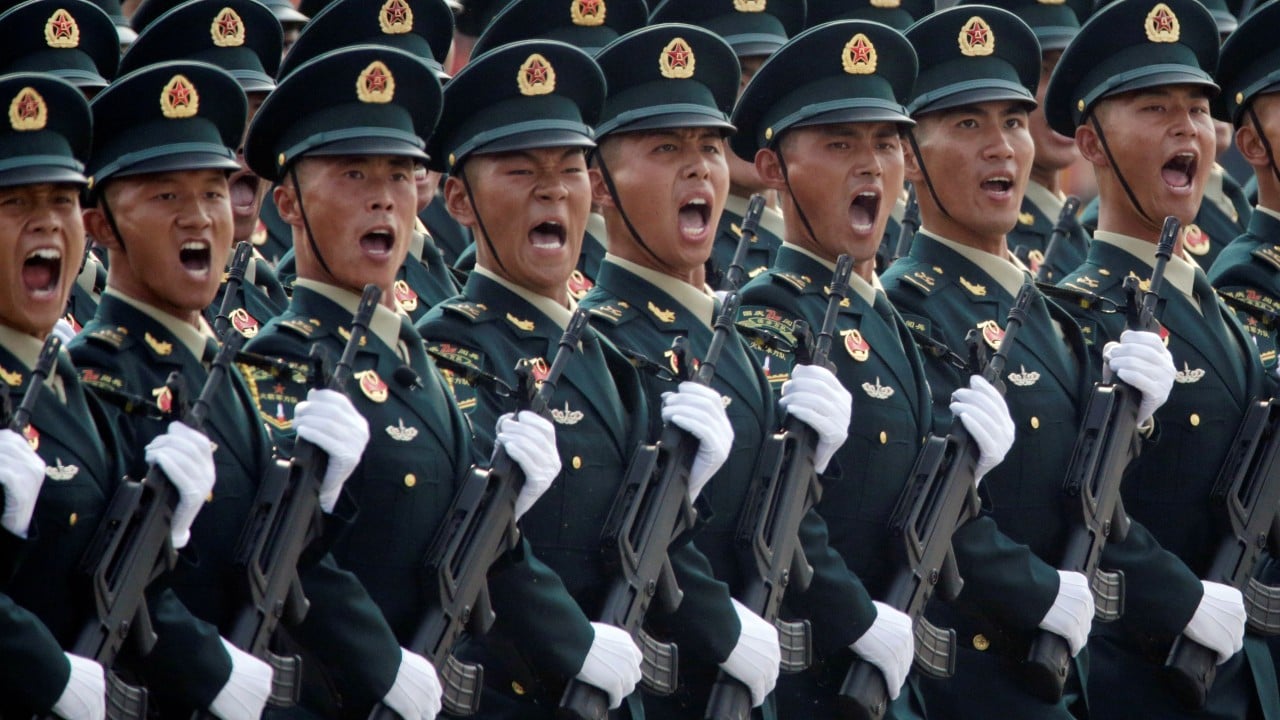 04:12
Are Xi Jinping's China and Donald Trump's US destined for armed conflict?
Are Xi Jinping's China and Donald Trump's US destined for armed conflict?
The tougher US line was announced around the fourth anniversary of a 2016 decision by a UN Law of the Sea tribunal that ruled against China's claims to up to 90 per cent of the disputed region. China has decried the decision as a "sham" and an intrusion into its internal affairs.
The US shift from relative neutrality to overt backing of the tribunal decision essentially lends support to the territorial claims of China's neighbours over Beijing. Earlier this month, the Pentagon sent
two aircraft carriers
into the area on "freedom of navigation" voyages to underscore its opposition to China's aggressive island-building and missile-deployment campaigns since President Xi Jinping took office.
Even as Stilwell held out the possibility of slapping unspecified sanctions on China, and the US willingness to challenge perceived Chinese provocation, he underscored the importance of diplomacy and a united Southeast Asian front to check China's might.
"When a drilling rig is planted in Malaysian waters or in Vanguard Bank in Vietnam waters or Philippine waters, we can actually then take a positive statement, and they're physical statements of support," he said. "But rhetorical support in gathering like-minded to stand up … has great power and great effect."
The senior diplomat, a former fighter pilot and US defence attaché in Beijing, highlighted what he saw as the broader implications of China's regional playbook.
Secretive negotiations with smaller nations and blunt use of state firms allow the People's Republic of China to coerce neighbours and grab oil and minerals on the cheap, Stilwell said, even as it lobbies to appoint its officials to UN maritime and other agencies, effectively subverting international law from within.
"Electing a PRC official is like hiring arsonists to head the fire department," he said.
Stilwell cited in particular state-owned China Communications Construction, which has built many of the islands, and the China National Offshore Oil Corporation, which has positioned massive drilling rigs in disputed waters backed by military vessels.
"State-owned enterprises have been used as battering rams," he said. "In all of our societies, citizens deserve to know the difference between commercial enterprises and instruments of state power."
Some Southeast Asia analysts suggested the US approach – and China's increasingly assertive chest thumping in Xinjiang, Tibet, Taiwan and on the Indian border – has helped Washington win points.
Richard Heydarian, a Manila-based academic and author, said the 10-nation Association of Southeast Asian Nations (Asean) seems increasingly united in siding with the UN tribunal against China.
And Philippine President Rodrigo Duterte, who tilted toward Beijing after his 2016 election, seems to be tilting back, he added, as promised Chinese infrastructure projects and territorial concessions have not materialised.
"We're seeing also the end of the potential honeymoon between the Philippines and Duterte and the PRC," Heydarian said.
Nguyen Hung Son, a director general with the Hanoi-based Diplomatic Academy of Vietnam, welcomed this week's US shift, adding that Southeast Asia remains concerned that China will take advantage of the Covid-19 crisis to expand its claims.
"China is not doing enough to dissipate fear about its increased assertiveness," he said.
But Nong Hong, executive director of the Institute for China-America Studies in Washington, countered that this week's unilateral US action is not helpful.
"Extra regional powers' increased engagement, or intervention, will influence the political environment in this region, which I think is not conducive for regional stability and cooperation," she said.
This article appeared in the South China Morning Post print edition as: US hints at sanctions over 'illegal' maritime claims