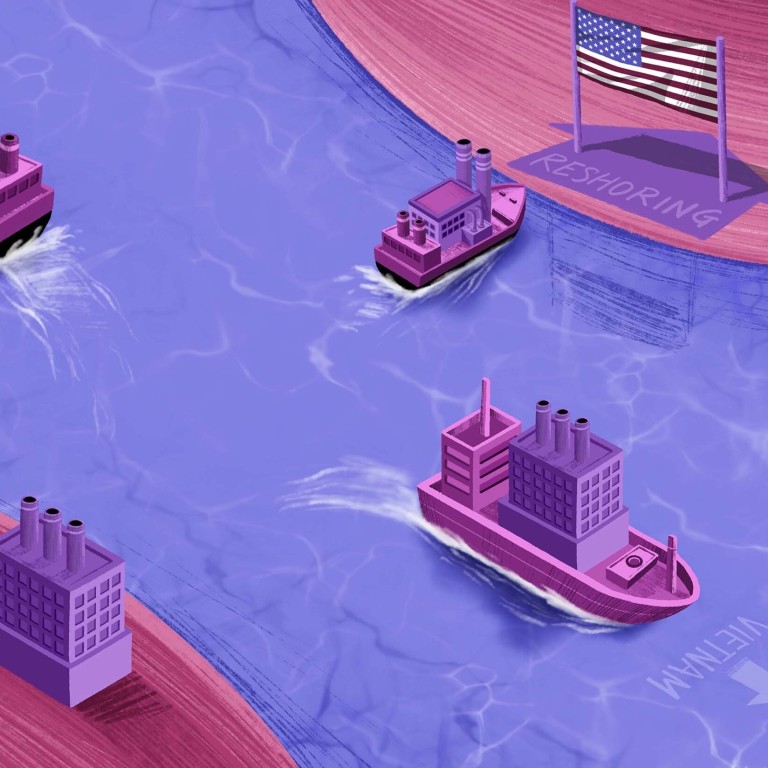 US companies looking to return home from China face significant problems
The Trump administration wants to reduce American dependence on overseas supply lines by encouraging 'reshoring'
But returning manufacturers often face old infrastructure, underdeveloped networks and poor labour pools
As the United States awakens to its supply-chain vulnerabilities amid heightened pressure on companies to "
reshore
" from China, it is grappling with an uncomfortable truth: most will not end up relocating to the US. And, business experts say, the relatively few that do probably should not have left in the first place.
"Reshoring was just something nice, a nice idea, mostly for companies that should never have outsourced to a country like China," said Renaud Anjoran, chief executive of Shenzhen-based Sofeast, which advises companies manufacturing in China and Vietnam. "Their total cost was not really that much lower, they didn't save that much, they were not that labour-intensive."
Accurate figures on reshoring are hard to come by. The Kearney Reshoring Index showed record shifts of US production from Asia in 2019, but this measures macroeconomic trends not individual jobs, companies or where they move to.
Another online "Reshoring Initiative", which claims that "around 900,000" jobs returned to the US between 2010 and late 2019, relies on Google searches and does not factor in how many jobs were lost.
Patrick Van den Bossche, a Kearney partner who pioneered the Reshoring Index, said that companies often announce production shifts to the US, attracting headlines and official praise, without following through.
"There are these bold statements about bringing everything back from China," said Van den Bossche. But all too often, 5,000 promised jobs are quietly scaled back to 500 even as deadlines stretch into years, he said. "Soup is never eaten as hot as it's cooked. There's a lot of blowhard stuff going on right now."
That has not stopped the calls from Washington to "reshore" and "decouple" the world's two largest economies, fuelled by
Covid-19
, the
trade war
and mounting
US-China tensions
.
The Defence and Commerce Departments are pressuring US companies to sharply reduce or end China sourcing and manufacturing; the State Department is working with Australia, India and Japan to reroute supply chains; and President Donald Trump signed an executive order in May directing the US International Development Finance Corporation – America's development bank for emerging markets – to bolster US manufacturers.
"My goal is to produce everything America needs for ourselves and then export to the world," Trump said on a recent visit to a Pennsylvania factory.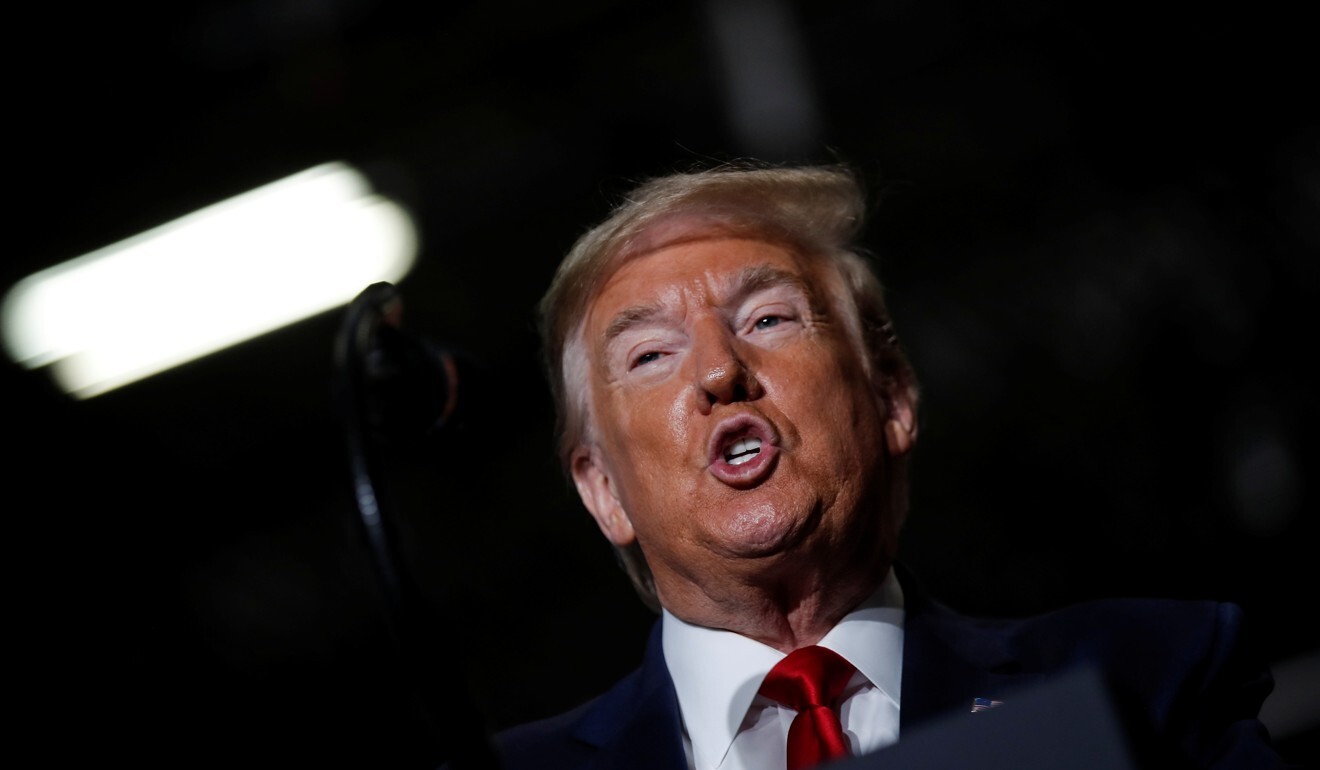 Congress, for its part, has introduced several bills recently aimed at reshoring manufacturing and revitalising US industries. Legislation – targeting industries from rare earths and medical products to drones, steel and semiconductors – calls for subsidies, tax breaks, national security safeguards and investment restrictions or bans on Chinese companies.
"Coronavirus has been a painful wake-up call that we are too reliant on nations like China," said US Senator Lindsey Graham, Republican of South Carolina.
Economic and political logic do not always correspond, however. Manufacturers relocating from Asia to the US are often confronted by creaky factories, outdated infrastructure, underdeveloped supplier networks and mismatched labour, analysts said.
"I don't believe that countries, any country around the world, can reskill people very quickly," said Rafael Salmi, president of Richardson RFPD, a technology engineering company based in Geneva, Illinois.
"You're going to have hundreds of thousands of Uber drivers or Instacard delivery people or hairdressers that lose their jobs. And it's like, wow, I'm going to create a hi-tech factory? The access to talent is still a big challenge."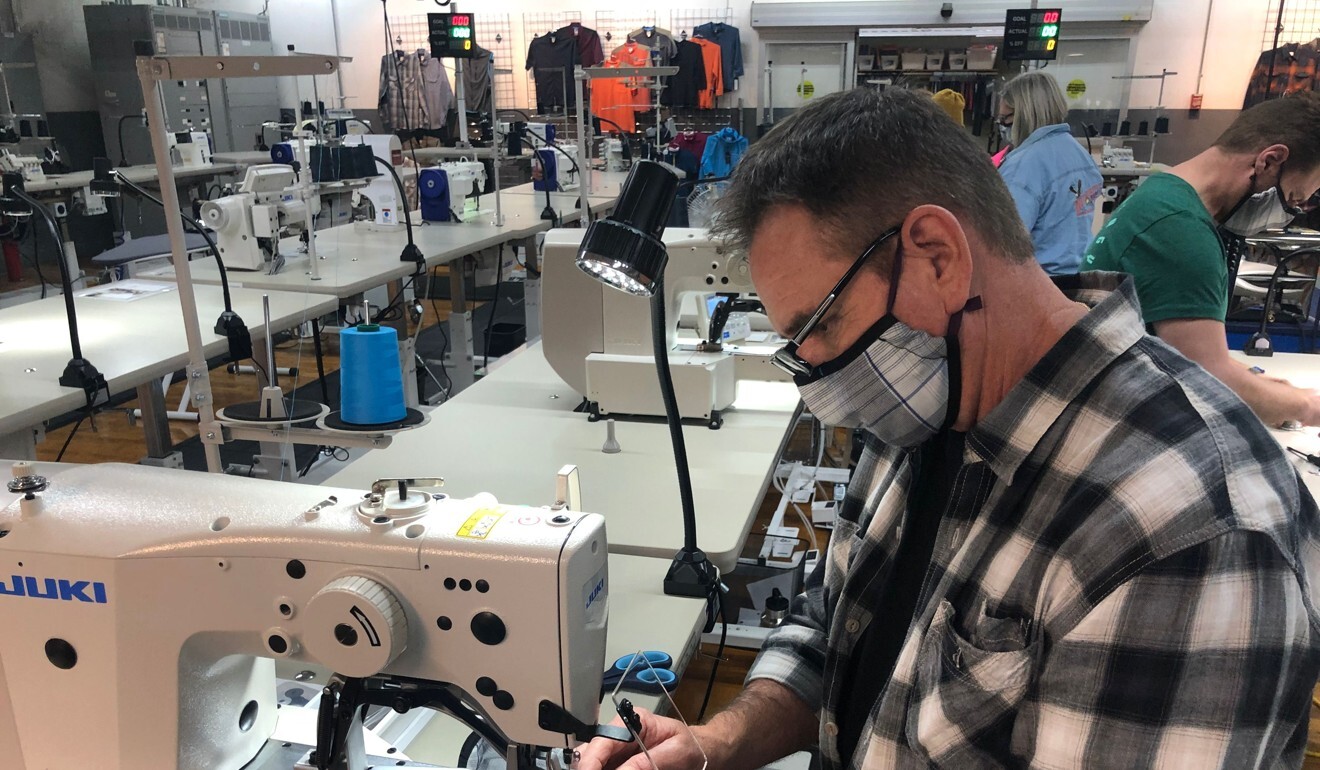 High-end sportswear maker Kitsbow decided last year that US production made sense given the long lead times, cash flow concerns and language gaps with its Chinese suppliers. But implementing a just-in-time inventory system – which is second nature in Asia – was challenging back in North Carolina.
"We knew we would have to train some of the sewers. We didn't realise we would have to train almost all of them," said Kitsbow chief executive David Billstrom. "But the good news is, the sewing machines are so much more automated now," he said, adding that the company had spent "a lot" of money on training.
The political points garnered by shifting production from Asia to the US is also not lost on foreign companies.
Foxconn
, the Taiwanese manufacturer that makes Apple products in China, announced plans shortly after Trump's election in 2016 for a US$10 billion flat-screen television factory in Wisconsin, a project Trump called the "eighth wonder of the world".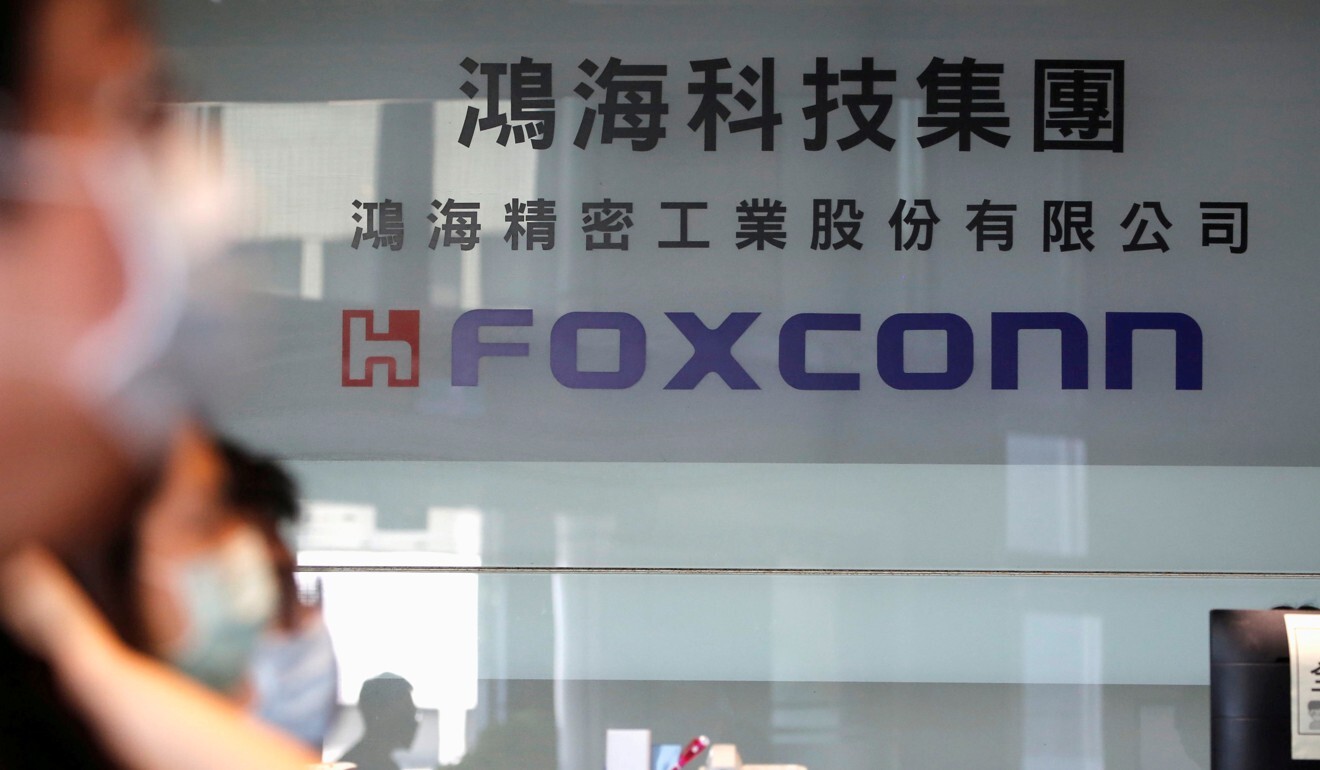 "Investing many, many billions of dollars, right here in America, creating thousands of jobs," Trump said at a July 2017 ceremony at the White House. "And I mean, American jobs, that's what we want."
Three years later, Foxconn's US "innovation centres" are largely inactive. The company has shifted its focus to mask production that employs hundreds, not thousands, and is in a spat with the state of Wisconsin over subsidies tied to promised jobs.
In May, the Taiwan Semiconductor Manufacturing Co announced a $12 billion green plant in Arizona. But chip experts question the economic logic – and massive subsidies – behind the venture.
"You can say I'm going to move production, I'm going to move supply chains tomorrow," said Salmi. "But then, when you look at it, it doesn't make sense."
Business experts said that, while most Western companies shifting production to China since 2001 had sound economic reasons, a modest percentage had not necessarily done the maths, driven more by "groupthink" than sound logic. These, they said, may be among the best "reshoring" candidates.
David Collins, chief executive of Shenzhen-based Manufacturing Transformation Group, which advises car, military and consumer product companies manufacturing in China, cited the vice-president of a furniture company several years ago who was hell-bent on shifting production to China.
Collins pointed out that moving to China would cost US$25 million, while automating and upgrading the US factory with the same results would cost US$10 million. "The guy looked at me and said 'we're going to China!'" Collins said. "There's a Wall Street herd mentality."
Logistics are highly complex and company-specific. But as firms reassess their supply chains, reshoring may make sense for those driven by cachet or national security concerns, experts said.
These include strategic industries like rare earth elements or drones supported by Pentagon subsidies; energy-intensive industries buoyed by low US fuel prices; high-margin products where "Made in America" carries weight; and pharmaceutical products and personal protective equipment like masks.
But the vast majority of companies looking to cut production in China – whether driven by politics, tariffs, rising costs, inordinate exposure or intellectual property theft – is likely to shift their sourcing of export products to Mexico, Taiwan, Vietnam or other non-US location, according to the experts.
But many will keep production in place to serve China's promising domestic market, they added. And either way, most changes will be gradual.
"It took two to three decades to build that capability," said Salmi. "It's going to take, post Covid-19, at least another 10 years to undo that and start building other hubs in Mexico, Costa Rica, Vietnam, Malaysia, et cetera."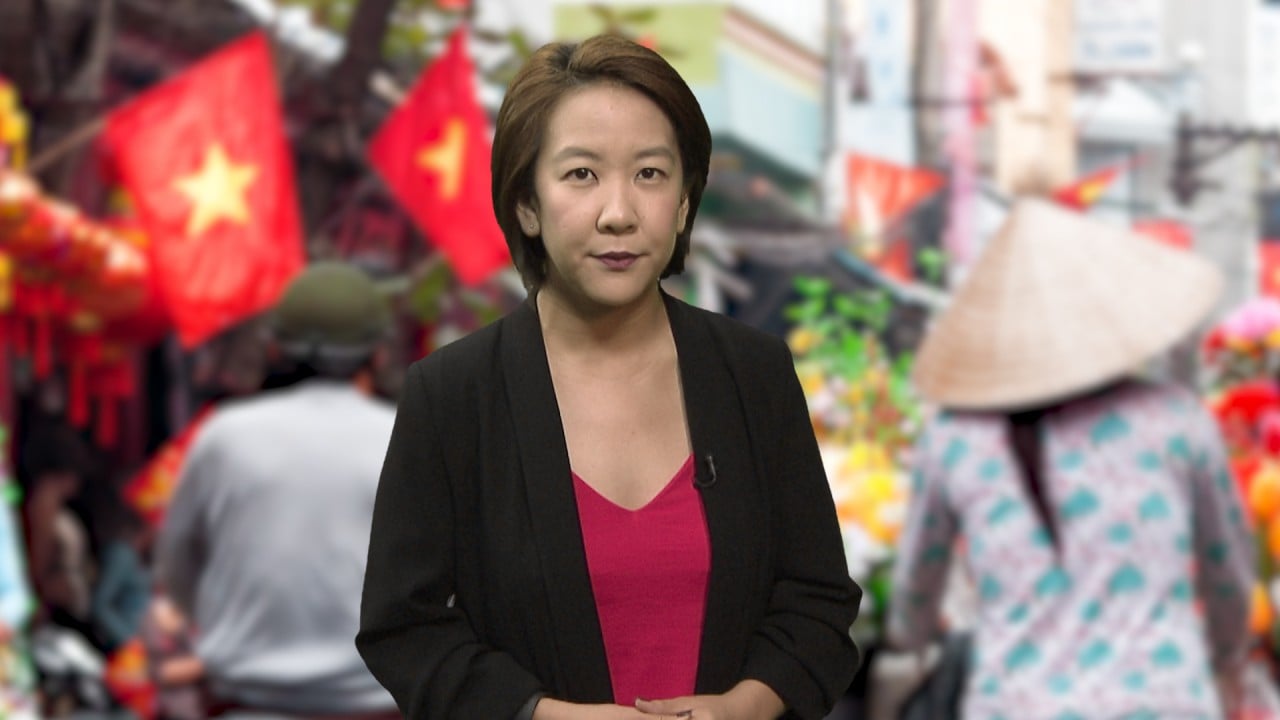 03:15
Why Vietnam is emerging as a 'winner' and possible new target of the US-China trade war
Why Vietnam is emerging as a 'winner' and possible new target of the US-China trade war
Clive Greenwood, a principal with Wilson, Weedman, Moscioni & Greenwood manufacturing consultants, expects 20 to 25 per cent of foreign companies to shift production from China within the next decade.
"Ones with national security directives will be quite fast," he said. "For others, it really depends [on] how much political pressure is placed on these companies."
Politicians seeking a rapid shift underestimate China's deep roots in global logistics and the vulnerabilities companies face in relocating – including to the current darling, Vietnam, experts said.
Chinese owners often have a stake in third-country factories, and those plants' dependence on even a few Chinese parts leaves them exposed. Additionally, alternative sites often grapple with overwhelmed infrastructure and regulatory systems.
"Vietnam isn't even as big as a province of China," Greenwood noted.
Even Taiwan – a well-developed tech hub with few infrastructure concerns – faces rising political risks, Salmi said, as nationalism drives Beijing to flex its muscles in Xinjiang, Hong Kong, the South China Sea and along the Indian border.
"Companies are still seeing a risk of concentrating the supply chain in one territory," he added. "An earthquake or war in Taiwan would shut down all of the semiconductor industry in the world overnight."
Experts point out that any revamped US manufacturing would not necessarily generate the huge numbers of jobs that politicians tout. Chris Rogers, a global supply chains expert with S&P Global Market Intelligence Panjiva, cited the case of Samsung washing machines manufactured in South Carolina. The US$380 million plant created a relatively modest 800 jobs.
"There are some good jobs, but there's a lot of automation there as well," he said. "It's not like when the factories left the US to go to Asia."
While recent global events have spotlighted sourcing vulnerabilities and fuelled dreams of an American manufacturing renaissance, experts said, supply chains face relentless cost pressures. These tend to dictate supply chain decisions over time – particularly if the immediate crisis dissipates and memories fade – given the high cost of redundancy, social distancing on factory lines and multiple production sites.
A recent survey by CivicScience Tariff Monitor found two-thirds of American respondents concerned about higher tariffs and more volatile trade policies, including 23 per cent who said they were cutting their spending as a result. These figures are likely to become more pronounced amid historic levels of US joblessness.
"The buying power of the collective population has gone down" as costs have risen, Van den Bossche said, prompting firms to move cautiously. "And most companies are desperate to sell to China. Pulling out and risking being cut out of one of the largest consumer markets in the world obviously is not a very smart choice."
In the early months of the pandemic, the lack of domestic production of masks and other personal protective equipment – and the undue dependence on foreign medical equipment suppliers – helped lift reshoring's political prominence. Yet even that production may drift back overseas eventually as safeguards are put in place and passions subside.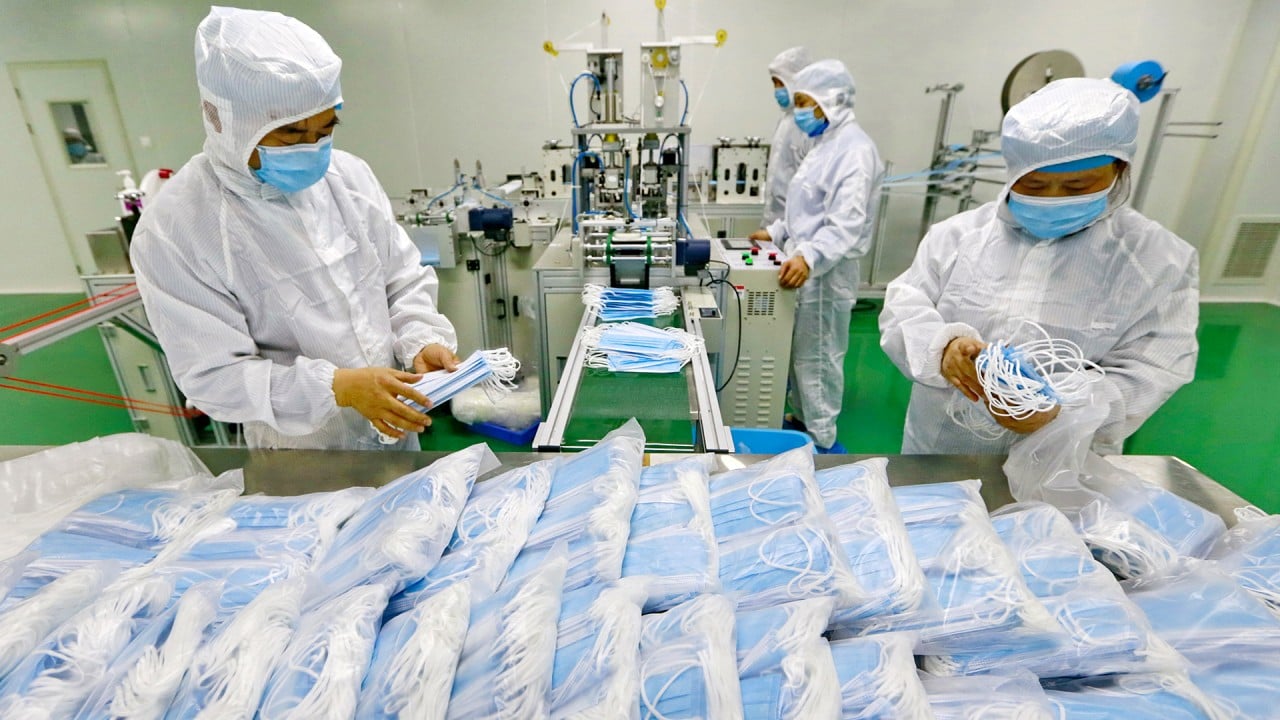 01:39
Face mask shortage amid coronavirus pandemic reminds world of China's manufacturing dominance
Face mask shortage amid coronavirus pandemic reminds world of China's manufacturing dominance
"That wasn't the problem," said Francisco Sanchez, chairman of CNS Global Advisors and a former senior Commerce Department official, speaking about supply chains at the Council on Foreign Relations. "We didn't stockpile enough."
Some also questioned the broader fallout from the headlong rush to disentangle deeply integrated global trading systems.
Decoupling, when you really break it down, what does that really mean – that you can go to war and break all the ties?" Anjoran asked.
"You have to be careful with this term. Do we really want economies to be decoupled? If they have a relationship, then you have a stake in each other."
This article appeared in the South China Morning Post print edition as: American firms to face difficult homecoming