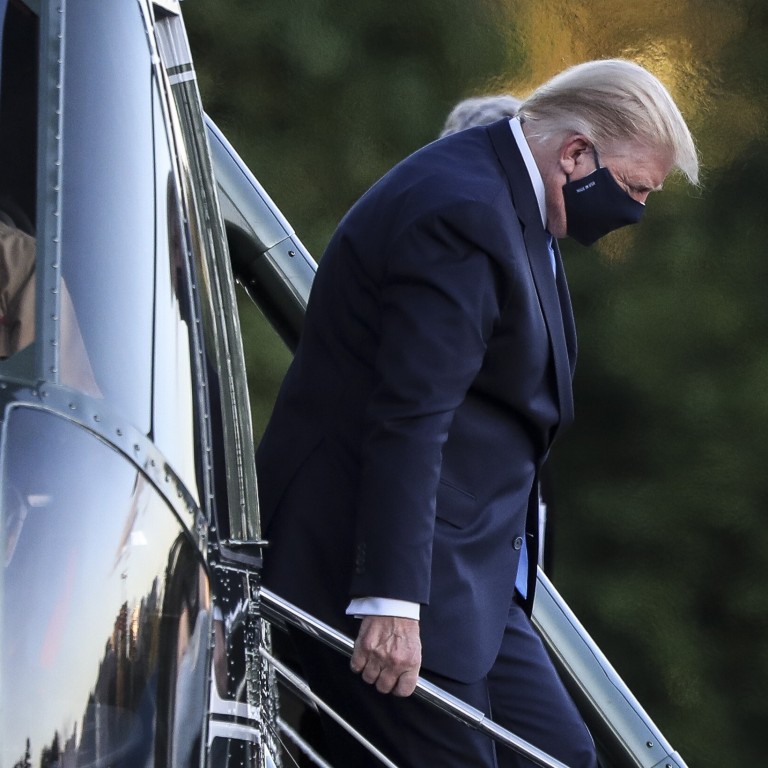 Donald Trump at military hospital as more allies test positive for Covid-19
President has been moved to Walter Reed National Military Medical Center 'out of an abundance of caution', White House says
Other members of Trump entourage, including former counsellor Kellyanne Conway and campaign manager Bill Stepien, have also tested positive
"Out of an abundance of caution, and at the recommendation of his physician, the president will be working from the presidential offices at Walter Reed for the next few days," press secretary Kayleigh McEnany said after earlier comments by Trump aides that he was expected to convalesce at the White House.
Trump walked on his own, wearing a dark suit with a blue tie, to the Marine One helicopter at about 6.20pm for his short flight to the medical facility.
In an 18-second video recorded inside the White House and released on Twitter, Trump broke his silence, saying he was being hospitalised but "I think I'm doing very well".
"We're going to make sure that things work out," he said, adding that the first lady was also "doing very well".
"All previously announced campaign events involving the president's participation are in the process of being moved to virtual events or are being temporarily postponed," Trump's campaign manager Bill Stepien announced on Friday. "All other campaign events will be considered on a case-by-case basis and we will make any relevant announcements in the days ahead."
Hours later, Stepien was among the members of Trump's inner circle to also test positive for coronavirus. Stepien, 42, was reported to be experiencing mild symptoms and was expected to continue managing the campaign from home.
Kellyanne Conway, a former counsellor to Trump, also confirmed she had tested positive.
"My symptoms are mild (light cough) and I'm feeling fine. I have begun a quarantine process in consultation with physicians," Conway tweeted.
Trump's wife, Melania, has also tested positive.

As of Friday morning, Trump was experiencing "mild" Covid-19 symptoms, according to the White House chief of staff Mark Meadows.
The president has had coldlike symptoms and "seemed lethargic" at a campaign fundraiser held on Thursday at his golf club at Bedminster, New Jersey, The New York Times reported, citing two people familiar with the situation.
Meanwhile, Chinese President Xi Jinping sent a message to Trump and his wife on Saturday, wishing them a speedy recovery, Chinese state television reported.
British Prime Minster Boris Johnson on Saturday said that he had no doubt that Trump would make a very strong recovery. "I've no doubt that he will, he'll make a very strong recovery," he told UK media.
"He's a naturally obviously very resilient character and I'm sure he'll come through it very well."
Biden announced on Friday that he and his wife, Jill, had tested negative for the coronavirus. The former vice-president had stood about 12 feet (3.66 metres) from Trump
during their debate on Tuesday
.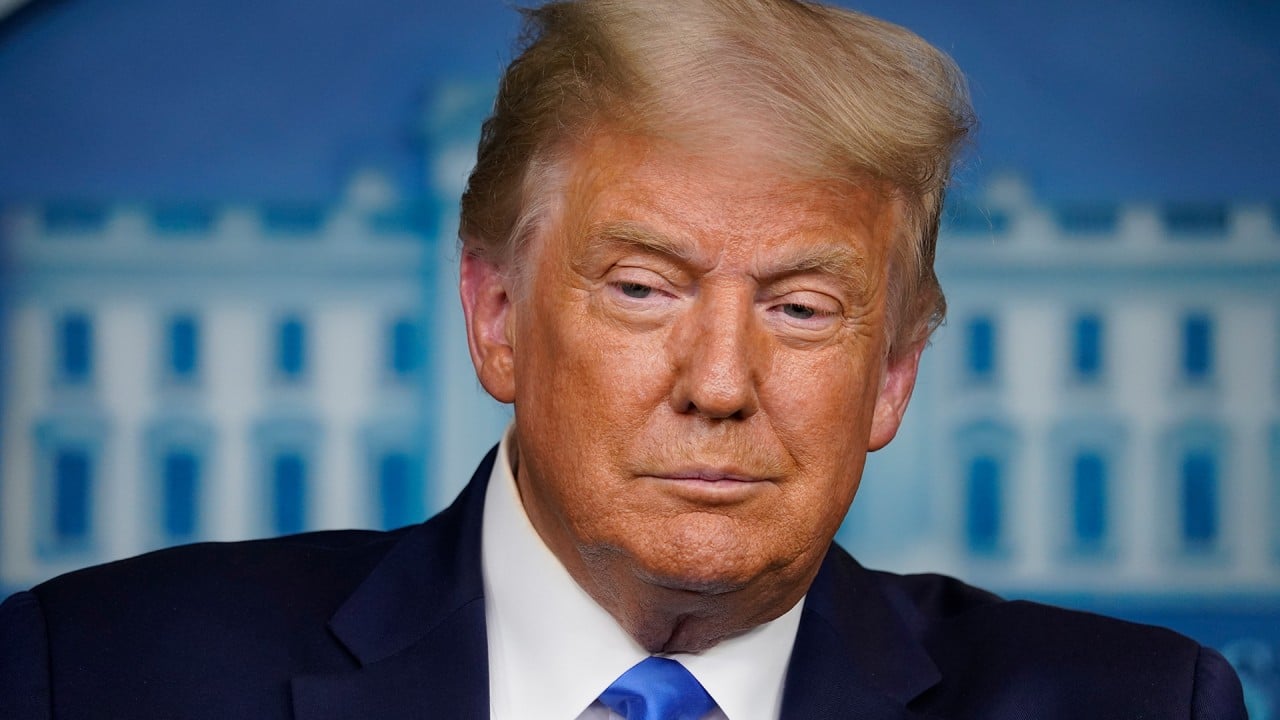 02:13
US President Donald Trump and first lady Melania Trump test positive for Covid-19
US President Donald Trump and first lady Melania Trump test positive for Covid-19
During that debate, the first of three scheduled before the election on November 3, Trump mocked Biden for wearing a face mask often throughout the pandemic.
"I don't wear face masks like him," Trump said. "Every time you see him he's got a mask. He could be speaking 200 feet away … and he shows up with the biggest mask I've ever seen."
Biden pulled ads attacking Trump off the air but otherwise continued his campaign, travelling to Michigan on Friday after testing negative for the virus. At a union hall in Grand Rapids, Biden said he was praying for his rival's recovery. However, he also implicitly criticised Trump.
"Be patriotic," Biden said. "It's not about being a tough guy. It's about doing your part."
In a Twitter post on Saturday, Biden urged Americans to don masks. "Don't just do it for yourself. Do it for the people you love."
Trump and the first lady were isolating at the White House, his physician Sean Conley announced, adding that he expected the president "to continue carrying out his duties without interruption while recovering".
Conley said later on Friday that Trump received a single dose of an experimental synthetic antibody treatment, and that the president was "fatigued but in good spirits".
The treatment, an antibody cocktail by Regeneron, entered phase three clinical trials in August to test whether its monoclonal antibodies can prevent Covid-19 infections, according to the National Institutes of Health. The treatment has not received regulatory approval, even for emergency use.
McEnany said Trump's move to Walter Reed came "at the recommendation of his physician".
Despite Conley's announcement, experts raised concerns about the 74-year-old Trump's health.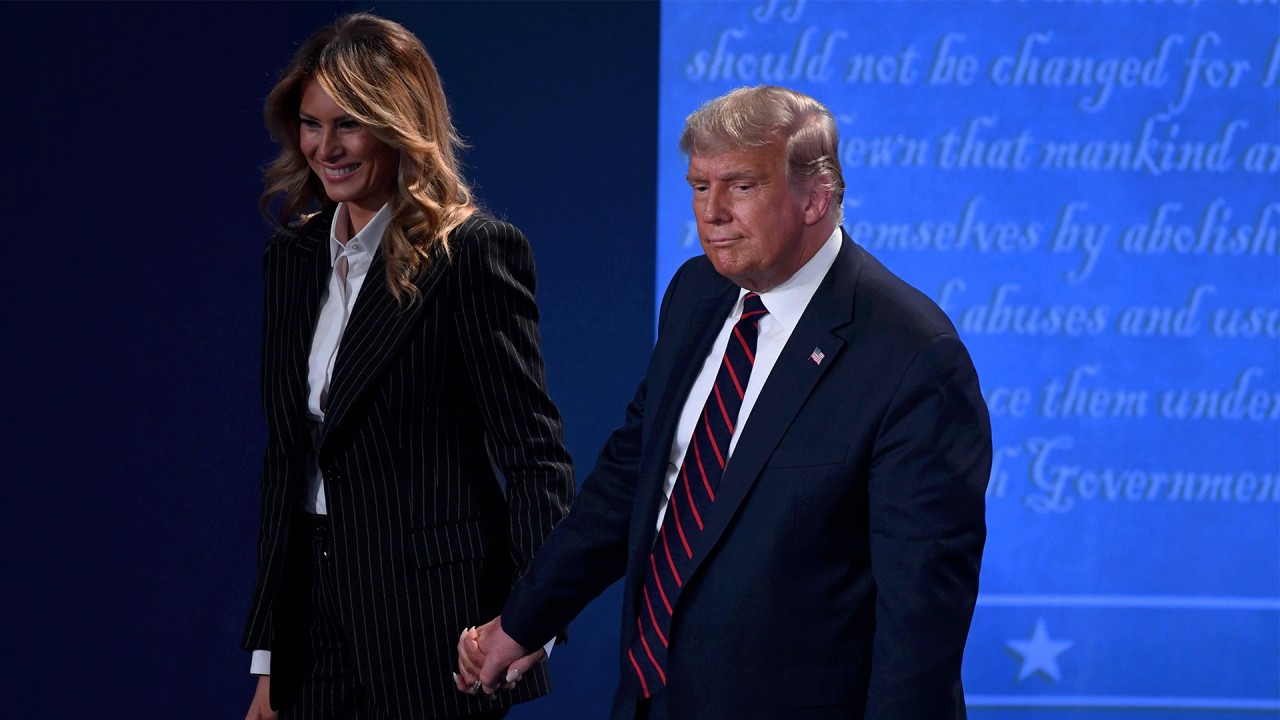 03:30
World leaders wish Trump and Melania speedy recovery from Covid-19
World leaders wish Trump and Melania speedy recovery from Covid-19
Benhur Lee, the Ward-Coleman chair in microbiology at the Icahn School of Medicine at Mount Sinai in New York, said that "while aggregate statistical data can't really apply to any single individual, on average, Trump has at least three risk factors we know about that altogether likely means that he is at least 10 to 12 times more likely to suffer severe Covid-19 disease/death than a 50 year-old non-obese female".
Those risk factors are gender, age, and weight. Lee based his comments about statistical outcomes on Covid-19 cases receiving standard care.
Trump's diagnosis also raised questions concerning his frequent public scepticism about the need for face coverings and his willingness to ignore the advice of public health officials by holding rallies and other events that flout social distancing guidelines.
Masks, along with social distancing, are the only way populations can effectively control the spread of Covid-19. While several vaccines are in the final testing stages, none have been distributed widely, and there are still no treatments effective enough to eradicate the illness.
Confirmation of Trump's diagnosis broke late on Thursday night shortly after the announcement that Hope Hicks, one of his senior advisers, had tested positive.
The timing of Hicks' diagnosis has come under scrutiny because she had travelled on Air Force One with Trump, campaign officials and members of the press on Wednesday evening. She reportedly tried to self-isolate on the plane after feeling ill.
"Not saying most likely – but if Trump got infected like Hope Hicks from a COMMON SOURCE – then both of them could have been infectious at the Tuesday night debate. And it's possible he could have tested negative Tuesday (which he said he did) but infectious," epidemiologist Eric Feigl-Ding, a senior fellow at the Washington-based Federation of American Scientists, wrote on Twitter.
Representative Jim Jordan, a Republican of Ohio who was on the same Air Force One flight, told Fox News that he was to be tested on Friday.
Other Republicans in Trump's orbit have tested positive.
Trump often hosts senators at the White House, and included many of them for the introduction of his Supreme Court nominee Amy Coney Barrett on September 26; few of those present wore masks. Senators were tested before the Barrett announcement, Politico reported, citing a person with knowledge of the event.
Senator Mike Lee, a Utah Republican on the Senate Judiciary Committee who met with Barrett on Tuesday, said on Friday that he had tested positive after seeking medical advice for "symptoms consistent with long-time allergies" he experienced a day earlier.
Republican Senator Thom Tillis, who sits on the Senate Judiciary Committee seeking to steer through Barrett's nomination, also confirmed on Friday he had tested positive.
Barrett reportedly spent time over the last day in close contact with Meadows, Trump's chief of staff. The Washington Post reported on Friday that the Supreme Court nominee was diagnosed with Covid-19 earlier this year, but had cleared the infection. White House spokesman Judd Deere said Barrett had tested negative at her nomination announcement.
On Saturday, Republican Senator Ron Johnson, chairman of the Senate Homeland Security Committee, and former New Jersey governor Chris Christie were diagnosed with Covid-19.
Ronna McDaniel, chairwoman of the Republican National Committee, also tested positive for the virus, The New York Times reported on Friday. She was reportedly diagnosed on Wednesday, but had not been with Trump since September 25.
Vice-President Mike Pence, who was scheduled to appear at a campaign rally in Michigan later on Friday, tested negative, his press secretary announced.
Trump's national security adviser, Robert O'Brien,
tested positive for the coronavirus in July
. In its announcement, the White House said O'Brien had "mild symptoms", was "working from a secure location off site" and that the work of the council was continuing uninterrupted.
US Secretary of State Mike Pompeo, who is scheduled to begin a tour of Asia on Sunday, told reporters that he tested negative as of early Friday morning.
Pompeo has been planning to depart Sunday for Tokyo
– where he will meet counterparts from Australia, India and Japan for security talks between the strategic Quad grouping, seen as a response to growing Chinese power – followed by Ulan Bator and Seoul on Wednesday and Thursday.
Assistant Secretary of State David Stilwell said in a briefing with reporters after Trump's announcement that Pompeo would go ahead as scheduled. The Quad meeting will be a good opportunity to discuss important issues affecting East Asia, likely to include China's activities in the South China Sea, Taiwan and North Korea, Stilwell added.
US Treasury Secretary Steven Mnuchin, who met this week with House Speaker Nancy Pelosi to negotiate a new coronavirus relief package, also said on Friday morning that he had tested negative for Covid-19.
Under the Presidential Succession Act, Pelosi would be third in line to serve as president if both Trump and Pence were unable to carry out the office's duties. Pelosi on Friday said she had been tested for the virus and by midday the result had come back negative.
"This is tragic. It's very sad," she said. "But it also is something that, again – going into crowds, unmasked and all the rest – was sort of a brazen invitation for something like this to happen."
CNN on Wednesday reported Trump's office had actively discouraged the wearing of face coverings since February, when the first coronavirus cases were identified in the US.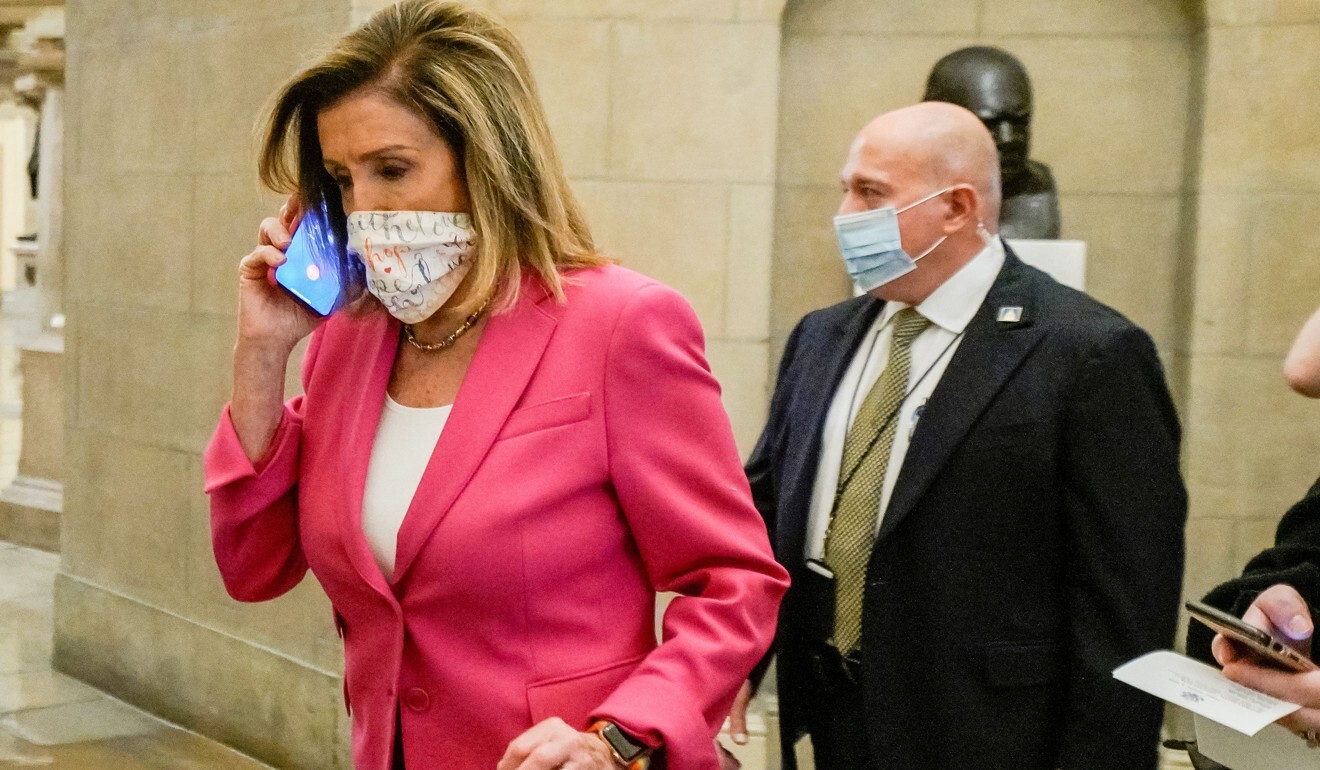 "If you have the whole West Wing running around wearing masks, it wasn't a good look," CNN cited one administration official recalling as the directive that came down from Trump's staff and lawyers.
Elliott Brennan, a research associate at the United States Studies Centre at the University of Sydney, said the diagnosis would have "enormous consequences" on Trump's re-election campaign, as the president had been holding large rallies.
"Immediately it seems that President Trump will be unable to hold his rallies for at least half of the remaining 30 days in the election," he said.
While the president draws energy from these events, the impact on the outcome of the election may be more limited, Brennan said; millions of people have already started voting in the US and there is "an almost historically low level of undecided voters".
Additional reporting by Simone McCarthy, Jodi Xu Klein, Mark Magnier and Jacob Fromer