Trump-Biden final debate: China 'will be forced to play by international rules'
US election contenders hold quieter, less chaotic discussion on foreign policy, Covid-19, race and climate change
Trump is said to have done little preparation for the debate other than a few informal sessions aboard Air Force One
Democratic White House contender Joe Biden pledged during the final US presidential debate on Thursday that, if elected, he would force China to "play by the international rules" when it came to trade, its treatment of foreign companies, and its actions in the
South China Sea
.
Seeking to distinguish himself from his onstage opponent, Biden said incumbent President
Donald Trump
"embraces guys like thugs like [Kim Jong-un] in North Korea and the Chinese president [Xi Jinping] and [Russia's Vladimir] Putin and others, and he pokes his finger in the eye of all of our friends, all of our allies".
"We need to be having the rest of our friends with us saying to China: these are the rules," Biden said of his plans to rally American allies to pressure Beijing. "You play by them or you're going to pay the price for not playing by them, economically."
Biden said an administration under his leadership would not tolerate intellectual property infringements of American companies operating in China – long an objective of the Trump administration – and vowed to "not pay attention" to any air defence identification zones set up by Beijing over the South China Sea.
The former vice-president's pledge followed questioning from the moderator about Biden and Trump's respective visions for US policy towards China and how they would hold the Chinese government accountable for the spread of the
coronavirus
.
When offered the chance to respond to Biden's plan, Trump – as he did numerous times throughout the evening – sought to pivot to unsubstantiated allegations about Biden's alleged involvement in his son's previous business ventures in China.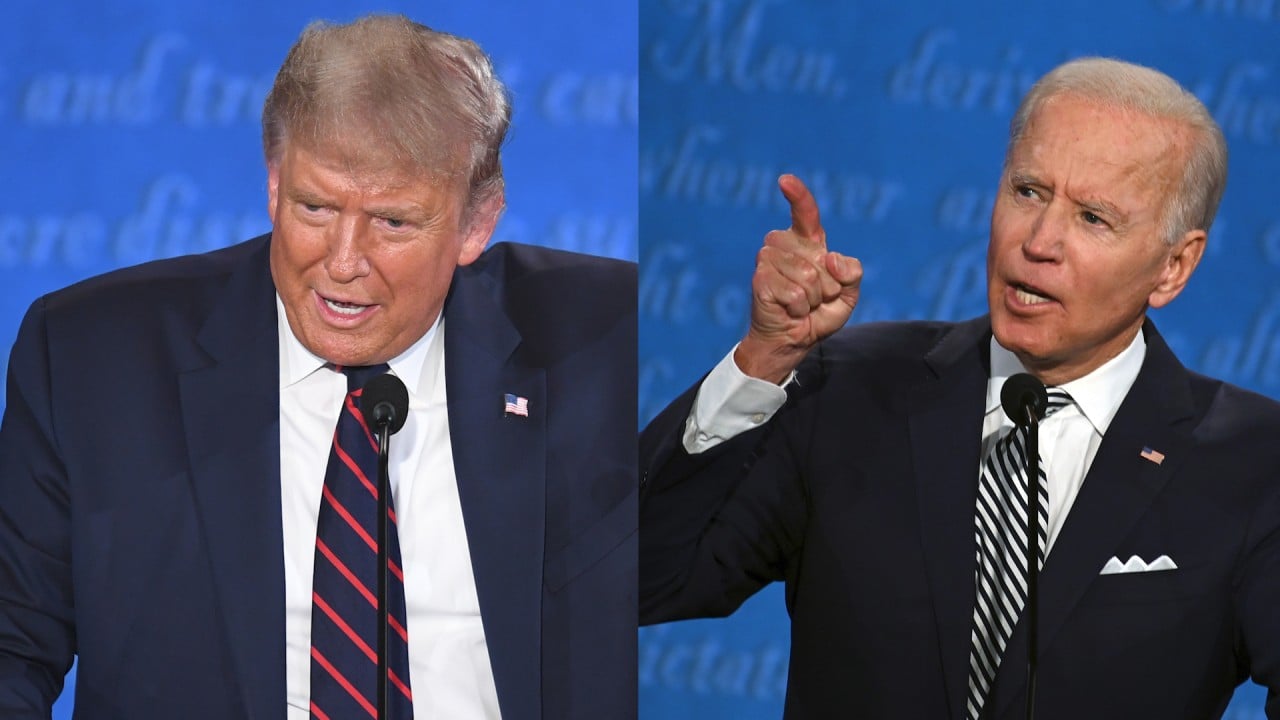 09:59
Interruptions and insults dominate first Trump-Biden US presidential debate
Interruptions and insults dominate first Trump-Biden US presidential debate
Subsequently pushed by the moderator, NBC's Kristen Welker, to elaborate on his previous pledge to "make China pay" for the spread of the coronavirus, Trump pivoted again to boast of the various tariffs his administration had placed on imports from China since 2018.
"I just gave US$28 billion to our farmers," Trump said, prompting Biden to point out that the tariffs – as numerous economic studies have indicated – have been largely paid for by US taxpayers.
"You know who the taxpayer is," Trump shot back. "It's called China."
Thursday evening's debate, held before a socially distanced audience in Nashville, Tennessee, was a crucial test for Trump, who is trailing Biden in polls as the nation continues to reel from a devastating pandemic his administration has failed to control.
Even as the US approaches a third peak in daily cases, Trump repeated his claim that the country was "rounding the turn" on the coronavirus, and used his own young son's swift recovery from the disease to argue that schools should be reopened.
At one point he claimed a vaccine was "ready", before backtracking to say that it was "not a guarantee" that a vaccine would be coming "within weeks".
As of Thursday, confirmed cases in the US stand at around 8.4 million. Some 224,000 people in the country have died as a result of the coronavirus. "Anyone who is responsible for that many deaths should not remain as president of the United States of America," Biden argued.
Alongside the pandemic, also on the agenda for the debate at Belmont University were race, climate change, national security, American families and leadership.
The debate was a considerably less chaotic affair than the first one in September, thanks in part to changes organisers made to the format that saw each speaker's microphone switched off while their opponent delivered an opening two-minute response to each question.
Similar to the first debate in September, Trump did little preparation ahead of Thursday's event, barring a few informal sessions aboard Air Force One, sources told NBC. As the president's near-daily campaign rallies have continued apace, a campaign spokesman told NBC: "The president prepares for debates by being president."
Biden, however, retreated from the trail in recent days, favouring intensive preparatory sessions at his Delaware home with aides role-playing as Trump. Of crucial concern for his supporters was how he would handle repeated interjections from Trump standing a few feet away, even if those interruptions were not heard by viewers at home.
After Trump's microphone was cut off at one point, campaign adviser Jason Miller tweeted: "These swamp monster losers are trying to tank [Trump] and everybody sees it."
Thursday's event capped off a tumultuous debate season that saw the second of three planned meetings cancelled after Trump boycotted the virtual event over concerns that he would be muted by moderators. The drama took another turn when the would-be moderator of that debate, C-Span's Steve Scully, was suspended by the network for lying that hackers were behind a tweet he sent regarding Trump's goading of him.
The Trump campaign renewed its attacks against debate organisers this week, protesting that foreign policy was not to be a dominant theme, and claiming that the Commission on Presidential Debates wanted to "insulate" Biden after an unsubstantiated report about his son's overseas business dealings.
During rallies since the publication of the unverified New York Post story, which alleged that Biden's son Hunter used his father's sway as vice-president in his business dealings in China and Ukraine, Trump has stepped up claims that his opponent would be beholden to foreign powers if elected.
Before the debate began, the Trump campaign organised a former associate of Hunter Biden, Tony Bobulinski, to speak before pooled reporters in Nashville and allege that Joe Biden had a financial stake in a business venture involving a Chinese state-owned enterprise – accusations the Biden campaign has denied.
Bobulinski, a guest at the debate on the invitation of the campaign, brought with him three mobile devices containing what he called "corroborating" evidence that he said he would turn in to the FBI.
His appearance on Thursday evening bore echoes of the 2016 presidential election, when Trump brought before the media three women who had accused former president Bill Clinton of sexual misconduct, hours before his second presidential debate with Hillary Clinton was to begin.
Thursday's debate came not only among double-digit leads for Biden in national polls, but also as roughly six out of 10 likely voters believe that the coronavirus is out of control in the United States, according to an October 22 poll by Quinnipiac University.
More than 47 million people have already voted ahead of election day on November 3, either by mail or through early in-person voting, more than 30 per cent of the total number of votes cast in the 2016 presidential election.
This article appeared in the South China Morning Post print edition as: Biden says China will be made to 'play by the rules'