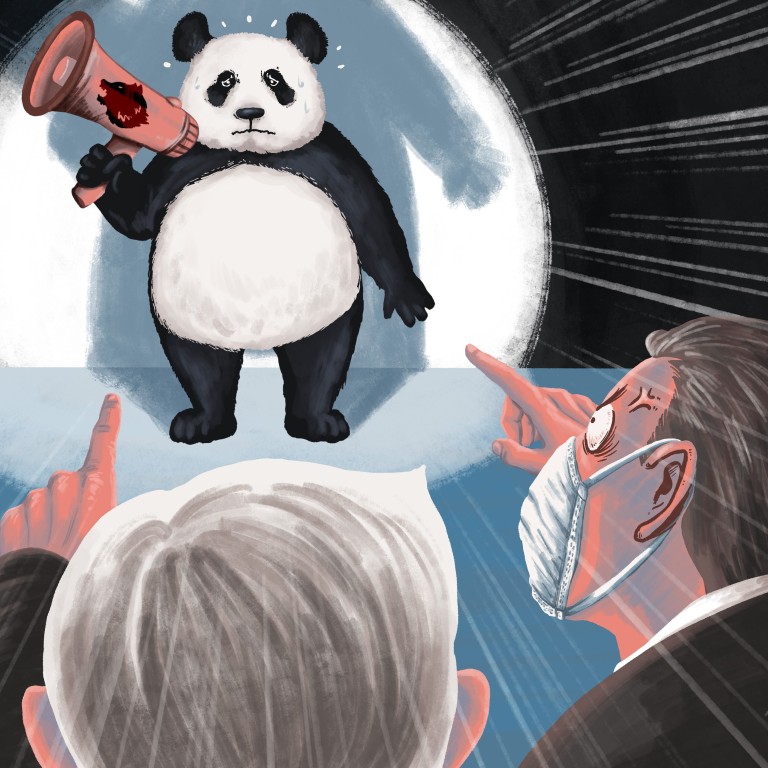 Coronavirus: can China recover from diplomacy missteps made during the pandemic?
The country handled coronavirus outbreaks within its borders decisively but unfavourable opinion from other countries still suffering has soared
Wolf Warrior diplomacy is Beijing's response to criticism from abroad and the need to protect its dignity, say officials
This is the fourth story in a 15-part series on the Covid-19 disease, one year after it first emerged in the Chinese city of Wuhan. It explores how China has fared on the world stage, first as the scene of the first outbreak and later as would-be saviour and sometime adversary against other countries battling their own coronavirus crises. Please support us on our mission to bring you quality journalism.
Politically, the Communist Party finished its fifth plenum at the end of October with President Xi Jinping hailed as the
"core navigator at the helm"
. In the end-of-plenum communique, the top leadership said China would "surely overcome all kinds of difficulties and hindrances on the road ahead".
While expressing confidence that the superiority of the socialist system had helped China contain the pandemic, the communique cautioned about the "increasingly complex" international environment.
Concerns on the international front could easily take hold. Over the past year, China has faced
significant tension with the United States
in several areas, from market access to intellectual property, security and human rights issues. But China's image has also deteriorated in the eyes of the general public in the broader developed world amid wide criticism over how Beijing handled the Covid-19 outbreak, according to a survey of 14,276 adults in 14 countries by the Pew Research Centre.
The survey was conducted from June to August and released in early October.
"Unfavourable opinion has soared over the past year," the centre said. "Today, a majority in each of the surveyed countries has an unfavourable opinion of China. And in Australia, the UK, Germany, the Netherlands, Sweden, the US, South Korea, Spain and Canada, negative views have reached their highest points since the centre began polling on this topic more than a decade ago."
Across the 14 nations surveyed, a median 61 per cent said China had done a bad job dealing with the outbreak. It is ranked only above the US, with a median 84 per cent saying the US handled the coronavirus outbreak poorly.
"China's international image steadily declined in the past few years, largely due to Beijing's high-handed approaches at home and abroad, and Western countries' unpreparedness to accept a powerful China that does not share their values," said Zhu Zhiqun, a professor of political science and international relations at Bucknell University in Pennsylvania.
"The outbreak of the Covid-19 pandemic exacerbated this trend."
China's early missteps, from information cover-up to the crude muzzling of whistle-blowers, contributed to the negative views. However, China's assertive approach in its subsequent rhetoric war with the administration of US President Donald Trump should bear the most blame, political and foreign relations analysts told the South China Morning Post.
The first onset of novel coronavirus symptoms were observed in Wuhan in early December last year. Although cases were multiplying, China did not confirm human-to-human transmission of the virus until January 20.
During that period, daily updates by local health authorities about a "viral pneumonia of unknown causes" were stopped for more than 10 days as Wuhan and Hubei province hosted annual political meetings.
Dr Li Wenliang
was reprimanded by local police for sharing information about the severity of the disease with his friends on the messaging app WeChat. Li, an ophthalmologist at Wuhan Central Hospital, died in February at the age of 34 after being infected with the coronavirus.
The treatment of Li by authorities and his death sparked widespread grief and anger.
Huang Yanzhong, a senior fellow for global health at the Council on Foreign Relations, a New York-based think tank, said: "The early response of the Chinese government, especially at local levels, is problematic. While missteps at the initial stage of an outbreak of an unknown disease may be hard to avoid, the tragedy also shed light on problems in China's political and bureaucratic system.
"The lack of transparency tarnished China's image," Huang said. "However, the whole world was generally sympathetic, or at least neutral, towards China. Most countries were willing to help China out, until conspiracy theories emerged after February and Beijing reacted vehemently to criticism from Washington which helped politicise the topic of coronavirus."
Without providing any evidence, Trump insisted that the coronavirus was leaked from the Wuhan Institute of Virology, a level-4 biosafety facility permitted to handle the world's deadliest viruses. Chinese state media accused Mike Pompeo, the US secretary of state who has publicly supported and pushed Trump's claims, of "spreading a political virus".
In return, Trump upped the ante by calling the coronavirus the "Chinese virus", ratcheting up tensions between the two countries and causing a wave of xenophobia in the US and elsewhere.
Since then, China has actively responded in the blame game, sung loudly about its economic achievements after the downturn and promoted an image of Chinese generosity globally while aiding countries with medical equipment.
Chen Daoyin, an independent political scientist and former professor at the Shanghai University of Political Science and Law, said: "It's not important whether the pathogen originated from China. No one will see a country where a new deadly virus originated as a bad one. It was the mentality behind the publicity stunts which incurred antagonism.
"The arrogance in playing up the role of saviour and the only major economy unscathed, and various tactics to pass the buck, are all adverse to the image of a responsible nation," Chen said.
China has sent teams of medical experts to 34 countries and medical supplies to 150 countries and nine international organisations, China's official data showed. It has also joined the
Covax Facility global effort
that pledges to distribute Covid-19 vaccines to poorer countries, while the US remains a holdout.
While medical supplies were urgently needed, donations and sales from China were not welcomed with open arms. Countries, including the US, Spain, Brazil and the Philippines, have complained about "substandard products" made in China. China replied by referring to different standards or improper use in some cases. Beijing's propaganda push was deemed by foreign media to be too frequent and too eager and it was accused of being driven by geopolitical purpose in its donations.
Trump's remarks wield some influence in shaping public opinion, especially among his followers. Even though he lost to president-elect Joe Biden, Trump received more than 74 million votes in the
US presidential election
and undoubtedly has supporters overseas.
However, his influence should not be overstated because the general public usually takes what Trump says "with a pinch of salt at the best of times", according to Steve Tsang, director of the SOAS China Institute in London.
And according to Sourabh Gupta, a senior fellow at the Institute for China-America Studies in Washington, it is the Western media, particularly Anglosphere media, that holds the immense ability to form opinions and shape powers globally, particularly on the English language-led internet.
China and the US have engaged in a media war. The sobriquet "Sick Man of Asia" was used in February in the headline of a
Wall Street Journal
opinion piece about the pandemic. It led Beijing to announce the
expulsion from China of three Wall Street Journal reporters.
The incident escalated into a diplomatic crisis, with the Chinese foreign ministry warning that the newspaper "must be held responsible for what it has said and done".
While China regarded its actions as defending its national dignity, Western countries took it as an infringement of freedom of speech.
"The US enjoys immense soft power and soft opinion-shaping powers," Gupta said.
"And while it was clear that the label 'China virus' was deliberately imbued with prejudice and therefore sat uncomfortably with many fair-minded people across countries and continents, the label 'Wolf Warrior diplomacy' succinctly captured a whole dimension of Chinese foreign ministry conduct in a relatively fair, neutral, and largely accurate way.
"As such, it stuck in people's minds and I think did shape people's views," he said.
Wolf Warrior diplomacy
describes an aggressive style of diplomacy purported to be adopted by Chinese diplomats under Xi's regime, in contrast to a previous mild style emphasising the avoidance of controversy. The term was coined from the Rambo-style Chinese action film,
Wolf Warrior 2
, which was released in 2017.
"Someone interferes with our affairs, keeps abusing and discrediting our country. We are left with nowhere to go. We have to defend ourselves for the sake of the interests and dignity of our nation."
Labelling "Wolf Warrior diplomacy" created a "trap of discourse", Le said, "The purpose is to make us give up resisting. It is impossible for us to do that."
Lu Shaye, China's ambassador in France, said in April that Chinese diplomats worked actively, not aggressively or assertively, in response to groundless accusations and attacks by foreign media. Diplomats were vocal because China's media did not shape opinions internationally, he said.
Yun Sun, a senior fellow at the Stimson Centre, a think tank in Washington, said China was backing itself into a corner.
"The more it cannot tolerate offence and criticisms, the more provocative and aggressive it becomes. While I understand the urge, a great power needs the ability to be calm and respond proportionally, and select its battle," Sun said.
Developing countries might feel differently, Sun said. After all, China has spent big in these countries and tried to form alliances with them to avoid Western isolation, she said.
"However, problems are also abundant –
African debt complaints
,
conflicts with Brazil
. The view of China among developing countries might be better than developed countries. I doubt it has improved if compared to a year ago," she said.
In Latin America, a recent study by Diego Telias and Francisco Urdiñez of the Catholic University of Chile tracked more than 530 Chinese medical-related donations in 33 countries in Latin America and the Caribbean between mid-February and June 2020, worth over US$128 million.
"As with most foreign assistance, donor priorities were aligned with various foreign policy goals, and around 60 per cent of China's donations went to three quite distinct countries: Venezuela, Brazil, and Chile," wrote Cynthia Sanborn, professor of political science at the Universidad del Pacífico in Lima, Peru, in a report in October. She also noted there were signs that both the US and China might use a potential vaccine as a foreign policy tool.
John Stremlau, a professor of international relations at the University of the Witwatersrand in South Africa, said: "There are so many other dimensions of China's image in Africa and speculation here, in my view, is best directed at getting reliable affordable quantities of vaccines, whether from China, North America, the EU, or elsewhere.
"And, of course, there is the issue of whether China and the US can agree, if only tacitly, that Africa should not be a theatre of conflict between them but a region where they compete constructively within a framework responsive to the national and regional priorities of host nations here," Stremlau said.
To improve China's international image, China should act as a responsible member of the international community and be transparent, analysts say.
China should help with the investigation to find out the origin of the pandemic, instead of blocking it, said Steve Tsang of the SOAS China Institute. "A country that systematically lies to cover up or to make it impossible for the truth to be established will always be seen negatively."
Gupta, with the Institute for China-America Studies, also said China needed to concern itself less with its international image building "because image propagation by a one-party authoritarian state inevitably and naturally will tend to suffer from its own obvious internal shortcomings".
"Essentially, China stands poised at a stage in its development when it can make an immense contribution to global well-being across a range of areas.
"But framing it – and, worse, bragging about it – in mangled or stilted tones, as one-party state folks are wont to do, would be the ultimate form of self-defeat.
"If good words are to be spoken of China, let that speaking be by done others who have been the beneficiaries of China's deeds. Short-cuts in the image department by a Leninism-inspired state, on the other hand, is to veritably play with fire," Gupta said.