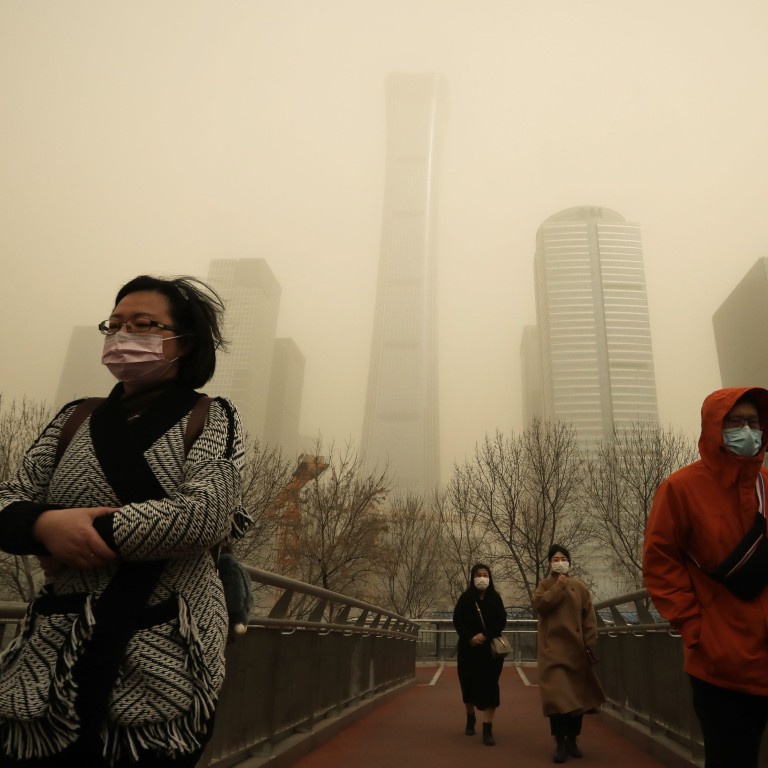 Six dead, dozens missing as Beijing, northern China and Mongolia hit by worst sandstorm in a decade
Residents warned to wear protective clothing outside and stay clear of billboards, construction sites and other potential falling objects
Sandstorm caused by hot, dry conditions meeting 'Mongolian cyclone', says China's weather bureau
China has been hit by the worst sandstorm in a decade, with 12 provinces in the country's north blanketed in yellow sand and dust, according to the National Meteorological Centre.
The sandstorm also covers the widest area seen in the past 10 years, from Xinjiang and Gansu in the northwest to the northern regions of Inner Mongolia and Hebei, the centre said in a notice on Monday.
Mongolia's National Emergency Management Agency said on Monday that the strong sandstorms had caused six deaths and 81 people were missing in the country.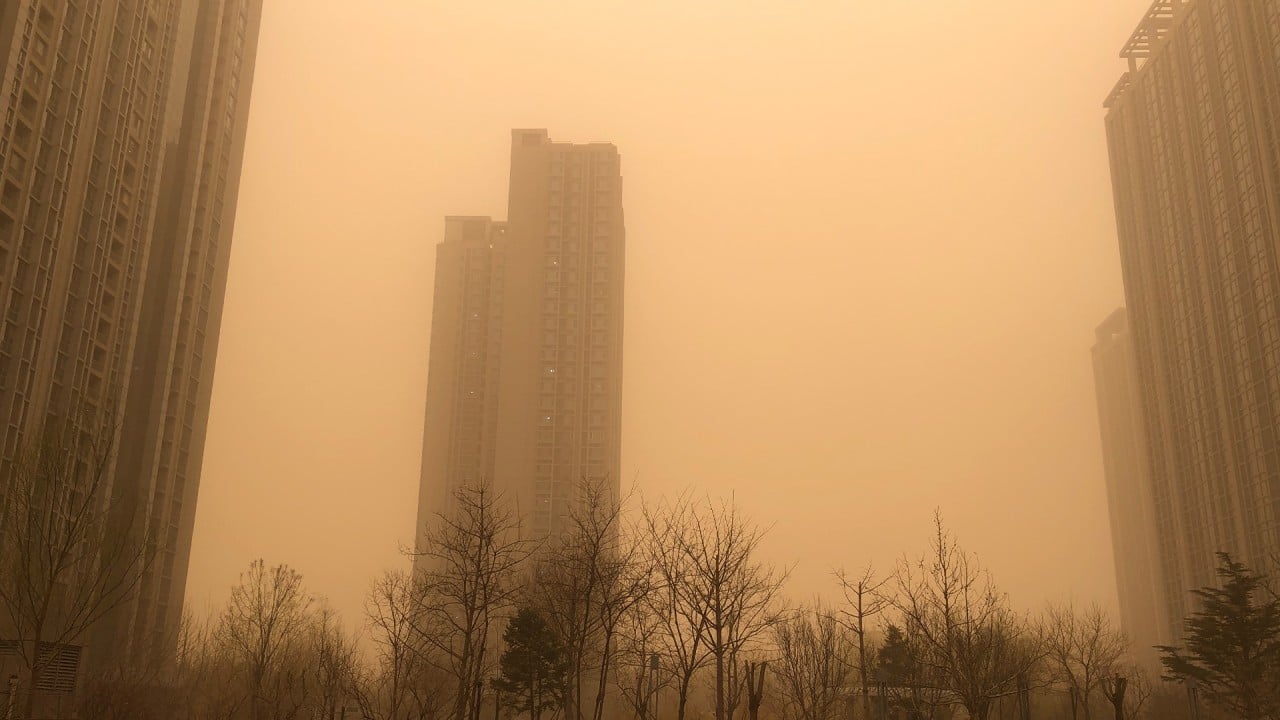 01:38
Worst sandstorm in a decade hits Chinese capital, Beijing
Worst sandstorm in a decade hits Chinese capital, Beijing
China's National Meteorological Centre issued a "yellow" sandstorm warning on Monday morning, the second lowest alert in China's four-tier warning system, reminding the public in the affected regions to close doors and windows and wear masks and scarves to protect themselves. It also warned the sandstorm would likely last until Thursday.
"Starting from Monday to 8am Tuesday, affected by cold fronts and heavy winds, floating sand and dust are expected to sweep parts of Xinjiang, Inner Mongolia, Heilongjiang, Jilin, Liaoning, Gansu, Ningxia, Shaanxi, Shanxi, Hebei, Beijing and Tianjin," it said, according to state news agency Xinhua.
Air quality in Beijing exceeded the maximum 500 level on Monday morning as yellow dust engulfed the city. Levels of harmful PM2.5 particulates – a key pollution indicator – had skyrocketed to 732 micrograms per cubic metre by 9am, according to the Blue Map, an app developed by Institute of Public and Environmental Affairs, a Beijing-based NGO. The 24-hour mean standard of PM2.5 recommended by the World Health Organization is 25 micrograms per cubic metre.
Levels of PM10, a tiny inhalable particle linked to respiratory disease, soared to 9,350 micrograms per cubic metre in the capital, 180 times the maximum 24-hour mean recommended by the WHO. Visibility in the city plummeted to about 1km, according to the Beijing Meteorological Service, as experts suggested residents protect themselves while outdoors.
Beijing traffic police warned residents to take care, especially when passing billboards or trees.
"Keep your distance from construction sites, temporary structures, billboards or other places where there are likely to be falling objects," municipal traffic police said on microblogging platform Weibo.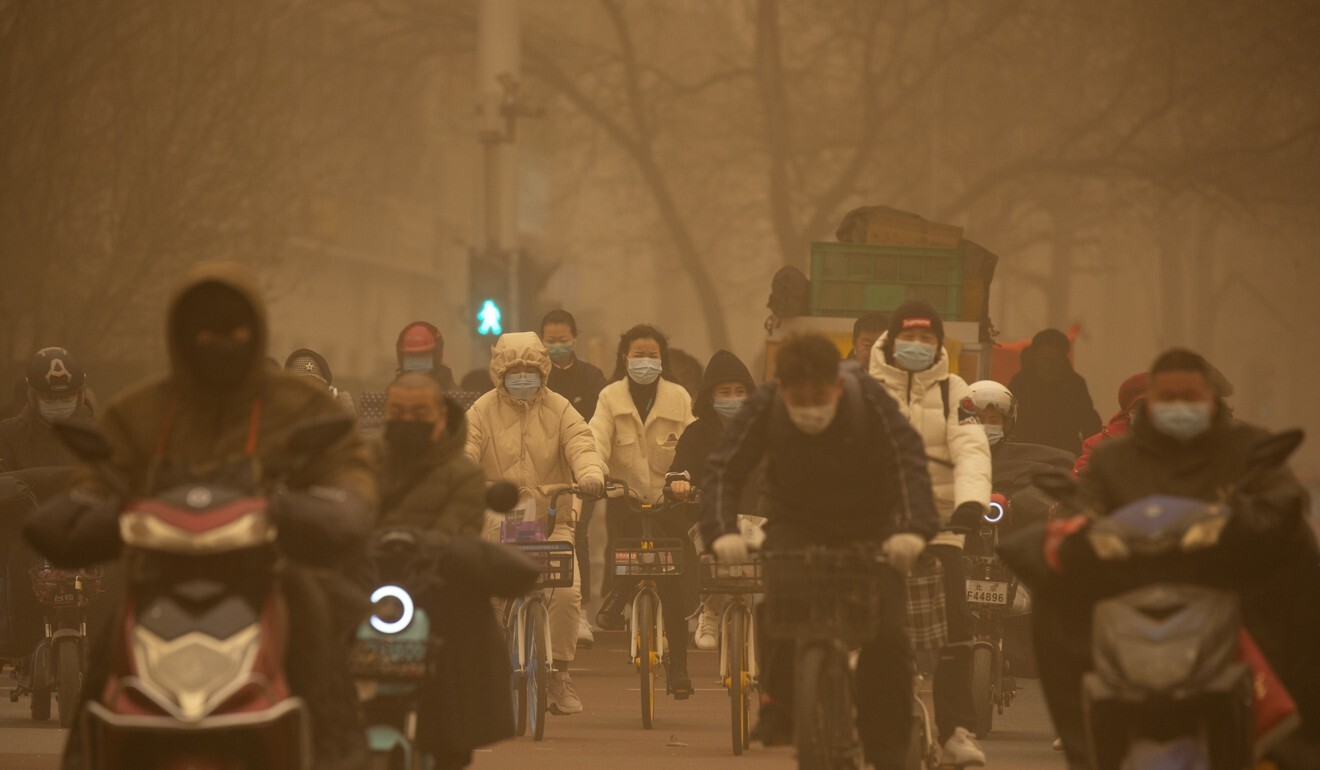 Education authorities told schools and off-campus educational institutions to suspend outdoor activities and take protective measures.
About a fifth of incoming and outbound flights at Beijing Capital International Airport and Beijing Daxing International Airport were cancelled on Monday morning, according to the online Chinese travel platform Flight Master.
Zhang Bihui, an official with the National Meteorological Centre, said the sandstorm was caused by the combined effects of high temperatures and scarce precipitation in Mongolia and northwestern China, as well as the "Mongolian cyclone", a whirlwind bringing heavy wind from Xinjiang to northern China.
"It's rare, historically, to see such a high concentration of PM10 in Beijing," Zhang said on Monday morning.
"The sandstorm in Mongolia is severe … With proper transmission conditions, it has resulted in the severe sandstorm in Beijing."
In the past, Beijing had regular sandstorms during spring but the frequency of sandstorms has dropped sharply in recent years because of reforestation and efforts to control sand.
"[This sandstorm] shows China is still likely to have such severe sandstorms under very extreme or unfavourable weather conditions," Zhang said.
The environment ministry said on Monday that as the sand and dust moved south, the affected area might spread to central China and the Yangtze River Delta in eastern China on Tuesday.
Beijing's air quality is expected to become light or moderate pollution on Tuesday and the sandstorm will gradually weaken.