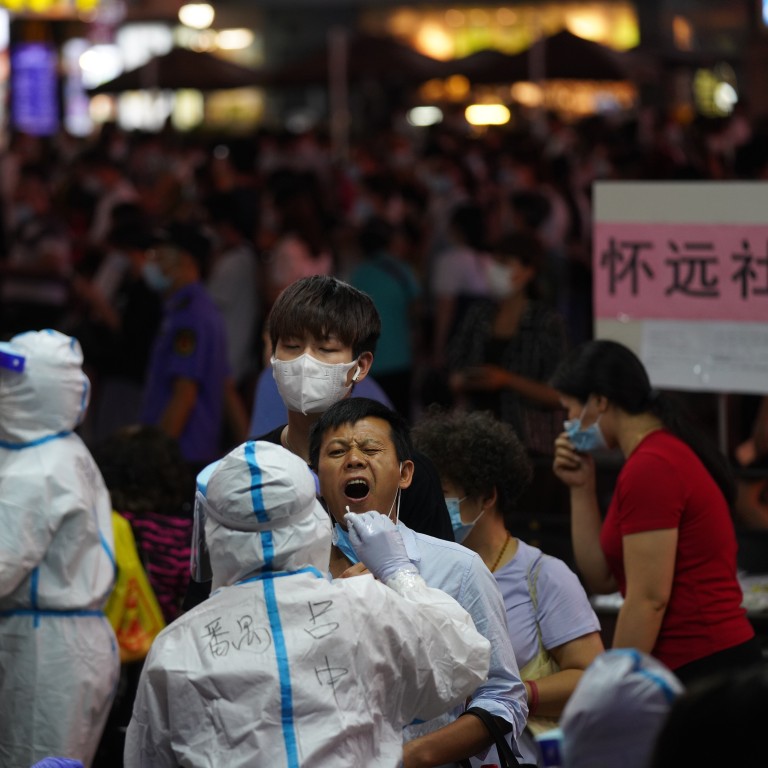 Covid-19 in China: parts of Guangzhou shut down as province battles latest outbreak
Residents in the city's Liwen district issued stay-at-home orders, while businesses are shut and public transport services restricted
Health officials say greater urgency must be given to efforts to stop the disease spreading across Guangdong province
The authorities have shut down parts of a district in the capital of Guangdong as the southern Chinese province remains on high alert over the latest
Covid-19
outbreak.
Several streets in Guangzhou city's Liwan district and some businesses were shut, while public transport links were suspended.
Guangdong's provincial health commission said on Saturday that the province registered two new locally transmitted, confirmed coronavirus cases, along with eight new asymptomatic cases, on Friday.
Among the confirmed cases, one was an asymptomatic-turned-confirmed case from Guangzhou, another one was from Foshan. Five of the new asymptomatic cases were reported in Guangzhou, two in Foshan and one in Shenzhen.
The province also reported three new imported asymptomatic cases on Friday from people who had travelled to Guangzhou from Cambodia, Turkey and Zambia.
Guangzhou has reported five confirmed coronavirus cases and 15 silent infections since May 21, when a 75-year-old woman was infected with the
variant first seen in India
. The cases in Foshan have been linked with the Guangzhou cluster.
By Friday, the authorities in Guangzhou had swab tested 1.16 million people, but Huang Guanglie, director of the city's health commission, said on Saturday that the authorities had to move faster as the outbreak in Guangdong was spreading more quickly than it did last year.
"In this race to combat the virus, we must run ahead and faster, so as to stop transmission, otherwise there will probably be more local infections," Huang said.
Guangdong has issued a stay-at-home order for five streets in Liwan district, with residents asked to stop all activities that are not necessary for daily life. Only one person from each household is allowed to leave home to buy groceries each day.
All entertainment venues, indoor sports venues, wholesale markets and childcare institutions in the district were asked to close too. Restaurants are only allowed to offer takeaway orders and schools, except for junior high and senior high, must suspend classroom lessons.
Restrictions on seven subway stations and 177 bus stations in the areas affected have been put in place, with passengers only allowed to alight. Services from the Fangcun long-distance bus station have also been suspended.
Further restrictions have been imposed across the city as a whole, including a ban on large gatherings. Care institutions, including nursing homes, maternity units and child welfare units, have instituted strict controls on those entering and leaving, while indoor public venues are only allowed to operate at 75 per cent capacity.
In Foshan, a city to the west of Guangzhou, local authorities have ordered deep cleaning and disinfection in areas where the new coronavirus patients had visited, and extended the operation hours of nucleic acid test centres in Chancheng district until midnight on Sunday to give residents more time to be tested.
All training institutions and childcare centres in Foshan have been asked to halt operations from Friday.
Down in Shenzhen, the tech hub that borders Hong Kong, the authorities in Yantian district ordered on Saturday that every resident must take a nucleic acid test.
Those deemed at higher risk of infection – including cold-chain workers, medical personnel and supermarket employees – have been ordered to take three tests within seven days and get vaccinated.
This article appeared in the South China Morning Post print edition as: Parts of Guangzhou closed in race to stop outbreak