Energy
Get more with myNEWS
A personalised news feed of stories that matter to you
Learn more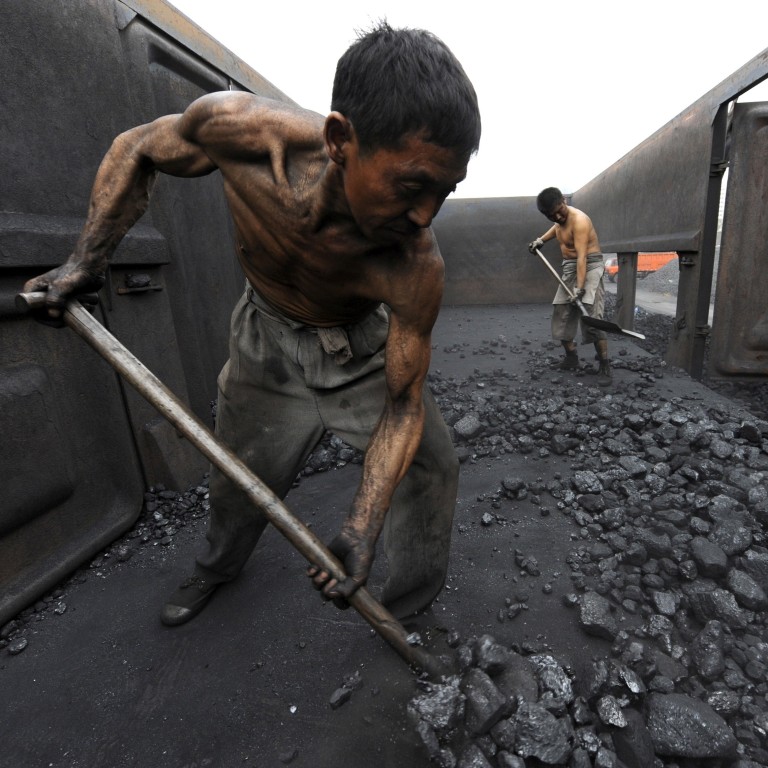 Is Chinese bank ICBC's coal exit a power move for a greener belt and road?
ICBC chief economist Zhou Yueqiu says the bank will make a road map and timeline for the gradual withdrawal of coal financing
Observers say Beijing may be exerting pressure on financiers
Speaking at the International Financial Forum Spring Meeting in Beijing on May 29, ICBC chief economist Zhou Yueqiu said the bank would "establish a road map and timeline for the gradual withdrawal of coal financing", an announcement observers deemed significant.
ICBC, China's largest bank in assets and one of the world's biggest supporters of coal, is the first major Chinese financier to commit to such a plan as Chinese lenders face intense domestic and overseas pressure.
Zhou said the bank would increase the balance of green loans and double renewable energy investments by 2030, compared with 2020 figures.
He said the bank would "expand the proportion of green investment and financing and formulate a carbon-neutral plan", Communist Party mouthpiece People's Daily reported.
For instance, in 2019 a court in Kenya ordered a halt to the construction of a US$2 billion
coal-fired power plant in Lamu
after activists argued the plant would endanger a Unesco World Heritage site. ICBC, which was providing US$1.2 billion of the funds, later pulled out of the deal. Similarly, South African Standard Bank, in which ICBC has a 20 per cent stake, also pulled out amid activist pressure on financiers to withdraw from the project.
Tom Baxter, who researches energy and the environmental impacts of belt and road projects at China Dialogue, said numerous other banks were involved in "green financing" but ICBC was the first to announce a specific measure to stop supporting coal. It followed moves from its regional peers, such as Japan's Mizuho and Sumitomo Mitsui Financial Group and Singapore's DBS Bank, Baxter said.
But he was not surprised ICBC was first to phase out coal financing. Baxter said the bank was the most international of China's banks, with assets around the world and large stakes in other banks. It is a member of the Task Force on Climate-related Financial Disclosures (TCFD) and Green Investment Principles for greening investment in the belt and road.
The bank has financed over US$3 billion in coal projects and underwritten nearly US$37 billion for coal-related projects around the world, according to German NGO Urgewald's Global Coal Exit List.
Zhou Yueqiu's announcement of a "road map" revealed relatively little. What will be critical is the timescale and the scope of the road map, according to Baxter.
Observers said Beijing might be putting pressure on the financiers. In December, China's Ministry of Ecology and Environment endorsed a report by advisers the Belt and Road Initiative International Green Development Coalition (BRIGC), who recommended more stringent environmental controls over projects.
Baxter said the report suggested coal power and coal mining projects should be classified as "red", meaning involvement in such projects should be avoided at all costs.
Baxter said it was worth noting that President Xi Jinping's goal of China being
carbon neutral by 2060
covered China's domestic emissions but, strictly speaking, was not necessarily concerned with emissions from overseas projects backed by Chinese financiers and companies.
Kanyi Lui, a Beijing-based finance partner at law firm Pinsent Masons, said while coal power was not expected to disappear overnight, "on the ground I have certainly noticed much less appetite for coal power amongst the various Chinese lenders I work with".
Lui, who has advised ICBC on some transactions, said coal developers were exploring other financing options, such as seller's credit. Seller's credit is an arrangement where the seller/contractor takes on the financing risk and agrees to be paid at a later date or upon the satisfaction of certain conditions. 
"While there might be exceptions based on need and technology, we could very well be seeing the beginning of the end for the financing of coal-power plants by major Chinese lenders on the [Belt and Road Initiative]," he said.
In March, the Chinese embassy told Bangladesh's Ministry of Foreign Affairs China "will no longer consider projects with high pollution and high energy consumption, such as coal mining [and] coal-fired power stations".
Yunnan Chen, a senior research officer at the Overseas Development Institute think tank, said some of the cancelled coal plants in the last year had come from the borrower countries rather than the Chinese creditors.
She said financial concerns during the pandemic caused many countries in south and Southeast Asia, starting with Bangladesh, to review their coal expansion.
"To date, Chinese official finance tends to be demand driven so if the borrower wants a coal plant, China Eximbank does not tend to say no," Chen said.
And that was why the ICBC statement was significant, Chen said. "There's potential for a normative example to be set from a leading global Chinese bank, and potentially put pressure on the other commercial banks, and then perhaps the state-owned policy banks too," she said.
"Beijing is exerting pressure on financiers, and particularly in insisting on better risk and impact assessment of projects, which has implications for the type of energy project we're looking at – a coal plant is a financial risk as well as an environmental one."
However, she said there had been trickle-down green initiatives – such as State Council guidance on greening the supply chain among other initiatives – and many targeted the domestic economy. But there had been greater international pressure to apply more stringent controls to China's outbound investments in the Belt and Road Initiative.
Baxter of China Dialogue said Japanese, Korean, Singaporean and other banks mostly turned their back on coal projects in the region, and if other Chinese lenders followed suit, coal-fired projects around the world would essentially lose their final lifeline of financial support.
"Coal power is a sunset technology. It seems that the speed of its demise is being dictated by the 'recipient countries' adjusting their domestic power plans – Bangladesh, Philippines, Vietnam as examples. If Chinese banks jump on board with the trend, however, this will accelerate the already clear trend," Baxter said.
In keeping with a Global Energy Monitor analysis at the end of 2020 he said "four of the region's largest emerging economies – Bangladesh, Indonesia, the Philippines and Vietnam – may have cancelled nearly 45 gigawatts (GW) of coal power in 2020 – and that's about as much as Germany's entire installed capacity".