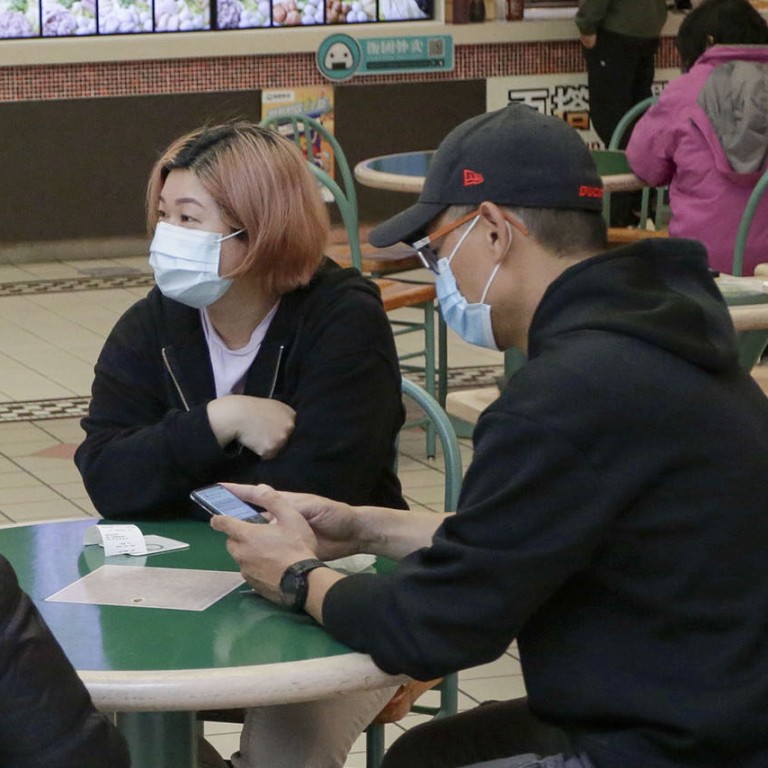 Coronavirus: Canada's most Chinese city has the best pandemic performance in its region – and the worst vaccination rate
Richmond's Covid-19 case rate is far better than other cities in the Metro Vancouver region, but its first-dose vaccination rate of 69 per cent is the lowest
Authorities have been targeting the apparent hesitancy, which has echoes in Hong Kong, with Chinese-language outreach and other targeted measures
Richmond, Canada's most Chinese city, has impressed since the start of the pandemic with its low rate of
Covid-19
infection, making it the best performing local health area in the Metro
Vancouver
region.
But data now shows that the city also has another, less laudable title as the region's least vaccinated area.
Dr Kenneth Fung, a clinical professor at the University of British Columbia's school of population and public health believes neither is a coincidence.
While Fung attributed "highly diligent" observation of most public health recommendations among the Chinese community for Richmond's low case rate, he also said
Covid-19 vaccine
hesitancy was a phenomenon in the same community.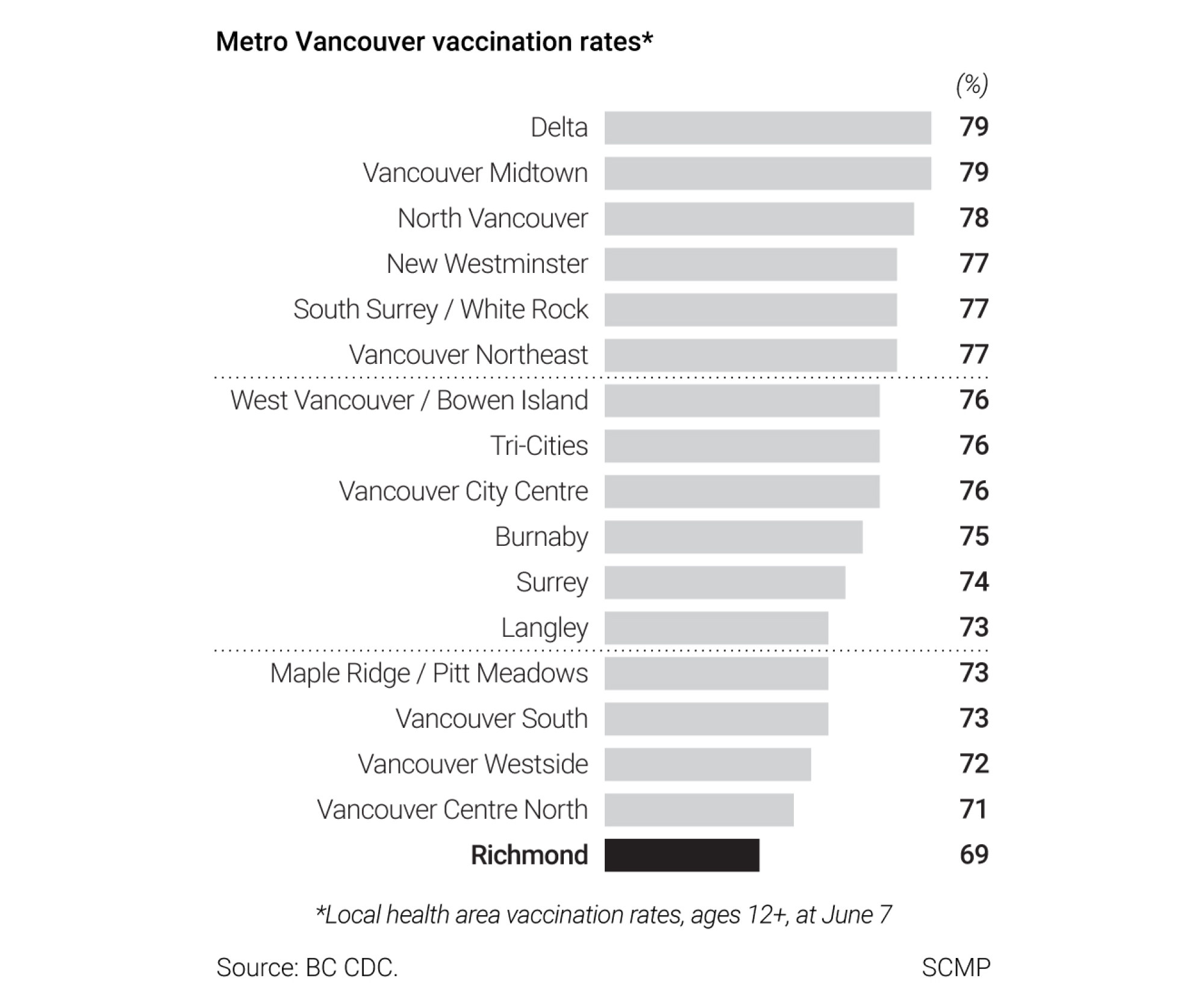 This echoed low vaccination rates in Hong Kong, said Fung. Richmond has the region's densest population of Hong Kong immigrants and their descendants. The 23,000 Hong Kong immigrants in Richmond make up about 12 per cent of the population of about 200,000.
"Vaccine hesitancy is high among the ethnic Chinese community … [this] may be due to the many negative incidences reported daily in the Hong Kong newspapers which have a wide readership in Richmond," said Hong Kong-born Fung. "Many have taken the wait and see attitude in approaching the decision for the vaccinations."
The spread of first-shot vaccination rates among health areas in Metro Vancouver is not huge, ranging from a low of 69 per cent in Richmond to a high of 79 per cent in Delta, as of June 7, for people 12 years old and older.
But Richmond's relatively poor showing stands out when compared to its impressively low cumulative Covid-19 case rate since the start of the pandemic, which stands at 2,025 per 100,000 population as of the end of May.
By comparison, Delta, which neighbours Richmond to the south, has a case rate of 4,710. The city of Vancouver, bordering Richmond to the north, has a case rate of 3,524.
Metro Vancouver is a regional grouping that consists of 21 municipalities and 17 local health areas.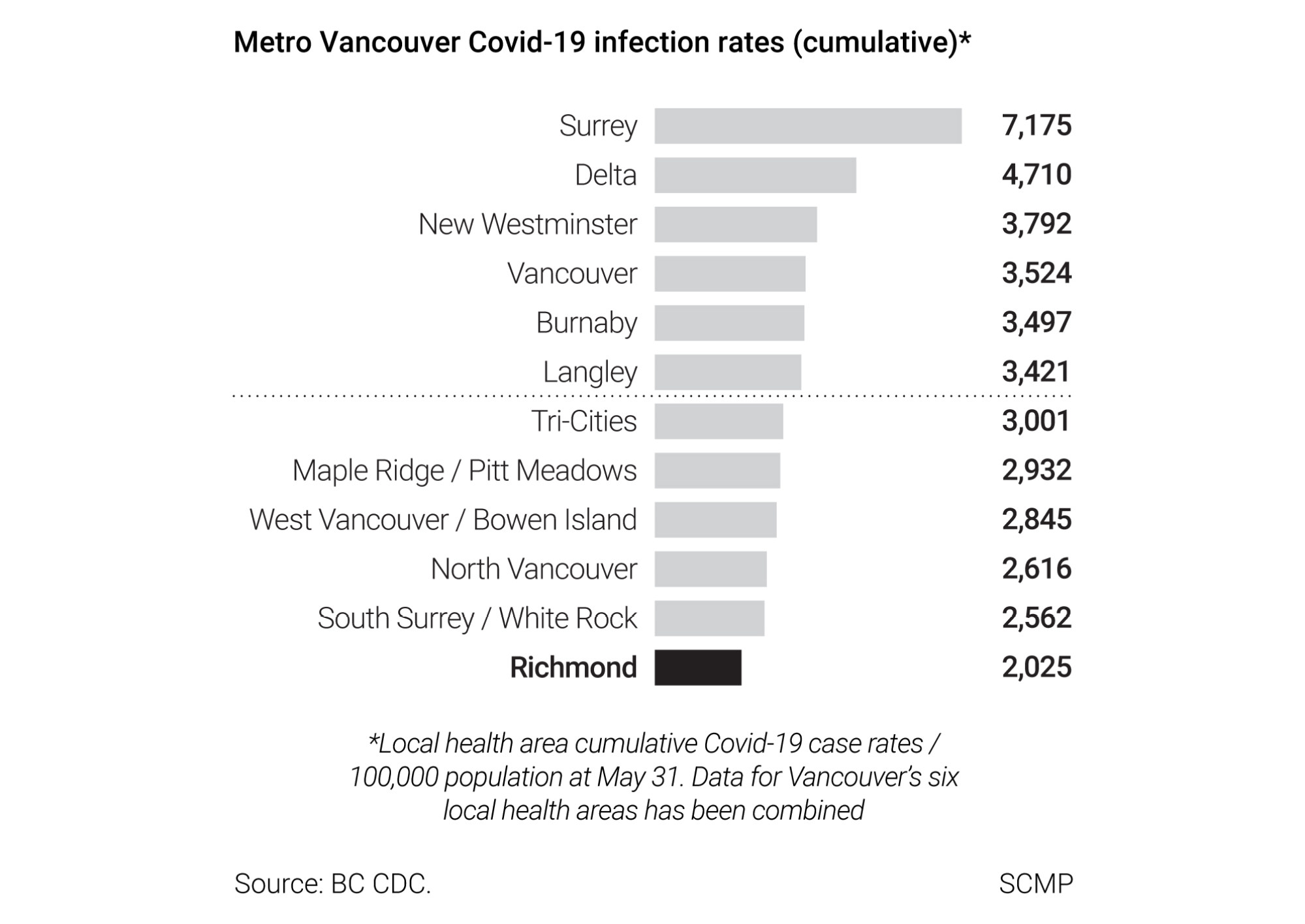 Some of these, including Richmond, overlap exactly, while others do not; for instance, the City of Vancouver is divided into six local health areas.
Some smaller municipalities, meanwhile, are combined into single health areas, making some direct comparisons between all municipalities difficult when it comes to Covid-19 statistics if they are based on health areas.
British Columbia's Health Minister Adrian Dix said earlier this month that authorities were putting particular focus on improving Richmond's low vaccination rate, and as a result it had seen "tremendous growth".
Vancouver Coastal Health (VCH), the authority that oversees Richmond, said it had conducted Chinese-language outreach in Mandarin and Cantonese, including radio and print media campaigns, and vaccine information sessions jointly conducted with Success, a social service agency for immigrants. A May 1 session focused on Mandarin-speaking immigrants.
"We understand that some residents may have questions about the vaccines but we are encouraged by the increase in uptake in Richmond, particularly over the past three to four weeks," said a VCH spokeswoman.
VCH said Richmond's vaccination rate had risen sharply since May 27, when it stood at 53.6 per cent.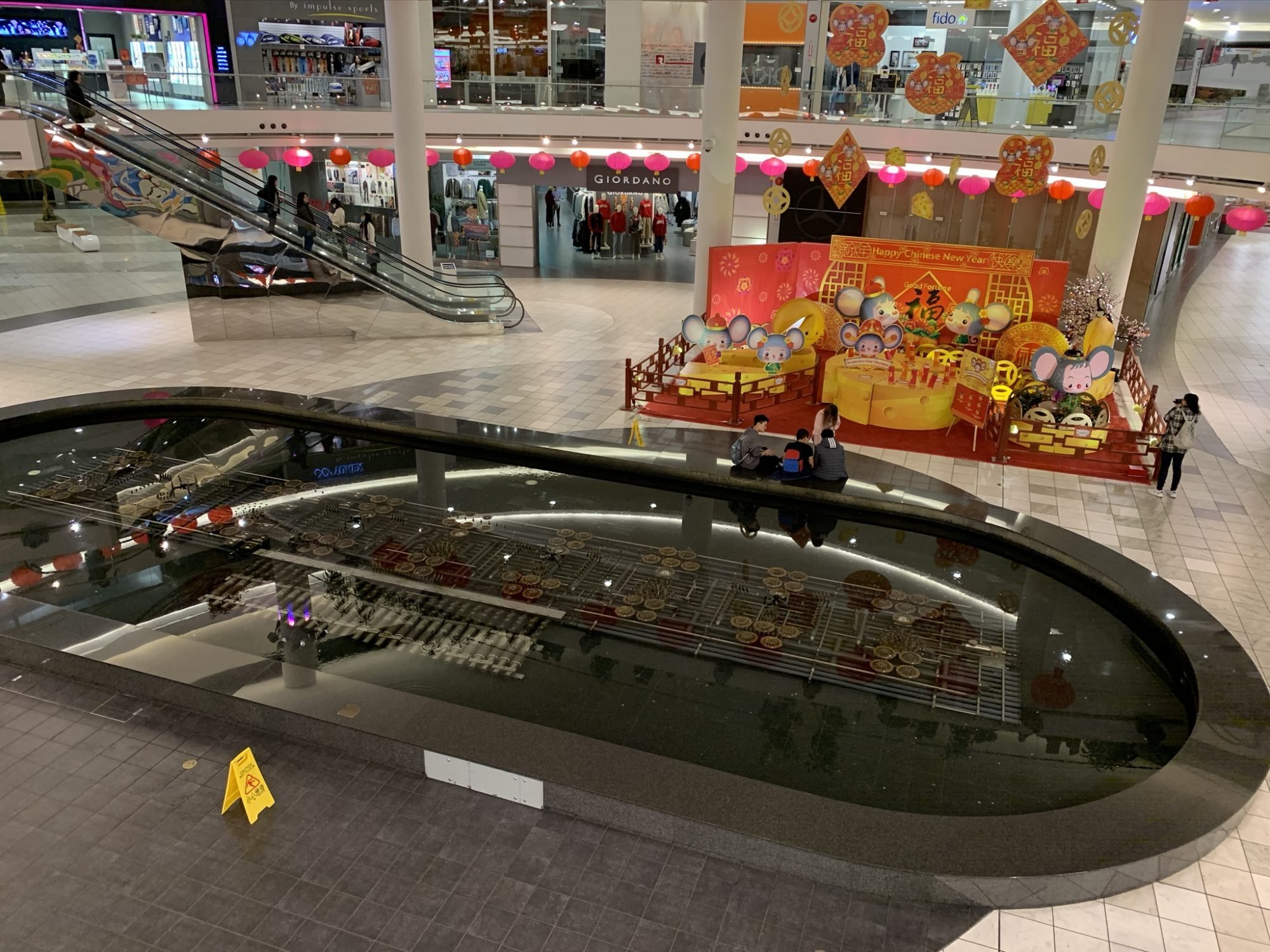 Fung, meanwhile, suggested that there was "pent up demand" for international travel among Richmond residents. "Maybe an offering of a vaccine passport is a solution to encourage [Covid-19] vaccination," he said.
Richmond is the most Chinese city in the world outside Asia, with 53 per cent of the population being of Chinese ethnicity.
Fung said "underlying factors" could help explain Richmond's good overall performance throughout the pandemic, including economics.
He also suggested that pre-existing prevalence of the anti-tuberculosis Bacillus Calmette – Guérin (BCG) vaccine among immigrants could also be a factor – that vaccine has been linked by some studies to lower risk of Covid-19 infection, and its usage is almost 100 per cent in mainland China and Hong Kong.
Although the extent of any connection between ethnicity and Covid-19 vaccination uptake is not certain, there are clear differences within Richmond on a neighbourhood level that hew closely to ethnic lines.
For instance, the neighbourhood of Steveston contains some of Richmond's least Chinese census tracts (the smallest geographic breakdown for Canadian census data). The vaccination rate in Steveston stood at 78 per cent.
It borders Blundell neighbourhood, one of the most Chinese areas in Canada, with census tracts that range as high as 86 per cent Chinese. The vaccination rate in Blundell stood at 69 per cent.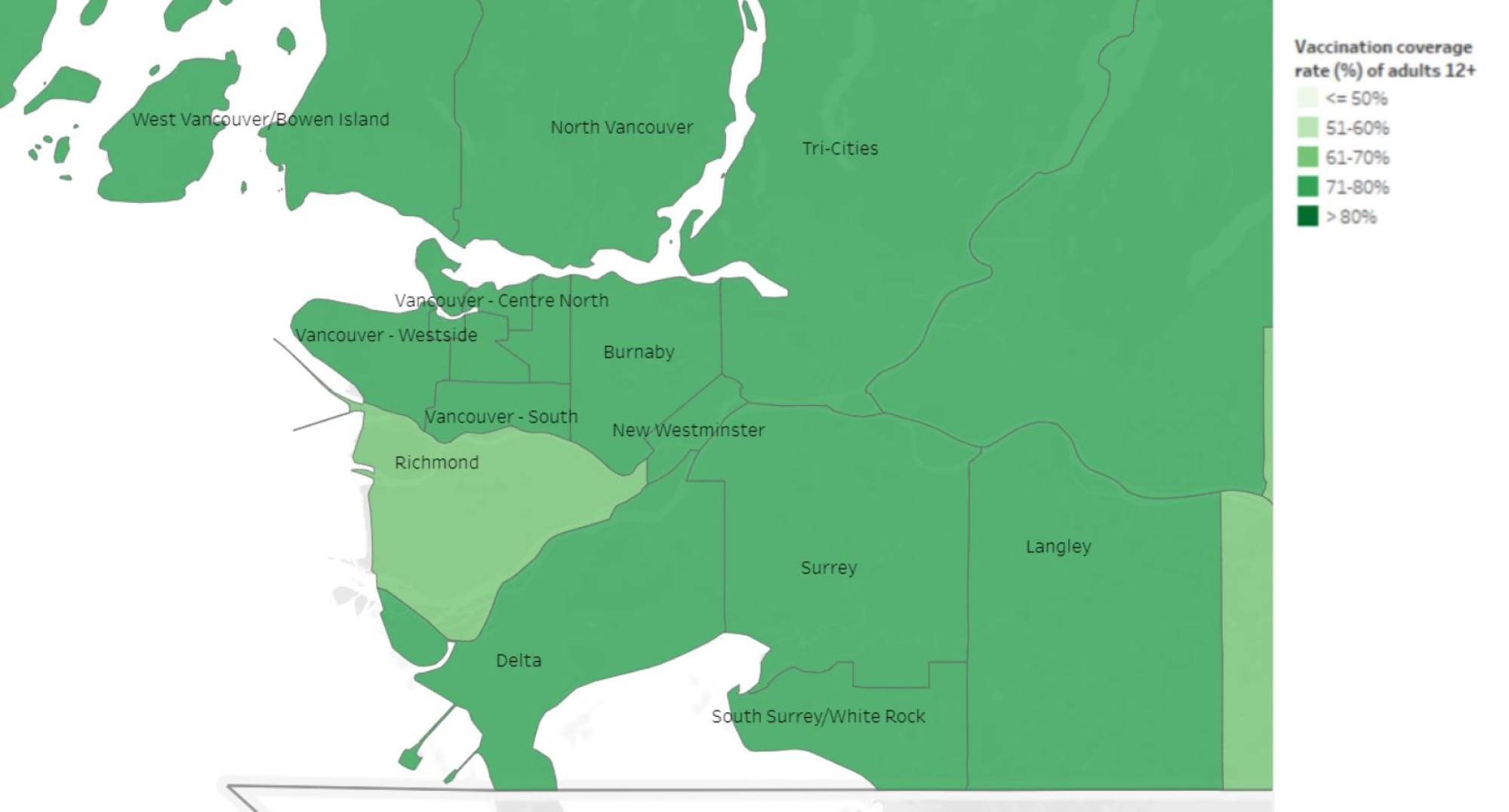 The same kind of variation, in which Chinese ethnicity shows a loosely negative correlation with vaccination rate, can be seen across Metro Vancouver.
For instance, the neighbourhood of Oakridge / Marpole – about 60 per cent Chinese in some of its census tracts, making it one of the most Chinese parts of the City of Vancouver – has a vaccination rate of 70 per cent.
It neighbours South Cambie / Riley Park, where Chinese ethnicity dips as lows as 8 or 9 per cent in some tracts, and which has a vaccination rate of 81 per cent, among the highest in the city.
But many other factors are at play when it comes to vaccine hesitancy. BC's remote northern areas have the lowest vaccination rates in the province; just 46 per cent of people 12 years old and older are vaccinated in Peace River North.
Despite such variations, British Columbia is well on track to meet its overall vaccination targets.
As of June 10, 74.9 per cent of adults in BC and 72.8 per cent of people over the age of 12 had received their first shot.
There have been a total of 145,996 Covid-19 cases in BC (population 4.7 million) for a case rate of 3,141 per 100,000 people. It has recorded 1,729 Covid-19 deaths.
By comparison, Hong Kong (population 7.4 million) has a first-dose vaccination rate of about 24 per cent for all people, and a case rate of 158 per 100,000 people. It has recorded 210 Covid-19 deaths.