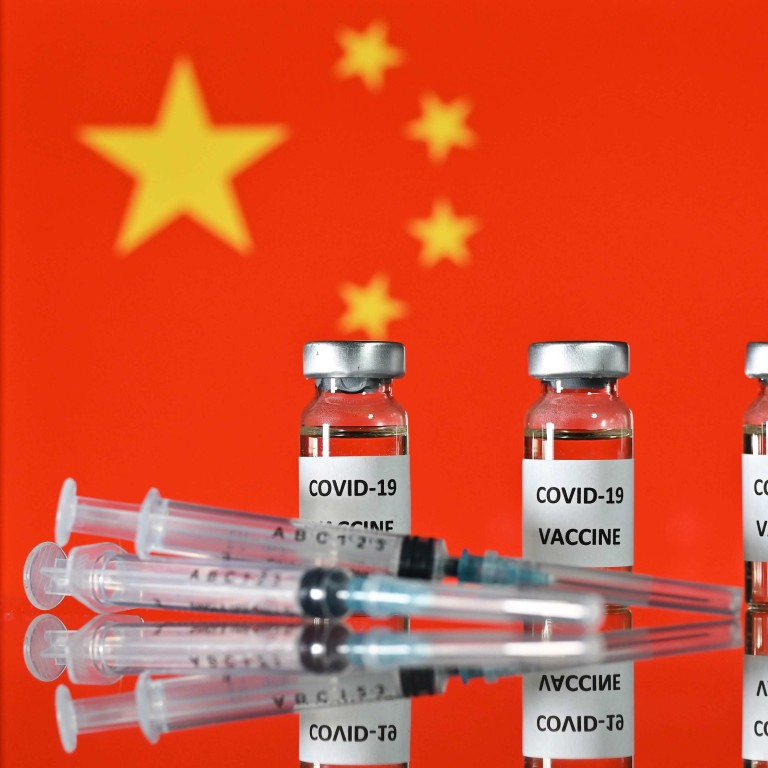 China can learn from the West about mRNA vaccines, top disease expert says
Countries should be open to mixing and matching shots if the approach works, Zhong Nanshan says
Border cities to face tighter travel restrictions to stop the spread of cases
A top Chinese respiratory scientist has urged China to learn from the West about
advanced mRNA vaccine technology
, and called on all countries to be open-minded about working together.
Speaking at the Greater Bay Science Forum in Guangzhou on Saturday,
Zhong Nanshan
also said countries should team up to explore how to mix and match
Covid-19 vaccines
for greater effectiveness.
"We should learn about the good things in other countries, such as mRNA vaccines. They have spent years on the research and managed to develop mRNA vaccines [for the coronavirus] in just a few months," Zhong said.
"The urgency of the disease has accelerated the work in this regard. We should learn [from other countries] aspects such as the technology and delivery mechanism [of mRNA vaccines]."
China has overcome its early reservations about mRNA vaccines to
start developing its own
, with the first candidate jointly developed the Academy of Military Science, Walvax Biotechnology and Suzhou Abogen Biosciences. But late-stage trial data has yet to be released.
There is also no news about whether China's drug regulator will approve the mRNA vaccine by German company BioNTech, which has signed a deal with Fosun Pharma to distribute and produce the jabs for greater China.
Zhong said much more research was needed but all countries should be open-minded about the use of different vaccines if mixing and matching shots resulted in greater protection.
"In other countries, there are mRNA vaccines and vectored vaccines and there aren't too many choices. In China, we have protein subunit vaccines. If mixing and matching vaccines can yield better results then we should not feel uneasy about it. We can run together and work together in this regard," he said.
He said international cooperation was also required in other areas, such as tracing the origin of the coronavirus and transmission routes.
This need was highlighted by the emergence of the Omicron variant, and the many unknowns about its behaviour and origin, he said.
Scientists around the world are racing to determine whether Omicron-specific vaccines are required.
Chinese developer Sinovac said it had already obtained the genome sequence of the variant from the University of Hong Kong and was researching its effect on the company's vaccine.
But Zhong hit out at Western countries for politicising and hindering research into the origins of the variant.
He added the stringent measures imposed by other countries following
the discovery of Omicron
showed that China had pursued the right containment strategy in the past two years.
He was referring to the
zero-Covid measures
China has imposed since closing its borders to most international travel last year, including strict lockdowns, mass testing, large-scale contact tracing, quarantines, and tough entry restrictions.
Zhong also reaffirmed his forecast that China could reach herd immunity by the end of the year, while also stressing the need for the zero-Covid approach.
China has fully vaccinated 1.17 billion people, or 82.5 per cent of the population. More than 120 million booster shots had been administered as of Saturday, according to the National Health Commission.
The country reported 51 new local cases on Saturday, with 35 in the eastern Zhejiang province.
Manzhouli, a land crossing between China and Russia in the northern Inner Mongolia region, had 529 confirmed cases as of Saturday.
The city's outbreak was linked to imported cases and was not connected to a previous outbreak in the region, the NHC said.
China announced that tighter controls in border cities would come into effect from Wednesday.
People wanting to leave port cities to go to other parts of China will have to present a negative Covid-19 test taken within the previous 48 hours. The exceptions are for cities bordering Hong Kong and Macau.
Those arriving in port cities will also have to take a Covid-19 test, further tightening the movement of people from these locations, where the latest outbreak has been mostly concentrated.
"The Omicron variant has added more uncertainty, and the pressure on our country to prevent imported cases continues to increase," NHC spokesman Mi Feng said.
"The latest outbreak in our country is mainly concentrated in port cities and surrounding areas. The key to epidemic control is prevention, and controlling entry points, preventing imported cases are priorities."