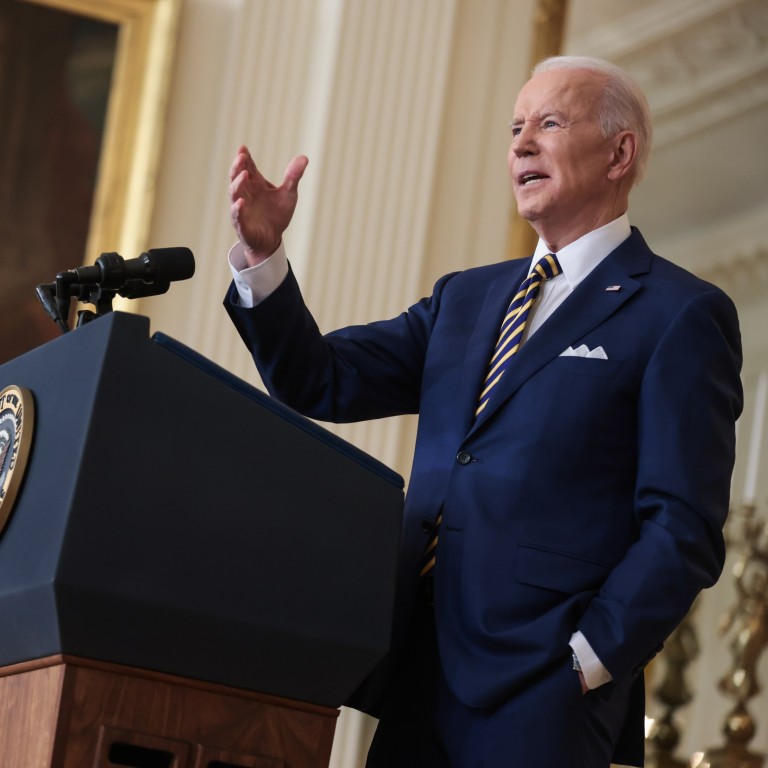 Joe Biden says he won't lift tariffs on Chinese imports since Beijing hasn't abided by phase one trade deal
US president says China is not meeting its commitments, made under the Trump-era trade agreement, to purchase more American goods
Biden acknowledges pressure from the business community but says it's not enough to convince him to change course
US President
Joe Biden
said on Wednesday that he was not yet ready to remove Trump-era tariffs on Chinese goods because Beijing has not lived up to its promises under the phase one trade deal signed two years ago.
"I'd like to be able to be in a position where I can say they're meeting the commitments, more than the commitments, to be able to lift something, but we're not there yet," Biden said at a White House press conference.
The comments were the latest sign that Biden is continuing to hold a hard line on China policy one year into his administration, from human rights to trade, even as he has moved quickly to reverse many other policies put in place by his predecessor, Donald Trump.
Biden and his trade negotiator, Katherine Tai, have also resisted pressure from some corners of the American business community to lift the tariffs.
Critics of the tariff policy, in place since July 2018, say they have not changed Beijing's economic behaviour but have hurt the United States. Supports of the tariffs say they are a necessary tool to protect American workers from China's cheap, state-subsidised exports.
Biden acknowledged the pressure from parts of the business community on Wednesday, but said it was not enough to persuade him to change course – especially without any major concessions from China.
"Well, I know that that's why my trade rep is working on that right now," Biden said when asked about the business community's stance. "The answer is, it's uncertain."
Under the phase one deal, China vowed to purchase more US goods from a range of sectors, from energy to soybeans to manufactured goods.
According to a report on US-China trade published late last month by Chad Bown, a senior fellow at the Peterson Institute for International Economics, China had only purchased 62 per cent of its target through November.
However, politics have continued to overshadow the economic rationale of the trade policy, and that is not likely to change soon, said Ali Wyne, an analyst on
US-China relation
s at the Eurasia Group.
"An accumulating body of evidence demonstrates that the tariffs imposed by the Trump administration have harmed US consumers without inducing China to change those of its economic practices that the United States considers most problematic," he said.
"Amid intensifying strategic competition between Washington and Beijing, though, the debate over removing tariffs is at least as much a political one as it is an economic one: the United States will likely be reluctant to scale them back without a concession from China that Washington deems to be proportional," Wyne added.
While resisting calls for tariff relief, the Biden administration has also tried to use its alliances to put additional pressure on China over trade.
In June, the US and European Union announced that they had resolved a long-standing dispute between the aviation giants Boeing and Airbus – and Tai said last week that the agreement allowed the two sides to come together and instead target Beijing's "harmful" practices in the industry.