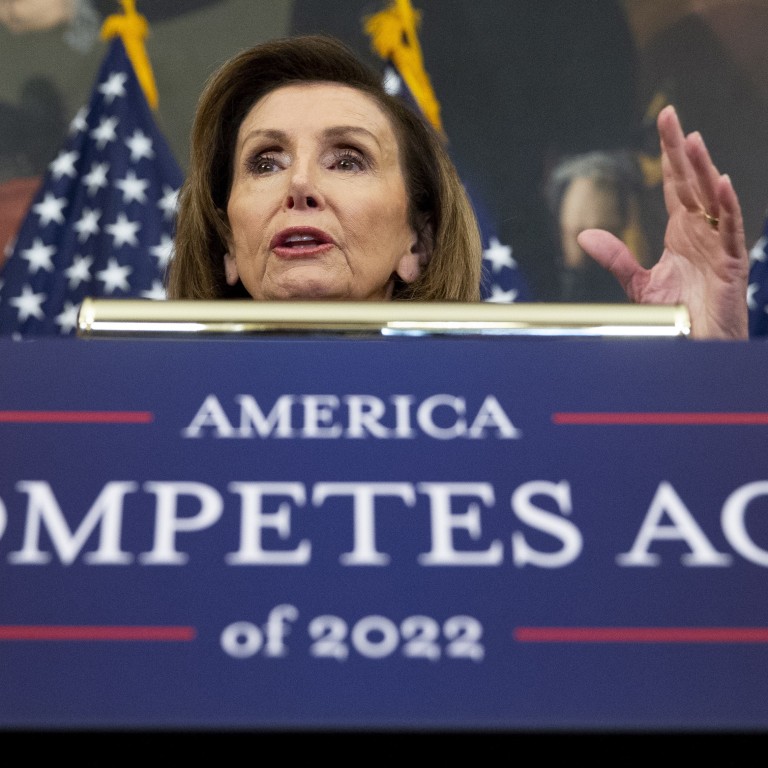 US House passes the China-focused America Competes Act
The final scope of the bill is unknown as it still must be reconciled with similar Senate legislation that was approved last year
'This is a competition issue, making our workers and our country compete with slave labour in China,' says House Speaker Nancy Pelosi
The US House of Representatives passed mammoth new China legislation on Friday that targets nearly every aspect of Washington's tense relationship with Beijing.
"The America Competes Act will ensure that America is pre-eminent in manufacturing, innovation and economic strength, and can outcompete any nation," said House Speaker Nancy Pelosi.
"We're positioning US interests and values to win in the world arena, including holding the People's Republic of China accountable for genocide and using slave labour," she said. "This is not just a values issue in terms of human rights – this is a competition issue, making our workers and our country compete with slave labour in China."
The legislation advanced by a 222-210 vote, putting Congress one step closer to passing a bill that supporters say would strengthen Washington's hand in its intensifying competition with Beijing.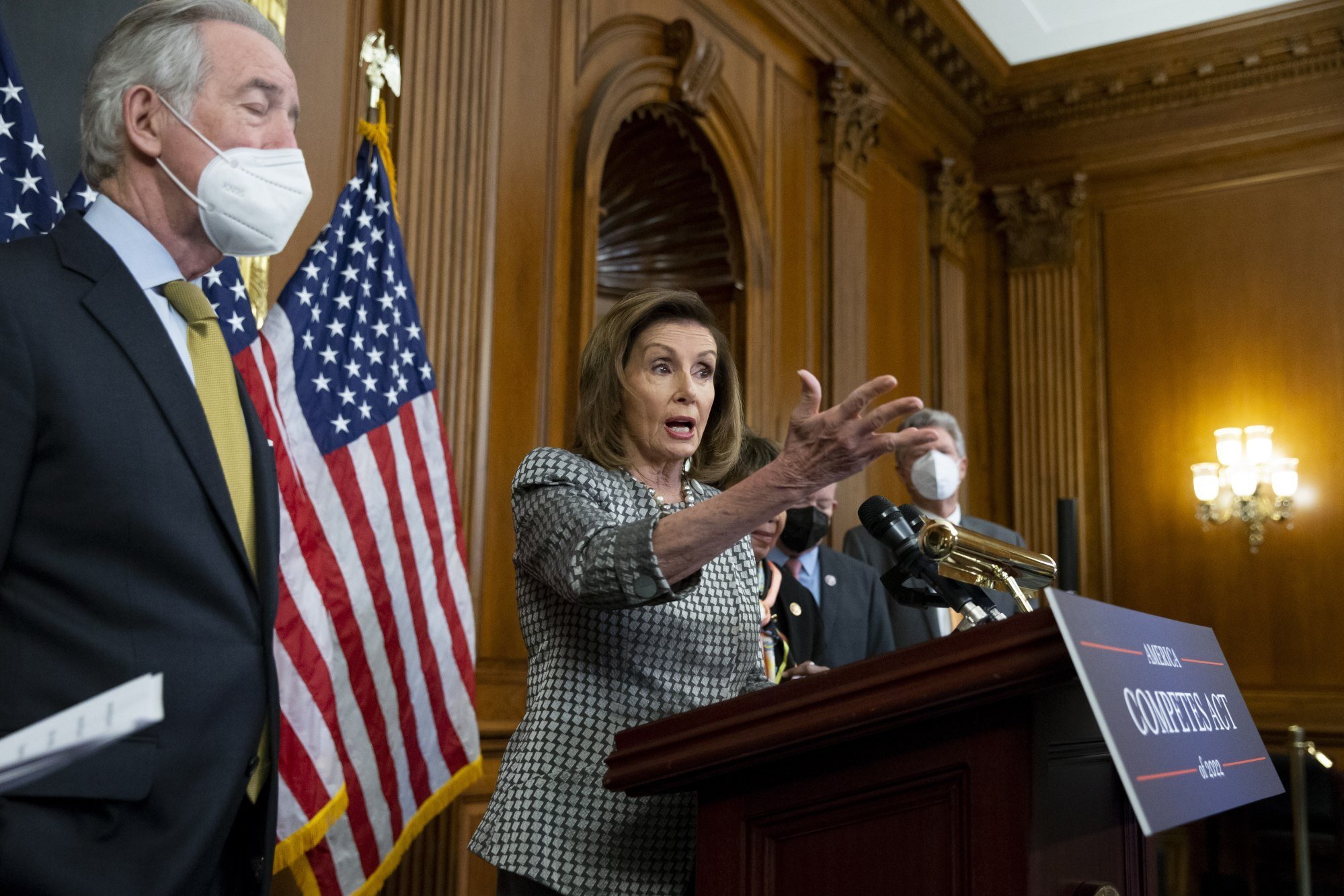 The legislation includes provisions to strengthen US relations with Taiwan, new sanctions for officials in
Xinjiang
accused of "systematic rape, coercive abortion, forced sterilisation, or involuntary contraceptive implantation policies and practices" and an authorisation for millions of dollars in funding to counter Chinese government censorship and disinformation.
A similar China bill, called the US Innovation and Competition Act, passed the Senate by a two-thirds margin last summer. Negotiators from the House and Senate will now attempt to negotiate a final bill that both chambers can pass and send to President
Joe Biden
to sign into law.
Competition with China has become a rare issue in the polarised US Congress with broad bipartisan support.
However, only one Republican voted for the House measure on Friday – Representative Adam Kinzinger of Illinois. Kinzinger has gone against his party on a number of high-profile occasions, including his vote to impeach former president Donald Trump and his leading role in the committee investigating the January 6 Capitol attack.
The nearly party-line vote was an unusual case of bitter partisanship, so common elsewhere on Capitol Hill, seeping its way into a China bill that would bring the US closer to Taiwan, fund the American semiconductor industry and create a new Chinese language learning programme to replace Beijing's controversial Confucius Institutes.
Republican critics of the America Competes Act said it went beyond the scope of China-related concerns and included other progressive priorities for the Democratic Party like
climate change
and immigration. They add that the bill in its current form would have little chance of passing in the evenly divided Senate.
In the days leading up to the House vote, Republican lawmakers tried to strip some of those items from the measure, including US$8 billion designated for the UN Green Climate Fund.
"This legislation could send US taxpayer money to fund green energy projects built on the CCP's genocide against its own people," Representative Michael McCaul, the top Republican on the House Foreign Affairs Committee, said in a speech on the House floor this week.
The lone Democrat to vote against the bill, Representative Stephanie Murphy of Florida, said she shared some of those concerns.
"This bill is going to arrive in the Senate DOA, and because it is so chock full of progressive, protectionist policies that will never make it through the Senate," she said in an interview with Politico, using an acronym for "dead on arrival".
Advocacy groups supporting human rights in
Xinjiang
and Hong Kong applauded the bill.
The Washington-based Hong Kong Democracy Council said it was "elated", and the non-profit Uyghur Human Rights Project said it was "encouraged that Congress continues to put rhetoric into action".
"We are particularly encouraged by provisions meant to provide safe haven for Uyghurs fleeing atrocities, and to tighten scrutiny on Chinese companies complicit in these abuses," said Uyghur Human Rights Project executive director Omer Kanat.
Pelosi said on Thursday that any cooperation the US might pursue with Beijing on
climate change
would have nothing to do with Washington's stance on other issues in China, especially human rights.
"We cannot say, 'because we hope you'll do something on climate, that we can ignore the fact that you're committing genocide of a population in your country'," Pelosi said. "That's just not going to happen."
In a statement after the House vote, Biden said the bill would help the US outcompete China in the 21st century, and urged Republicans to support it.
"If House Republicans are serious about lowering prices, making our economy stronger and competing with China from a position of strength, then they should come to the table and support this legislation, which does just that," Biden said.
Responding to a query about the House vote, Liu Pengyu, spokesman for the Chinese embassy in Washington, said the US "should not make an issue of China and perceive China as an imaginary enemy".
"We urge the US to view China's development and China-US relations in a rational way, delete China related contents in the bill and do more to promote mutual trust and bond of our two countries," he said.
Aides on Capitol Hill closely following the legislation said it could be weeks before a final compromise bill emerges from the House and Senate, and it is unclear what it will ultimately look like. Both chambers would then need to vote on the reconciled measure, with 60 votes needed in the Senate for passage.