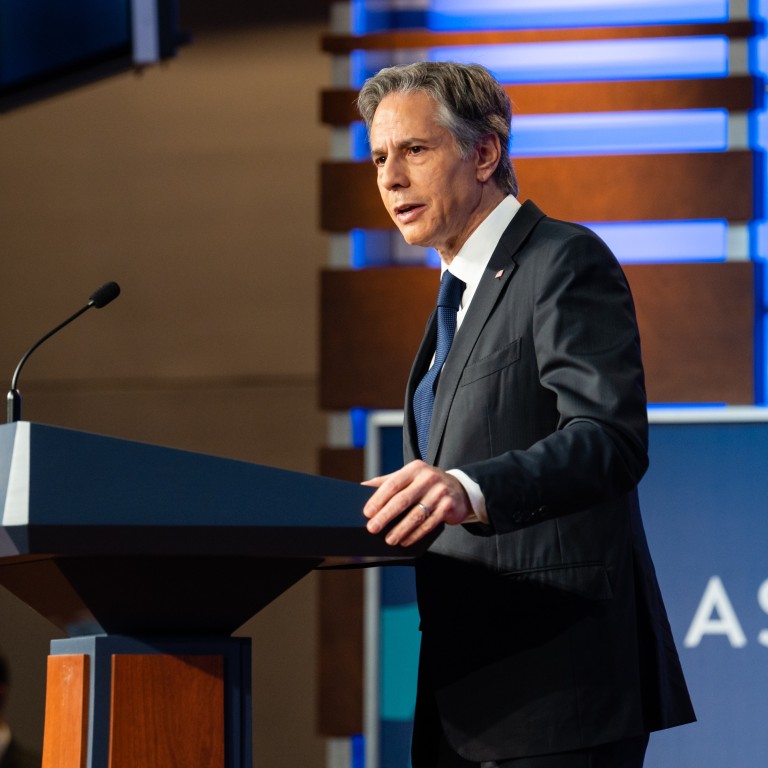 Antony Blinken accuses China of undermining global order in major policy speech
China 'has become more repressive at home and more aggressive abroad' under President Xi Jinping's rule, US secretary of state says
Blinken also calls for more dialogue with Beijing to find climate change and Covid-19 pandemic solutions
China's government is undermining the global order that has allowed the country to flourish economically, which requires Washington to work more closely with allies and other countries to counter Beijing's influence, US Secretary of State Antony Blinken said on Thursday.
"China's transformation … [was] made possible by the stability and opportunity that the international order provides," Blinken said in a long-awaited policy speech delivered at George Washington University. "Arguably no country on Earth has benefited more from that than China."
"But rather than using its power to reinforce and revitalise the laws, agreements, principles and institutions that enabled its success so other countries can benefit from them too, Beijing is undermining it," he said.
"Under President Xi [Jinping], the ruling Chinese Communist Party has become more repressive at home and more aggressive abroad."
Speaking for 45 minutes, Blinken also pledged that US President Joe Biden's administration would work to "shape the strategic environment around Beijing to advance our vision for an open and inclusive international system", a reiteration of the US leader's reliance on new – or renewed – alliances to increase pressure on the Chinese government indirectly.
"The scale and scope of the challenge" China poses, Blinken said, had prompted him to create a "China House", one of the few specific government actions he cited.
Blinken described it as "a departmentwide integrated team that will coordinate and implement our policy across issues and regions, working with Congress as needed".
The address, postponed from May 5 because of Blinken's Covid-19 diagnosis at that time, followed a series of meetings involving Biden and leaders throughout the Indo-Pacific.
In the past two weeks, Biden has hosted Association of Southeast Asian Nations (Asean) leaders in Washington, travelled to Seoul and Tokyo for bilateral meetings and took part in the second Quadrilateral Security Dialogue (the Quad) leaders' meeting.
In February, Biden introduced his Indo-Pacific strategy that aimed to renew American economic and security commitments to the region. In Japan on Sunday, Biden announced the 12 nations that have joined his Indo-Pacific Economic Framework – the economic pillar of the strategy to counter Beijing in the region.
"Competition does exist in some areas such as trade, but it should not be used to define the overall picture of the China-US relations," China's Washington embassy spokesman, Liu Pengyu, said in response to Blinken's speech. "It is never China's goal to surpass or replace the US or engage in zero-sum competition with it."
Biden and Xi "agree that China and the US should respect each other, coexist in peace and avoid confrontation", Liu said, citing the most recent
virtual summit
between the two leaders.
"The China-US relationship is now at a critical crossroads," he added. "We hope the US side will work with China to earnestly implement the common understanding reached by the two leaders to enhance communication, manage differences and focus on cooperation, so as to bring the bilateral relations back to the track of sound and steady development at an early date."
On Thursday, Blinken described Biden's China strategy in three words: "invest, align, compete".
He suggested the strategy was in keeping with other administration initiatives, like the Trade and Technology Council that Washington
launched
with the European Union last year to coordinate standards.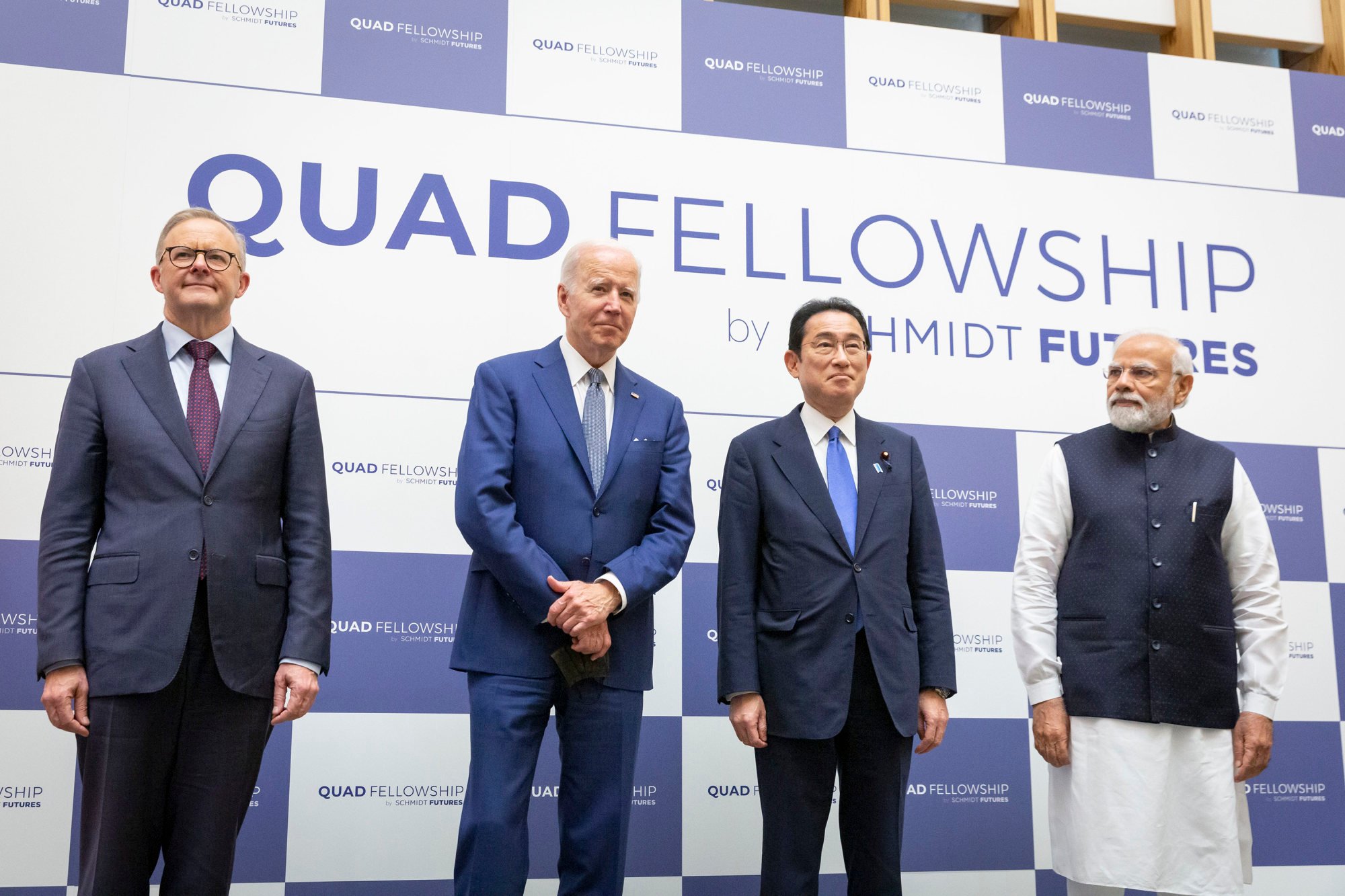 EU and US officials – including US Commerce Secretary Gina Raimondo –
vowed
this month to step up standardising efforts for cutting-edge technology to counter the rising influence of China and other "non-market economies".
Blinken also called on Congress to finish consolidating House and Senate versions of wide-ranging legislation aimed at competing with China in advanced technologies. "We can get this done and it can't wait. Supply chains are moving now," he said.
Along with a list of grievances voiced since Biden took office in January 2021, Blinken also struck a more conciliatory note by calling for more dialogue with Beijing to find solutions for the climate crisis, the Covid-19 pandemic and other global problems. He also insisted that Washington does not seek to change China's political system and is "determined" to avoid "conflict or a new Cold War".
Yun Sun, director of the China programme at the Washington-based Stimson Centre, said that Blinken's address was a "comprehensive, logical and well-structured" summary of the administration's position on China.
"The tone of the speech is quite moderate – no blatant accusations, no 'red line' positions such as regime change, support of Taiwan independence," Sun said. "In fact, the speech is very matter-of-fact. But it still follows the compartmentalised line – 'we compete with China and we seek cooperation with China' – which is difficult to pursue at the same time."
Relations between China and the US have sunk to the lowest level in decades over issues including trade, human rights and cybersecurity. The United States has condemned China's actions in Hong Kong, the South China Sea and its treatment of the Uygur minority in Xinjiang and urged Beijing to follow international rules for fair trade.
Beijing, which has denied all allegations of abuse against Uygurs, has also accused Washington of "interfering in domestic affairs" and undermining global stability with alliances like the Quad and Aukus, a military alliance with Britain and Australia.
Addressing the issue of Taiwan, one of the most pressing areas of friction, Blinken said that "we oppose any unilateral changes to the status quo from either side" and called regular People's Liberation Army fighter jet sorties near the island "deeply destabilising".
"We do not support Taiwan independence and we expect cross-strait differences to be resolved by peaceful means," he said.
Blinken also pledged to "uphold our commitments in the Taiwan Relations Act to assist Taiwan in maintaining a substantive self-defence capability".
Sun said this was a reiteration of long-term US policy, noting that Biden had already "clarified" his comments on Monday that the US would intervene militarily if China invaded Taiwan.
"For a major policy speech on China, what [Blinken] says about Taiwan will be seen as the most authoritative of [the] US position," she said. "I did not expect him to stray from US long-standing position on Taiwan, and he did not."
While Blinken impressed some analysts for striking a reasonable balance between criticism of Beijing's policies and pragmatic outreach, some criticised the speech for lacking guidance for policymakers and businesses on issues like what Biden would do about
punitive tariffs
that have been in place for nearly four years.
"I don't think [the speech] actually gives more direction to anyone in the US government as to where China policy is going to go and all of the conflicts over things like tariff policy and everything else," said Deborah Seligsohn, an assistant professor at Villanova University.
"There's nothing in this speech to answer those questions, and so I think it leaves us pretty stuck," she said in an online forum hosted by Neysun Mahboubi of the University of Pennsylvania's Centre for the Study of Contemporary China.
Robert Daly, director of the Wilson Centre's Kissinger Institute on China and the United States, called the speech's tone constructive, saying it brought down the temperature in the US-China relationship even if it was short on specific signals.
Blinken "indicated that the [Biden] administration is listening", he said in the online discussion. "They're listening to Chinese arguments. They're listening to Chinese critiques. They're certainly listening to the concerns of many Chinese-Americans.
"But I don't think that anyone wakes up tomorrow morning and thinks, in light of what Secretary Blinken said, we have to do this, that or the other thing differently," he added.