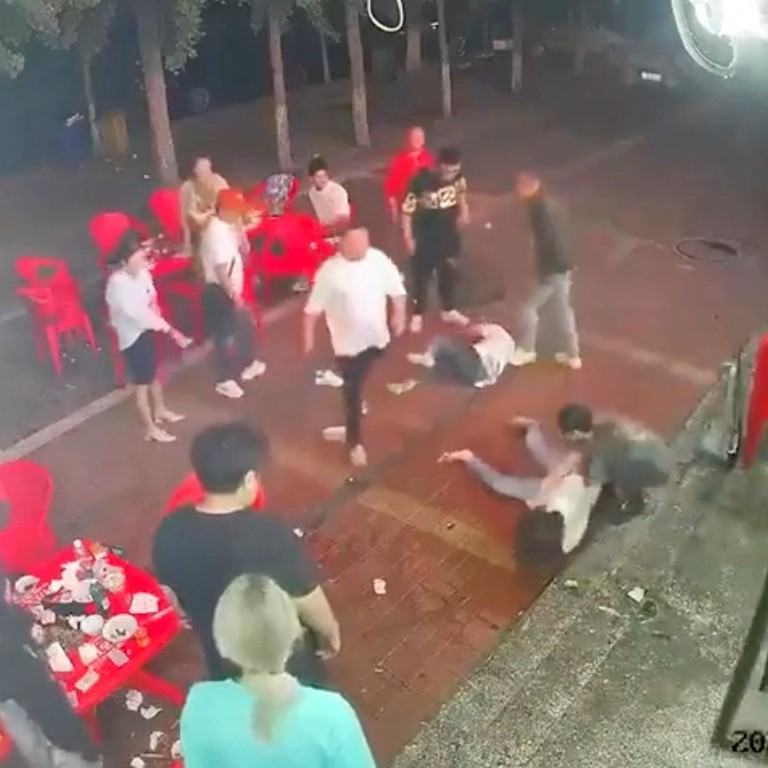 China's Tangshan city stripped of 'civilised' status after brutal attack on women diners
Tangshan won the coveted honorary label of National Civilised City in 2011
Vicious attack on June 10 has sparked nationwide outrage on gender-based and gang violence
Tangshan's "National Civilised City" status has been withdrawn over a
brutal group attack
on four women diners at a barbecue restaurant two weeks ago, as more reports of illegal behaviour emerge.
Nine people were arrested for the vicious assault in the northern Chinese city, which started after one of the women objected to being harassed. The incident, captured on security cameras, sparked outrage across China and renewed condemnation of gender-based violence.
"The honour of a civilised city belongs to all citizens and cannot be smeared or desecrated. All sectors of the society should cherish and jointly protect the goodwill of civilisation and the warmth of the city," state-backed daily China City News said on Wednesday.
The National Civilised City status, an award developed by the Chinese Communist Party's propaganda department, is widely regarded as the highest honorary title for a city. In all, 290 of the country's 600 cities, districts and towns had won the much sought-after title as of last October.
Cities are judged on factors including their image, intellectual capital, government effectiveness and integrity, the fairness of the legal environment, market regulation, environmental health and sustainable development. The grading is carried out through surveys and inspections, and reviewed every three years.
The withdrawal of Tangshan's civilised status – which it won in 2011 – comes less than two weeks after CCTV footage of the fierce restaurant attack went viral.
One of the nine suspects arrested, Chen Jizhi, had previously been
named as a fugitive
in a court case concerning a 2015 assault, and blacklisted as a dishonest debtor, government records published by local media showed.
The security camera footage shows Chen walk into the restaurant and harass one of the diners. A group of people subsequently rush into the restaurant to join him in attacking her and the other women before dragging them outside to continue beating and punching them. Two of the victims had to be hospitalised.
The Tangshan Communist Party Committee has called for the attack to be investigated "deeply to find out which government officials have had interests and relations with Chen Jizhi and other [suspects]", China Newsweek reported.
A deputy police chief
has been sacked
and five others placed under investigation following the incident.
The Hebei discipline inspection and supervision authority said it had conducted "in-depth investigations into untimely police dispatch, irregular law enforcement and serious violations of discipline and law".
Two days after the attack, the local government launched a
"blitz" against criminal gangs
. It urged citizens to report any problems and promised that every tip-off would be investigated.
This was followed by a barrage of complaints about harassment, assault and other illegal activity on social media. Residents were also seen queuing in front of the Tangshan police bureau to report their problems, with some telling news outlets that they had to wait for over four hours to meet officials.