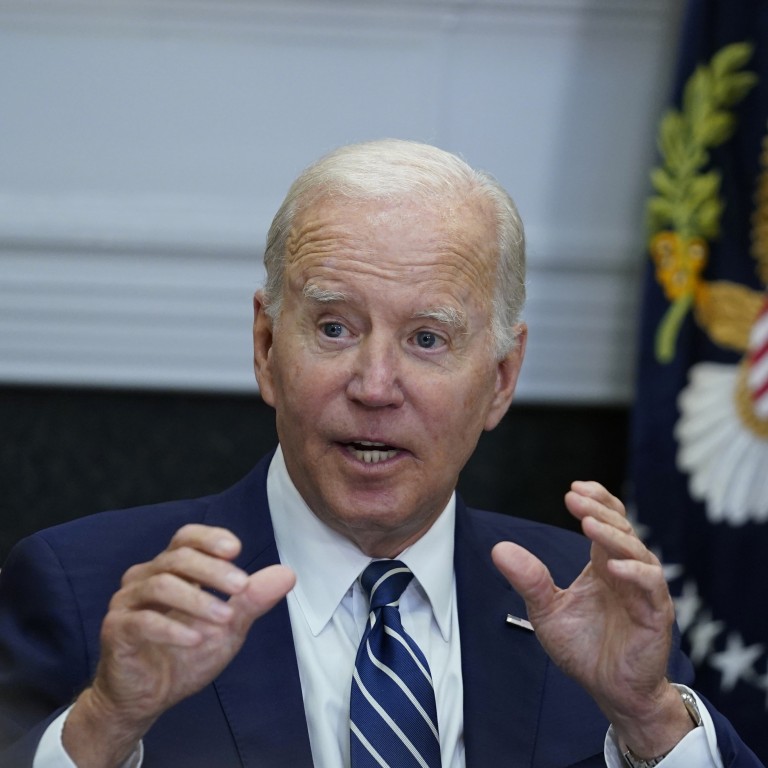 Business groups urge Biden to return trade to heart of Asia policies
US-led chambers among 15 international associations in combined push for regional trade agreements, but China group silent
Indo-Pacific Economic Framework a start, but Washington urged to put all incentives 'on the table'
The US Chamber of Commerce and more than a dozen other American business associations representing companies invested in Asia issued a joint statement on Thursday that pushes US President Joe Biden to put trade back into his economic policies aimed at the region.
While the statement – also signed by the US-India Business Council, the US-Korea Business Council and the US-Japan Business Council – starts as a strong endorsement for Biden's
Indo-Pacific Economic Framework
(IPEF), it also includes a call to work with the US Congress on measures that would complement the initiative, signalling their desire for trade agreements.
"While participation in the IPEF does not preclude or replace membership in regional trade architectures like the
CPTPP
, for the IPEF to be most effective we urge the United States and other IPEF members to put all incentives on the table – including those that may require closer consultation with Congress," the business groups said.
"That is the best way to achieve the most meaningful benefits for American businesses, workers and consumers."
CPTPP is the Comprehensive and Progressive Trans-Pacific Partnership, a later iteration of the Trans-Pacific Partnership, which emerged after former president Donald Trump
pulled the US out
of the trade pact in 2017.
Biden announced last month that 12 countries in the Asia-Pacific had joined IPEF, which emphasises labour and environmental standards instead of market access, and has faced steady criticism from some lawmakers and pundits from both political parties.
They include Senator Tom Carper, a Democrat from Delaware, and Senator John Cornyn, a Texas Republican, who argue that lowering trade barriers would be more effective in furthering the US government's objective of countering China's economic influence in Asia, a strongly bipartisan goal.
Biden and Tai have avoided any effort to negotiate America into CPTPP, which, as with any trade deal, would ultimately require congressional approval. A backlash against trade agreements helped to bring Trump to power and remains unpopular politically in the US.
"The chambers seem to be working to walk the line between being seen as constructively supporting [IPEF] and pressing for their long held desire for tariff-based market access negotiations and concessions," said Claire Reade, who spent eight years negotiating with China as a senior figure in the Office of the United States Trade Representative.
This effort comes "despite the current clear signals from the [Biden] administration and Capitol Hill that there is no bandwidth for the Congress to pass an Asia-wide conventional free-trade agreement", said Reade, who now serves as international trade senior counsel at Washington law firm Arnold & Porter.
Susan Aaronson, a research professor at George Washington University's Elliott School of International Affairs, agreed that the business chambers face huge resistance in trying to advocate for trade agreements to complement IPEF, particularly since Americans are preoccupied with record high inflation.
The joint statement "is possibly helpful, but I don't think it's an effective strategy", she said, adding that "people need to understand that trade, more competition, is a way to keep prices down".
"When business speaks, in general, Congress listens, but I don't think it's sufficient in these times when … the Republican Party has become the party of protectionism," while the Democrats are "mixed" on trade, Aaronson said.
The 15 international business associations which signed the document also included the US-Asean Business Council, as well as the American chambers of commerce for Indonesia, Vietnam and Malaysia.
Notably absent were American business chambers in China, which has reacted angrily to Biden's efforts to bolster ties in the Indo-Pacific through IPEF and other alliances like the
Quadrilateral Security Dialogue
, comprising India, the US, Japan and Australia, also known as the Quad.
"I can hypothesise that [the lack of US-China business group participation] is because if you're a big business operating in China, you don't want to alienate China," Aaronson said. "So you don't want to talk too much about IPEF."