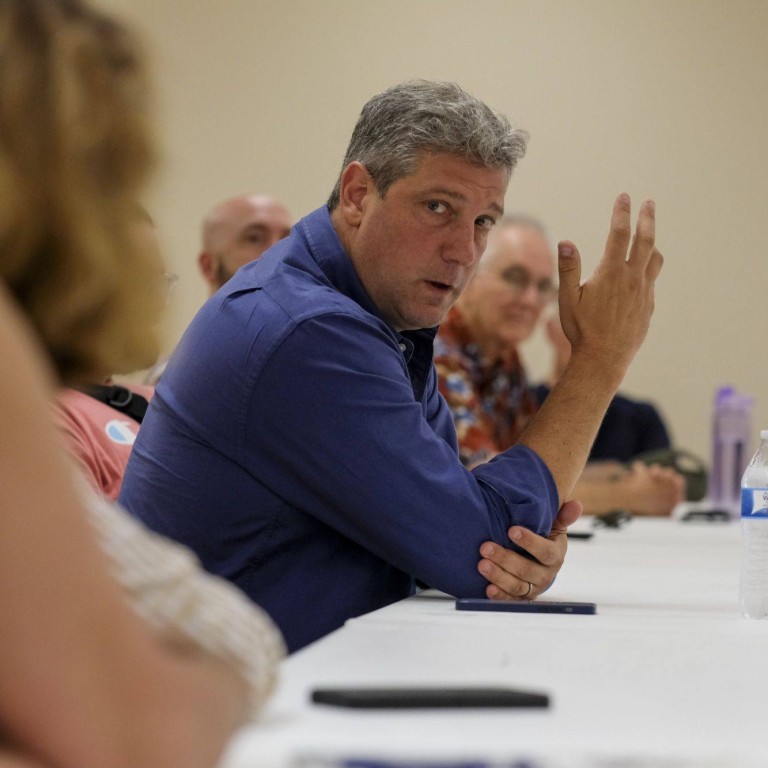 Washington's consensus on China rarely unites US lawmakers, research finds
Both Democrats and Republicans view Beijing as a threat, but often weaponise their stance to blast rivals for not being tough enough on China, an analysis shows
China is a 'potent tool in the Congressional repertoire, and members of Congress are eager to wield it in domestic disputes', report says
"It's us versus China," Representative Tim Ryan, Democrat of Ohio, posted on Twitter in March. A minute-long montage of his speeches, part of his Senate campaign, accompanied the tweet.
"China's winning and workers are losing," he warns a group of listeners, all wearing blue-collar uniforms.
The messaging didn't go down well with some of his Democratic colleagues, who criticised him for "inciting hate and spreading fear". Yet Ryan held his ground.
His reward? A sweeping primary victory in May, scooping up 70 per cent of the vote, and the Democratic nomination for the general election this November.
Ryan is part of a growing group of US congressmen, from across the political spectrum, who are joining the anti-China chorus, but a recent study signals that while they may make local gains, they fail to translate that unanimity into unity.
The China Data Lab at the University of California at San Diego's School of Global Policy and Strategy studied Twitter posts by members of US Congress from April 2019 to July 2021, finding that 10,939 tweets pertained to China.
The lab conducted a four-part study on who in the US Congress tweets about China; what do they tweet about China; how does Congress feel about China generally; and where does Congress come together on China.
The research found that the number of Republican members of Congress posting on Twitter about China increased to 90 per cent, from 75 per cent, between 2019 and 2020 – and that 71 per cent of Democrats had, too.
It indicated that Democrats and Republicans connect on issues like human rights, Hong Kong, Taiwan, cybersecurity and technology, viewing China as a threat to the United States.
Among other China-related issues, Republicans raised topics like research, education and intellectual property more. "Democrats instead seemed to focus on the trade war" and the World Trade Organization, the report found, posting more about then-president Donald Trump.
Despite divergence on some issues, the attitude toward China has remained consistently negative since Trump started the trade war in 2018 – so low, the report found, that subsequent controversies couldn't make them worse.
"Since then, negative sentiment seemed to have hardened in Congressional views of China, such that neither the outbreak of protests in Hong Kong nor a pandemic raging across the world was sufficient to cause a further fall in sentiment," the report said.
But this mutual loathing of China – often said to be a rare source of bipartisanship in Washington – does not culminate in Congressional unity, the research found.
Instead, even after Joe Biden took over as US president, "American politicians across the political spectrum regularly use China to attack their domestic opponents.
"Here, China appears as an issue of political football by the opposing parties. Since the start of the Biden administration, Republicans have played the 'China card' in a manner similar to Democrats who focused on criticising Trump's policies," the report said.
Overall, the study found, China is a "potent tool in the Congressional repertoire, and members of Congress are eager to wield it in domestic disputes."
A lack of unity does not prevent a flurry of China-related bills in Congress.
In an interview with SupChina, a New-York based China-focused publication, Rory Murphy, vice-president of government affairs for the US-China Business Council, quoted figures from the organisation's Congressional Legislative Tracker.
"From 2001 to 2017, there was a lot of consistency in the types of bills, the number of bills related to China that were introduced – around 200, 250 per year, give or take.
"Last Congress – that went from 2019 to 2020 – the number of China-related measures was 639", he said.
Data from Govtrack, which tracks the status of legislation in US Congress, shows that 356 China-related bills in the last Congress term. For this term so far, 335 bills have been introduced.
Major China-related bills now pending include the CHIPS Act that aims to establish investments and incentives for semiconductor manufacturers in the US, and the National Critical Capabilities Act aimed at creating a vetting process for outbound foreign investment.
The Chinese embassy in Washington criticised the Congress and its pending legislation for "severely distorting facts and portraying China as a threat."
"We hope that the US will correct its mindset, view China's development in a rational manner, respect the legitimate right of the Chinese people to development, and play a constructive role in the sound and steady development of China-US relations," embassy spokesman Liu Pengyu said.
Beside politics, Murphy said that the "arms race of policies" creates a lot of uncertainties for the business community.
"From a business perspective, there's a constant political risk, reputational risk doing business. There's an increase of interest, it seems, among lawmakers of both parties, but I'd say probably more so Republicans to call out companies, call out institutions on issues related to China."