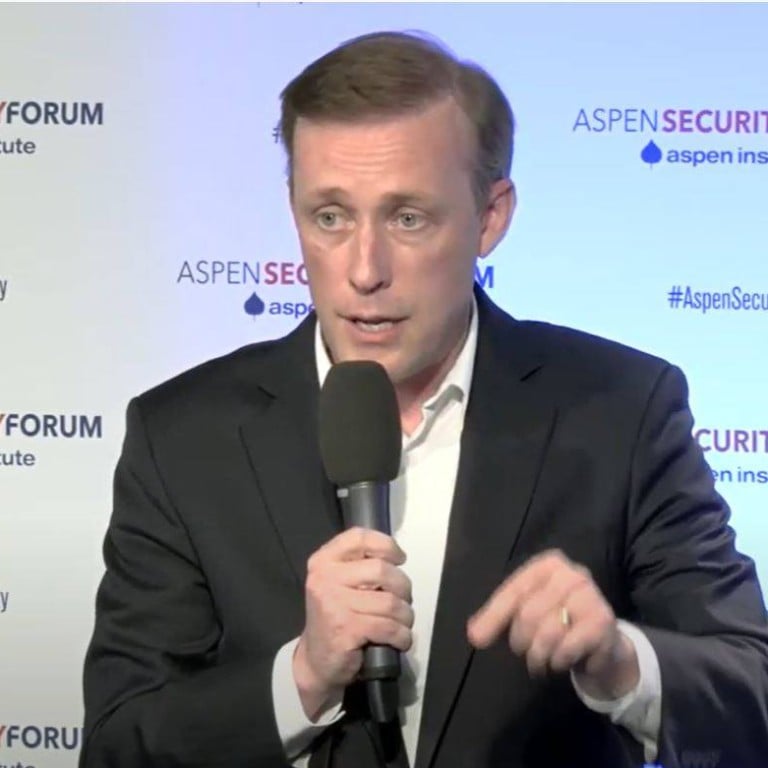 US National Security Adviser Jake Sullivan signals Joe Biden has not changed Taiwan policy as president prepares for call with Xi Jinping
Sullivan says the president is committed to the policy of strategic ambiguity despite his comments that US would come to the island's defence if attacked
Comments seen as attempt to ease tensions after reports House Speaker Nancy Pelosi plans to visit Taiwan angered Beijing
US National Security Adviser Jake Sullivan has said that Joe Biden remains committed to a policy of "
strategic ambiguity
" regarding
Taiwan
despite earlier comments that suggested a change in policy.
Sullivan's comments at the Aspen Security Forum in Colorado were made ahead of an all-important phone call between the US President and his Chinese counterpart Xi Jinping in the coming days.
"When it comes to Taiwan generally … every administration's Taiwan policy, both its declaratory policy and its actual policy, has contained multitudes," Sullivan said, explaining why some of Biden's comments appear contradictory.
"Somehow that ambiguity, that creative tension, within the policy has allowed us to maintain peace and stability across the Taiwan Strait for multiple decades."
The presidents of the world's two largest economies are expected to discuss a range of topics, ranging from a four-year trade war to tension over the Taiwan Strait to China's stance on Ukraine.
The remarks also came days after reports that House Speaker Nancy Pelosi was planning to visit Taiwan next month, although Biden himself has said the US military does not think it is "
a good idea right now
".
On Tuesday, Beijing warned the United States will "bear all consequences" and face "forceful measures" if Pelosi visits the island, which it considers a part of its own territory.
Foreign ministry spokesman Zhao Lijiang said such a trip would "severely undermine China's sovereignty and territorial integrity" and "gravely impact the foundation of China-US relations".
On Thursday, Pelosi said that she had not heard Biden's comments, but suggested that the US military might be "afraid our plane would get shot down, or something like that, by the Chinese". She declined to say whether she would make the trip.
On Wednesday China's ambassador to the US Qin Gang also addressed the forum, where he blasted the US for "hollowing out" the one-China policy.
Under its one-China policy, Washington recognises Beijing as the only government of China but only acknowledges – rather than affirms – Beijing's position that Taiwan is a part of China.
"The United States is hollowing out, blurring out the one-China policy,"
Qin said.
He also accused it of "substantially uplifting official links with Taiwan by sending more officials to the island. It is sending sophisticated weapons to Taiwan, and even claims that the US will defend Taiwan militarily."
Sullivan has previously walked back some of Biden's remarks about Taiwan, including in May when the president said the US was obliged to defend the island militarily if mainland forces were to attack.
The following month China's Defence Minister Wei Fenghe said the country would "fight at all costs" and "to the very end" if Taiwan independence was pursued.
The policy of strategic ambiguity is designed to leave China guessing what the US would do if the island is attacked by neither committing to nor ruling out military action.
The US also committed to provide the island with whatever it needs to defend itself under the Taiwan Relations Act, but this does not commit it to direct intervention.
China is learning from Russia's struggles in Ukraine, Sullivan said, but "Taiwan is learning lessons too, about citizen mobility, about territorial defence".
Sullivan's reiteration of the long-time US stance was intended to ensure that Xi and Biden's call remained amicable, Pang Zhongying, chair professor in international and regional political economy at Sichuan University, said.
"In reality, the US doesn't lose anything by saying that," he said, adding that it was an act of pragmatism.
Xi has not left China since the Covid-19 pandemic hit. He and Biden last met in March by video link for talks that the White House said focused on Russia's invasion of Ukraine.
Biden also told Xi there would be "implications and consequences" if China decided to provide material support to Russia's war.
"Jake Sullivan aptly summed up the situation," Tok Sow Keat, a lecturer specialising in Chinese diplomacy at the University of Melbourne's Asia Institute, said.
"The current administration is committed to strategic ambiguity; indeed the fact remains that the US national interests are best served through strategic ambiguity."
Suggesting anything to the contrary might backfire, as it has "the potential to turn the tables once Beijing sees through the bluff and plays a similar hard hand", Tok said.
"As a strategy, very much like mutually assured destruction (MAD) during the Cold War, strategic ambiguity works insofar as the other party is convinced with your willingness to stay ambiguous," he explained.
"While tactical surprises from time to time could be helpful for short-term gains, play too much of this game and the whole thing may just blow up in your face."