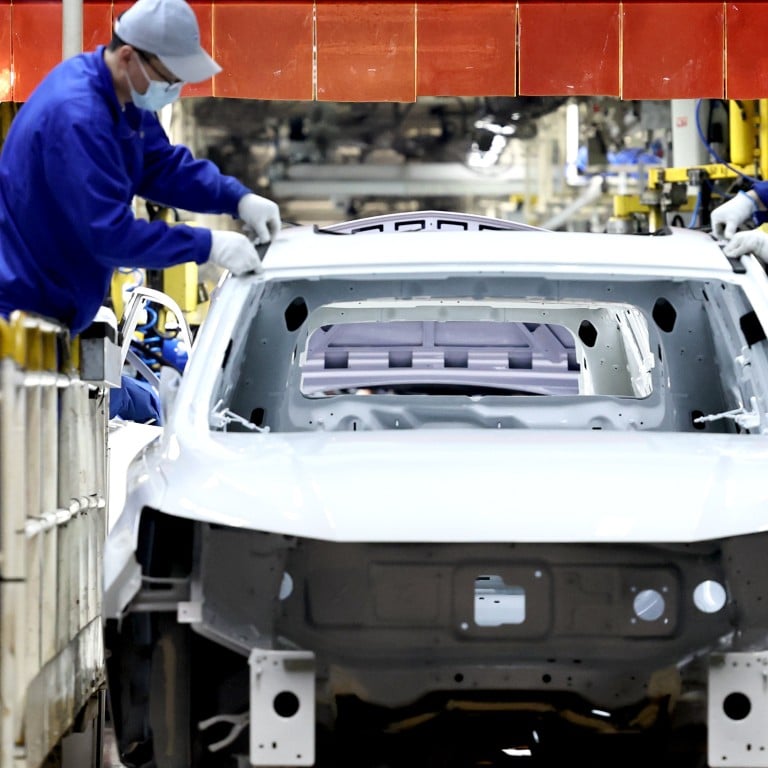 US-China trade war: Trump-era tariffs on imports kept in place as Joe Biden's ambivalence persists
Renewal comes four years after additional duties imposed on products ranging from construction to cars encompassing US$16 billion worth of goods
White House is of two minds as administration sees 'significant leverage' in tariffs yet American consumers feeling pinched by high inflation
The four-year expiration date on a portion of Washington's punitive tariffs on imports from China came and went on Tuesday, leaving in place a 25 per cent levy on goods worth about US$16 billion, despite ambivalence from US President
Joe Biden
's administration.
The additional duties on Chinese imports, initiated by former US President
Donald Trump
, come under four lists. List 1 took effect on July 6, 2018, and applies to machinery and manufacturing parts such as for aircraft, covering US$34 billion worth of Chinese goods. List 2 covers products ranging from construction to cars, and encompasses US$16 billion worth of goods, effective for another four years from Tuesday.
In total, the US sanctioned Chinese imports worth US$300 billion as of 2019 under all four lists, citing a "massive" trade deficit and "unfair" trade practices.
The Office of the US Trade Representative on May 5 initiated a review of the two batches of tariffs, seeking feedback from representatives of domestic industries that benefited from them. As of the August 23 deadline for List 2, 152 submissions were received in favour of extending those tariffs, while over 300 requests were accepted to keep List 1 tariffs in place as well.
A notice from the USTR Federal Register said it would automatically renew the tariffs if it received even a single request to continue them.
Current rules under section 301 of the 1974 Trade Act require the government to assess after four years if the imposed tariffs had benefited Americans, according to Nicole Bivens Collinson, who leads the international trade and government relations practice at Sandler, Travis and Rosenberg, a Washington-based law firm.
"We expect the tariffs will remain in place, and the USTR will issue another Federal Register notice, this time asking for comments from the entities that were harmed by the implementation or the continuation of the tariffs," said Bivens Collinson.
After taking office last year, Biden signalled that he was in no hurry to do away with the Trump-era import taxes. But as inflation skyrocketed this year to a 40-year high of 8.6 per cent, whispers grew that the White House was contemplating a relief package.
Bivens Collinson expressed hope that any future tariff relief would depend on economic factors rather than the USTR's review.
"The Biden administration might decide that, in order to complement the effects that they are expecting from the Inflation Reduction Bill 2022, that they take additional action on specific, maybe consumer products," Bivens Collinson said.
Rising prices are exacting a heavy toll on US consumers. The Peterson Institute for International Economics calculated earlier this year that American households would save an average of US$797 annually if the tariffs now in place were reduced.
These considerations aside, US House Speaker Nancy Pelosi's
high-profile visit
to
Taiwan
, a self-governing island that China claims as its own, led to further strains in
US-China relations
. In response to the trip, Beijing halted cooperation with Washington on a range of issues like
climate change
, maritime consultation and illicit drugs.
Following Pelosi's trip, US Commerce Secretary Gina Raimondo
acknowledged
that the visit had "particularly complicated" existing tensions with China. "Certainly, it has made it a little more challenging," Raimondo said.
Recently the Biden administration has indicated it is of two minds as to whether it backed lifting the tariffs. In July, Treasury Secretary Janet Yellen testified in Congress that some of the tariffs were being "paid by Americans, not by Chinese", yet US trade representative Katherine Tai contended that "China tariffs" were a "significant piece of leverage, and a trade negotiator never walks away from leverage".
For Biden, who has felt pressure from labour unions and Democratic candidates for the coming midterm elections, the only "compelling reason" to stick with the tariffs is to avoid any political fallout, according to Gerard DiPippo, a senior fellow at the Centre for Strategic and International Studies.
During Biden's trip in July to the battleground state of Ohio, Tim Ryan, a Democratic nominee for the US Senate, did not appear on stage with the president due to a "scheduling conflict". Ryan is locked in a tight race with Trump-endorsed Republican JD Vance and has beseeched the White House to continue the tariffs. Biden has been repeatedly attacked by Trump, who is still highly influential in the Republican Party, for being "weak on China" – a label that could cost Democrats in November.
A report by Morning Consult, a firm specialising in online survey research technology, revealed that only 51 per cent of Republicans favoured keeping the tariffs intact – the lowest level of support in six months. Meanwhile, 44 per cent of Democrats wanted Biden to pare them down, with many citing a desire to stem rising consumer goods prices.
The trade deficit between the US and China surged by 14.5 per cent year on year in 2021, according to data released by the Commerce Department in February.