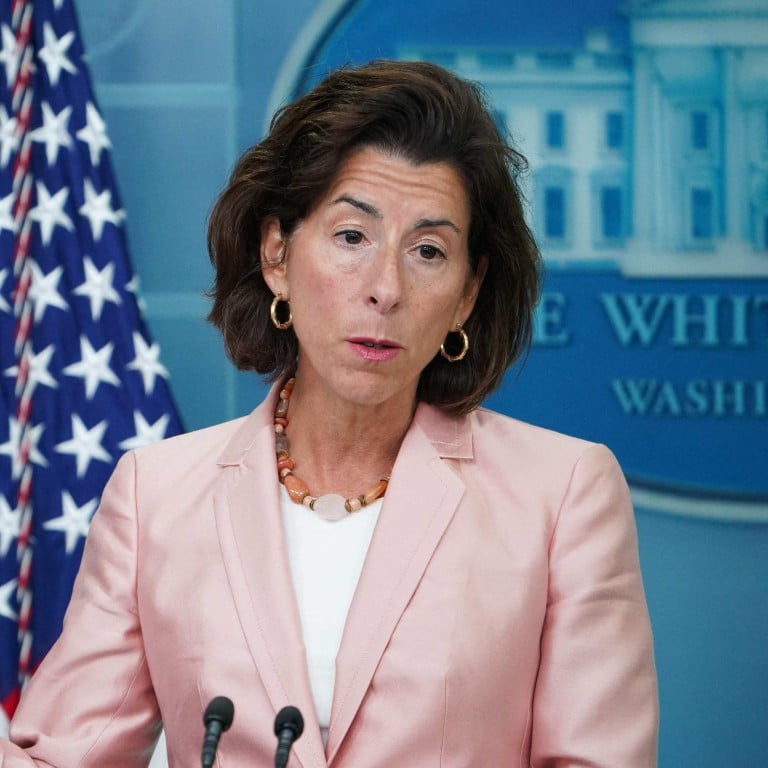 US Chips Act bars American companies in China from building 'advanced tech' factories for 10 years
Recipients of US$52 billion in funding can only expand operations in China that make older and cheaper generation of chips, commerce secretary says
US$28 billion goes to domestic production of leading-edge logic and memory chips requiring 'most sophisticated manufacturing available today'
American tech companies that get funding under the US Chips Act will be barred from building "leading-edge" chip factories in China for 10 years, the Biden administration revealed as it shared details of the law aimed at countering China's semiconductor industry.
Secretary of Commerce Gina Raimondo outlined details about the US Chips and Science Act, which President
Joe Biden
signed into law
last month, relating to the provisions and distribution of the US$52 billion legislation.
"Companies who receive chip funds can't build leading-edge or advanced technology facilities in China for a period of 10 years," Raimondo announced at a White House briefing on Tuesday.
"Companies who receive the money can only expand the mature node factories in China to serve the Chinese market," she said, referring to an older and cheaper generation of chip production still commonly used in computer screens and cars.
"If they take money and then do any of those things, we will call back the money," Raimondo added.
American tech companies have been seeking clarification on the guardrails attached to the government subsidy that will effectively stop their business plans or production capabilities in advanced manufacturing in China.
A major focus of the programme now referred to as Chips for America is chip manufacturing. Fuelled by concerns over American national security, the US$52 billion allocation is meant to put the US in a position of semiconductor supremacy.
Raimondo said US$28 billion of the funding would go towards domestic production of leading-edge logic and "memory chips that require the most sophisticated manufacturing processes available today".
US$10 billion targets manufacturing capacity for mature and current-generation chip production, including those used by carmakers as well as in the manufacturing of weapons and medical devices.
Another US$11 billion is intended to boost American leadership in research and development programmes.
When guidelines for both loans and grants under the law are published next February, American applicants will have to provide proof "in the form of financial disclosures in capital investment" that the money sought is "absolutely necessary" to make the investments, Raimondo said.
Companies applying for funding will only be allowed to produce for the domestic market in China, and their factories are restricted to producing "mature-node" chips that are generally understood to be 40 nanometres in size or larger.
The US consumes 25 per cent of the world's leading-edge chips, yet produces none of them at present, according to the Commerce Department.