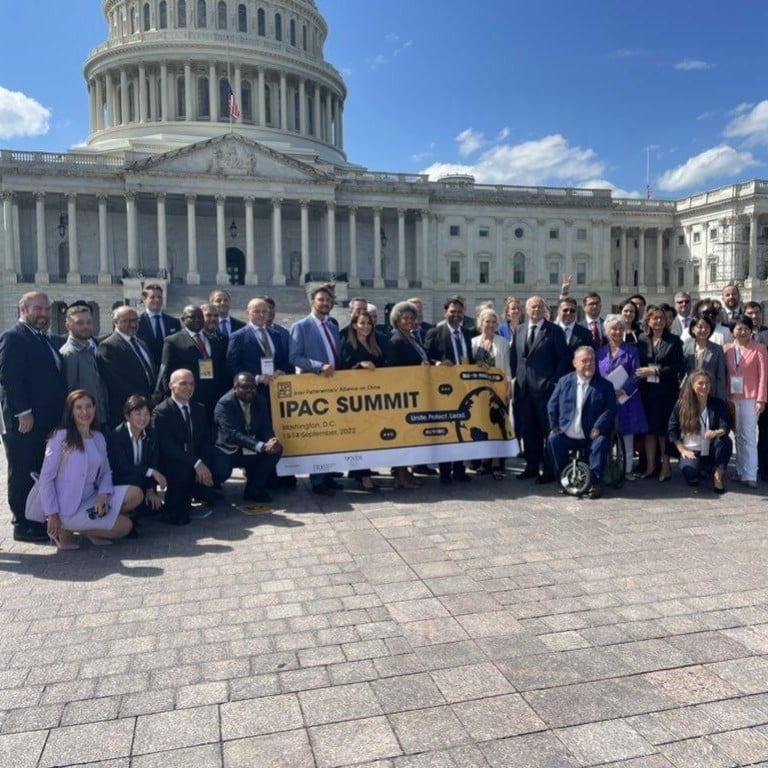 China-focused group of global lawmakers meet in Washington to discuss united response to Beijing
Alliance representing 30 countries to lay out action plan to 'defend human rights and hold the Chinese Communist Party accountable for its violations'
US Senator Bob Menendez describes moment as one of most challenging in his career and about 'what type of world do you want to live in'
Some 60 elected lawmakers from around the world gathered in Washington on Tuesday to discuss forming a united response to confront China and what they describe as the challenges its
Communist Party
poses to democratic values.
The Inter-Parliamentary Alliance on China held its summit hosted by two well-known American senators and critics of Beijing: Republican Marco Rubio of Florida, and Democrat Bob Menendez of New Jersey, who chairs the Senate Foreign Relations Committee. The alliance discussed how to coordinate their response to Beijing.
Stating he had "never seen a more challenging time for the
United States
" in his 30 years working in foreign policy, Menendez laid out the situation before the world as not a "choice between the US and China or the West and China" but about "what type of world do you want to live in".
He warned of threats
Taiwan
faces, adding that the self-ruled island China regards as a renegade province "generates 95 per cent of the world's
semiconductors
".
Menendez said the world could "ill afford" to have the Chinese ultimately "control that reality" or see the people of Taiwan "be overcome against their will."
Rubio said reducing reliance on Chinese manufacturers for cheap goods was a priority. "Short-term corporate profits can be no substitute for the long-term national interest of a country," he said.
"Our economy should not be benefiting or helping the Chinese Communist Party use slave labour to make products just because they might be cheaper once we buy the store in the United States," Rubio added.
British politician Iain Duncan Smith, whose name has been mentioned as a possible future chairman of the UK foreign affairs committee, vowed to push his parliament to pass a similar law on slave labour if elected to the panel.
"The US legislation talks specifically about Xinjiang. I'm talking about anywhere where we suspect them of slavery, we should not be bringing them in, all that stuff needs to be done," said Duncan Smith of China.
IPAC was established in 2020, and today counts a membership of more than 200 lawmakers from five continents. Ukraine became its newest member on Tuesday.
But as smaller democracies around the world become more polarised along party lines, a united response to China's push for greater geopolitical influence could prove more difficult to mount.
Lenora Qereqeretabua, a Fijian opposition member of parliament, said her party lacked numbers in her national legislature to "push anything through". Fiji has maintained diplomatic ties with China since 1975 and does not recognise Taiwan.
"I am hoping that when we have the next elections in Fiji, Australia, New Zealand, whatever happens, don't do that to us, again, because we need the support of Western democracies," she added.