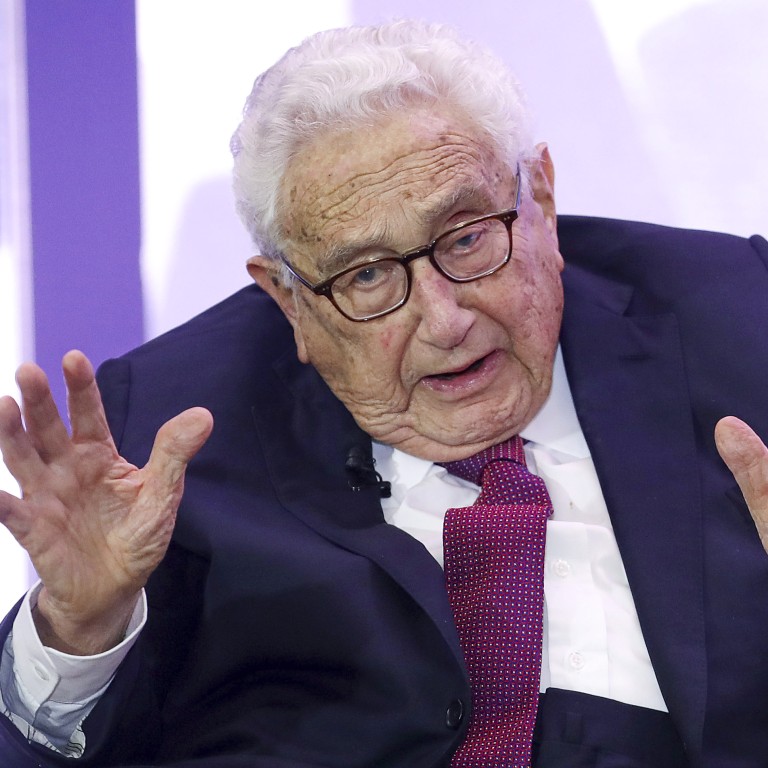 Xi Jinping may 'recalibrate' after miscalculation of siding with Russia, Henry Kissinger says
Xi wants to avoid seeing a wall of Western opposition against China develop in the way it has against Russia, according to the former US secretary of state
Kissinger says Xi must have thought the invasion of Ukraine would be successful because he gave Vladimir Putin 'a rather blank check'
After watching China's "no limits" partnership with Russian President Vladimir Putin fall well short of expectations, the stage is set for President Xi Jinping to tilt at least modestly toward the United States after the 20th party congress, former US secretary of state Henry Kissinger said on Monday.
"Xi gave a rather blank check to Putin," Kissinger said at the Asia Society in New York. "He must have thought the invasion would succeed. He must need to recalibrate."
A slow easing of US-China tensions could begin as early as next month at the Group of 20 summit of economic nations in Indonesia when Xi and US President Joe Biden are expected to meet.
Xi almost certainly expected Putin to be successful after Russia's February 24 invasion of Ukraine – an offensive that has revealed deep weaknesses in the Russian military – and wants to avoid seeing a wall of Western opposition against China develop in the way it has against Russia, potentially raising questions at home, Kissinger said.
But Kissinger, who accompanied presidents Richard Nixon and Gerald Ford to China in the 1970s, added that Xi was a formidable adversary, a firm believer in a strong Chinese Communist state and could still adjust instead by ramping up nationalism at home rather than easing tensions with the US.
He said that even if there is an easing of tensions, China is unlikely to slow its military build-up.
"There's no substitute for building strength, and one cannot use the argument for dialogue with him with the idea that one needs less military capacity," Kissinger said. "I tend to believe he will attempt to form and reserve the issue of confrontation for later in his administration."
Kissinger, 99, said the prospect of hostility between the US and China, two countries with fundamentally different histories and world views, would be devastating, especially in an era where war will increasingly be driven by artificial intelligence.
Kevin Rudd, president of the Asia Society's Centre for China Analysis, added that Xi has effectively moved Chinese politics toward the left by reimposing party control and central planning over the economy even as he pushed foreign security to the right with a more assertive nationalism.
"Xi is China's ideologist in chief," Rudd said.
By enshrining Xi Jinping Thought in the Chinese constitution, it is increasingly difficult to question or offer policy alternatives without appearing to criticise Xi, the entire government and full party apparatus, said Chris Johnson, a fellow with the Centre for China Analysis.
"As politics and economics become a straitjacket together, no one is willing to offer competing economic advice," said Ma Guonan, also a fellow in the new centre. "This will only make it harder to manage," especially given mounting Chinese domestic challenges, including an ageing population, high local government debt and the property crisis, he added.