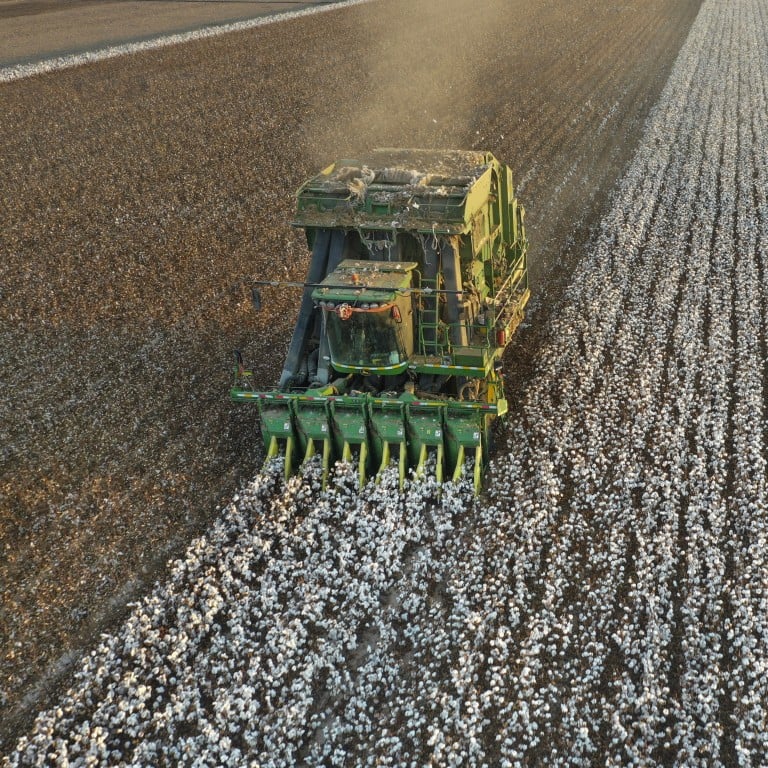 Xinjiang exports to US dip in September but still higher year on year despite forced labour law
Machinery and mechanical equipment top category of products shipped from region, whose month-on-month decline aligns with weakening in Chinese exports
US customs chief insists 'seeing good examples of compliance so far' with recently implemented Uygur Forced Labour Prevention Act
Xinjiang's exports to the
United States
dropped in September after soaring for two consecutive months, but were still nearly three times as high as the same month last year, according to the latest Chinese customs data – despite a Washington law that seeks to ban goods from the far-west region of China due to forced labour allegations.
The shipments from Xinjiang to the US have appeared to continue even as officials from the US customs agency insist that they have been effectively enforcing the
Uygur Forced Labour Prevention Act
, which kicked in on June 21.
Companies from the Xinjiang Uygur autonomous region in September exported US$21.05 million worth of goods to the US, slashed by more than half compared with the figure for August, but more than double the tally in June, trade data showed.
The month-on-month decline of Xinjiang exports to the US was in line with the overall weakening of Chinese exports.
Mainly due to dwindling demand from major overseas markets, China's apparel exports in September fell 4.4 per cent year-on-year and 13.6 per cent month-on-month, according to the China Chamber of Commerce for Import and Export of Textiles.
In total, China's exports to the US plunged 11.6 per cent to US$50.8 billion last month, with imports from the US also dropping 4.6 per cent to US$14.7 billion.
But US authorities reserve their closest scrutiny for goods from Xinjiang.
According to Chinese customs data, the top individual product Xinjiang exported to the US last month was 8 million pairs of synthetic socks worth US$1.56 million, followed by Christmas products valued at US$1.51 million.
Machinery and mechanical equipment remained the top category of products from Xinjiang shipped to the US last month, accounting for 28.9 per cent, according to calculations by the Post based on trade data.
That was followed by apparel and clothing, accounting for 11.6 per cent and worth US$2.4 million, compared with over US$9 million in August. Both have been flagged by US officials as high-risk sectors subject to the most scrutiny under the Uygur Forced Labor Prevention Act.
Beijing delayed the release of many key economic data points, including the September customs records, during the
20th National Congress
of the
Communist Party of China
, which concluded on Sunday. The latest export figures were made public on Monday.
The exports come even as the US customs agency said it was complying with the law and cracking down on imports from Xinjiang.
The agency announced that in September it had targeted 491 entries at US ports worth more than US$158.6 million for suspected use of forced labour.
It said those figures included goods subject to the Uygur Forced Labor Prevention Act, but did not disclose detailed information showing exactly how many.
US customs officials also have yet to release quarterly figures that were expected late last month, which observers have said were anticipated to show with even greater clarity how effectively the law was being enforced in its first three months.
The agency declined to say when those numbers would be released to the public, or why they have been withheld for nearly a month.
Chris Magnus, the commissioner of US Customs and Border Protection, insisted last week that the agency had been off to a remarkably good start with its enforcement of the law.
"We're seeing good examples of compliance so far," Magnus said in an interview with Bloomberg. "When you start to have some success stories, business starts to become more comfortable that there's a way to work with this act and [with] the issue of forced labour in general."
Under the law, US customs officials shall assume that all goods coming in from Xinjiang are at risk of being tainted by forced labour. The law creates a "rebuttable presumption" banning US imports of any materials produced in the region unless the importers can prove otherwise.
Beijing has repeatedly denied all allegations of forced labour.
Companies can appeal if they provide "clear and convincing" evidence to US customs authorities that their supply chains involve no forced labour.
However, meeting the requirements is extremely difficult, if not impossible, experts have said, due to the region's opacity and the hurdles auditors face to conduct meaningful inspections.