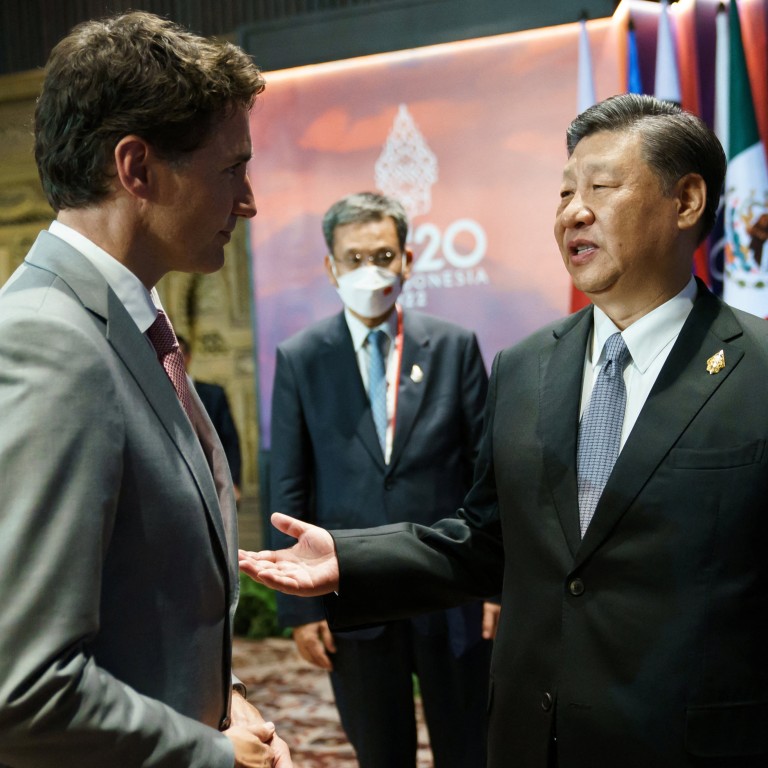 Xi Jinping chides Canadian leader Justin Trudeau on G20 sidelines for 'media leaks' after meeting
Video shows Chinese president confronting prime minister for behaving 'inappropriately' in divulging details about their informal conversation
'Not every conversation is going to be easy', says Canadian leader of on-camera spat
Chinese President
Xi Jinping
chided Prime Minister
Justin Trudeau
of
Canada
in an awkward scene at odds with the genial handshakes and smiles customary on the sidelines of the
G20
summit in Bali,
Indonesia
, on Wednesday.
In a video shared by Canadian journalists on
social media
, Xi was seen confronting Trudeau for behaving "inappropriately" by leaking details of their meeting to media.
"Everything we discussed has been leaked to the paper," Xi is shown saying to Trudeau. "That's not appropriate. That's not … the way the conversation was conducted."
"If you are sincere, we should communicate with each other in a respectful manner, otherwise it will be hard to say what the result will be like," Xi added.
Trudeau then said Canada believed in "free and open and frank dialogue" and would continue to look to work constructively together, but that "there will be things we will disagree on, and we will have to…"
"Let's create the conditions first," Xi retorted before parting ways with the prime minister.
The rare public expression of displeasure between two major leaders came after Xi and Trudeau held their first face-to-face meeting in three years on Tuesday.
The informal conversation, which lasted 10 minutes, was followed by Canadian media reports claiming the prime minister had raised "serious concerns" over China's alleged funding of 11 candidates in Canada's 2019 elections.
When asked about the exchange, Chinese Foreign Ministry spokeswoman Mao Ning said Xi was not criticising Trudeau.
"The video you mentioned was indeed a short conversation both leaders held during the G20 summit. This is very normal. I don't think it should be interpreted as Chairman Xi criticising or accusing anyone," Mao said during a regular media briefing on Thursday in Beijing.
Speaking to media after his on-camera verbal spat with the Chinese president, Trudeau said "not every conversation is going to be easy".
"I think it's important that Canadians in a democracy, that citizens in a democracy, be apprised of the work that leaders are doing on their behalf," the prime minister said.
"And I won't shy away from being open with Canadians, even as we discuss important and sometimes delicate subjects."
Randolph Mank, a former Canadian ambassador who also served in Canada's Department of Foreign Affairs and International Trade under conservative prime minister Stephen Harper from 2006 to 2008, described it as "perfectly normal" for either side to give a read-out of bilateral meetings.
Mank, who is now the director of Ottawa-based think tank Mank Global, believed Canadians should be "proud" of Trudeau for "raising difficult issues with China".
"Perhaps President Xi felt uncomfortable because he is not used to being challenged at home," Mank said. "But that's why international summits are important."
After nearly three years, the situation culminated in a high-stakes prisoner swap as Meng
secured a deal
with US prosecutors to dismiss her extradition case in Canada.
On Monday, an employee of Hydro-Quebec, Canada's largest electricity producer, was arrested and charged for attempting to steal trade secrets for China.
Calling China an "increasingly disruptive global power", she said Canada would "challenge China when we ought to" and "cooperate with China when we must".
Additional reporting by Reuters