US and EU indicate plan to end electric vehicles subsidies dispute, both wary of China and Russia
Two sides agree to align industrial policies at latest meeting of Trade and Technology Council, with Europe urging to see results 'this year'
China referenced in joint statement as allies vow to coordinate actions to eradicate forced labour from global trade
If the meeting of the US-EU Trade and Technology Council (TTC) yielded any agreement, it was that the two sides would resolve their differences by going their own way while aligning their overall policies.
"In Europe we'll have to do our homework," said European Commissioner for Competition Margrethe Vestager after the meeting in Maryland. "We will fight
climate change
together, but we will do that with our respective industrial bases."
"Obviously we are also in the process of seeing what kind of help is needed, targeted temporarily for European industry to be up to the challenge."
Just hours before the talks, European Commission President Ursula von der Leyen called on the EU to "adapt" and "adjust our own" industrial policy rules.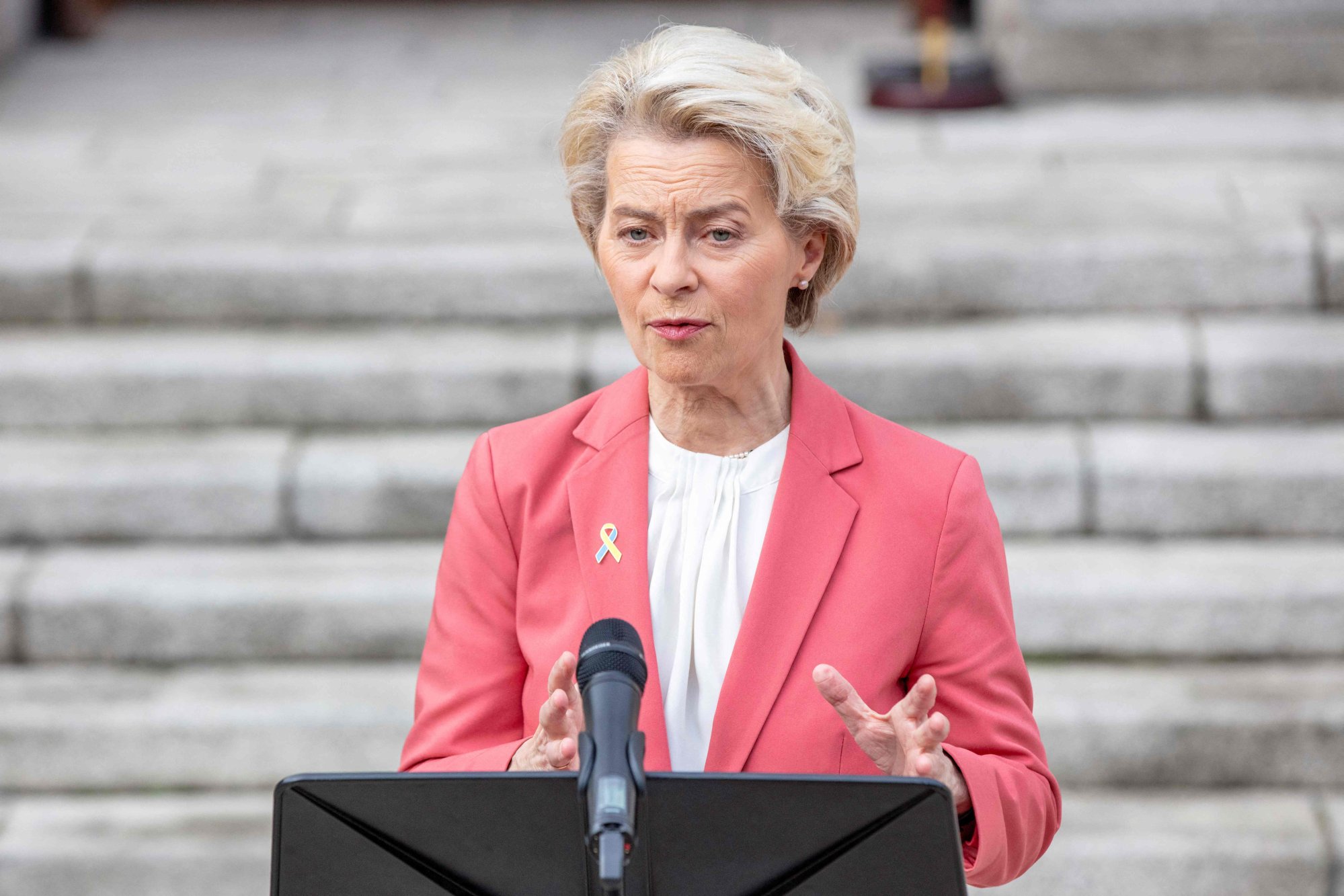 "Competition is good, but this competition must respect a level playing field," she said during a speech in Belgium.
The US delegation on Monday was led by Secretary of State Antony Blinken, Trade Representative Katherine Tai, and Secretary of Commerce Gina Raimondo.
Drawing parallels between the US and Europe passing laws on
semiconductors
while "complementing" and "cooperating" on building resilient supply chains, Tai said strategic deployment of support measures was "very much consistent" with the "spirit" the two sides were bringing to the issues around green transition.
Valdis Dombrovskis, the EU trade commissioner, offered a timeline for a solution. Noting that the Inflation Reduction Act was due to be implemented in January, he said "we need to see results still this year".
The Biden administration's values-driven approach to the TTC is part of a larger strategy of trying to protect groups that have been negatively affected by America's traditional laissez-faire attitude to trade, said Susan Aaronson of George Washington University's Elliott School of International Affairs.
"We're trying to build shared norms among the Western world as to how we deal with the challenge of China and how we deal with the challenge of climate change," said Aaronson. "But it appears we are abandoning some of those norms."
"We should not be the nation whose policies lead other countries to subsidise their car or semiconductor sectors."
Despite the US and EU "saying that they're going to work together", Aaronson added, "the truth is that Congress likes to favour domestic producers".
"The problem is that in the United States we have an integrated North American car industry and so we have to favour
Canada
and
Mexico
, both of which the IRA also discriminates against to some extent, over our European allies," she said.
The US and EU delegations met at the University of Maryland's main campus, a few miles north of Washington, in a classroom down a corridor from a nanoscience and technology lab that also supports American government and industry programmes.
While China has been named as the main target of the
Chips and Science Act
– legislation to bolster American manufacturing of semiconductors – and the Inflation Reduction Act's "Buy American" measures, a joint statement issued after the discussions highlighted
Russia
and its
invasion
of
Ukraine
as motivating factors for closer integration within the TTC.
The press release singled out China with respect to medical technology and more obliquely on forced labour, pledging to take coordinated action to eradicate forced labour from global trade, diversify supply chains, fight economic coercion and reduce dependencies.
Although Europe's committee on International Trade on Monday welcomed cooperation in
AI
technology and combating the "persistent" problem of forced labour, it lamented the "limited" results on matters directly tied to trade.
"The US has been increasingly opting for managed trade, an approach the EU does not take," said Bernd Lange, chairman of the European Parliament's committee on International Trade.
Mark Kennedy of the Wilson Center, a Washington think tank, observed that for Ukraine to prevail against Russia the US needed to closely collaborate with Europe and other allies in implementing technology restrictions.
"America needs to prioritise coordination and cohesion with allies to be successful in its strategic competition with authoritarian powers," Kennedy said.
The EU has voiced displeasure with Biden's unprecedented climate bill, this after urging the US for years to tackle climate change and embrace clean energy. Since August, when Biden signed the Inflation Reduction Act into law, the bloc has expressed apprehension over what it says is an "America First" approach.
The IRA subsidies saga is only the latest in a litany of US-EU trade feuds. A dispute over "unfair support" for American aircraft manufacturer
Boeing
ended last year after 17 years. And the two sides had imposed retaliatory tariffs worth US$11.5 billion on products like wine and cheese for five years before agreeing to a truce in June.
The Inflation Reduction Act designates more than US$360 billion to ensure energy security and target climate change over the next decade. But the law excludes electric vehicles assembled outside North America from tax credits of US$7,500 per car for buyers. It also requires lithium-ion battery makers to source at least 40 per cent of their components domestically to qualify for green credits starting on January 1.
The EU has criticised these provisions as "discriminatory" and incongruent with the
World Trade Organization
's trade rules. Brussels contends that Europe's economy could become collateral damage in Biden's efforts to boost American manufacturing.
French President
Emmanuel Macron
, travelling to the US last week for
his first state visit
of the Biden presidency, described the law's "Buy American" plans as "very aggressive". But the two leaders appeared to have reached an understanding on the issue during a joint press conference at the White House on Thursday.
While Biden assured that the "intention" behind the legislation was to curb China's leverage in the critical minerals sector and "not to exclude allies who were cooperating with us", he acknowledged "glitches" in the law and that
"tweaks" were possible
to "make it easier for European countries to participate and/or be on their own".
A spokesperson for the White House National Security Council in an email to the Post on Monday said the US and Europe were "strong economic partners" who can "harmonise" their economic and trade approaches.
"We're going to continue to create manufacturing jobs in America, but not at the expense of Europe," said the spokesperson, echoing the president. "And not at the expense of our allies and partners."
Experts doubt that White House officials would ask Congress to revise the provisions. Daniel Sneider of Stanford University said the Biden administration was "looking for ways to administratively deal with the implementation" since it lacked authority to make legislative changes.
Troy Stangarone of the Washington-based Korea Economic Institute of America, believed "it would be regrettable if EVs became another area of contestation".
"While [US Trade Representative] Katherine Tai has suggested that the EU should introduce its own subsidies if it is concerned about US EV subsidies, a better path forward would be for the US and EU to work with [
South] Korea
and
Japan
on a common framework for supporting the transition to electric vehicles," he said.
Daniel Gerstein of the Rand Corporation and previously with the US Department of Homeland Security also urged against conflict. He believed now was "not the time for a trade dispute" between the US and Europe.
"There are too many areas in which we need to continue to closely collaborate including on Ukraine and China," Gerstein said, adding that "neither would be positively affected by trying to work this issue in the public eye".
Yet Stangarone maintained that the current dispute was "unlikely to help China since both the US and EU are focused on not only developing the industries related to electric vehicles, but also lessening their dependence on China in strategic industries".
Additional reporting by Robert Delaney