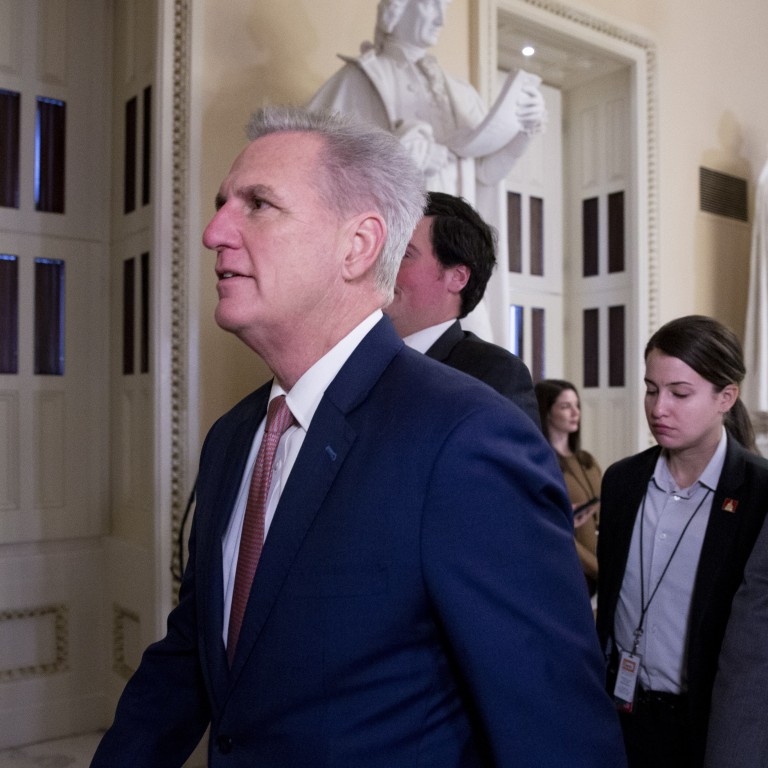 House approves special US-China committee to keep strategic competition high on Congress's agenda
Bipartisan panel charged with recommending policy on matters encompassing economic investment, technological progress and national security
But House Speaker Kevin McCarthy's concessions to most conservative wing of Republican Party mean little room to manoeuvre
Fresh off a fraught leadership election and only a day after it passed a contentious rules package, the US House of Representatives on Tuesday voted overwhelmingly to establish a select committee on US-China strategic competition, affirming its intention of keeping China at the forefront of the new Congress's agenda.
The House voted 365-65 for the committee, with only Democrats opposing it.
A long-term goal of newly elected House Speaker Kevin McCarthy of California, the committee will "investigate and submit policy recommendations on the status of the
Chinese Communist Party
's economic, technological, and security progress and its competition with the United States".
The panel "could go a long way" towards coordinating policy across the many committee jurisdictions in the House and thereby "create a more coherent approach to our China policy", McCarthy told The Hill in October.
In a December op-ed co-written by McCarthy and
his pick to lead the committee
, Republican congressman Mike Gallagher of Wisconsin, the two singled out prohibiting investments into China, exposing dependence on the country, highlighting the Communist Party's influence operations and deterring military aggression as key goals for the panel. Both Republicans had
vowed a hard line
on China.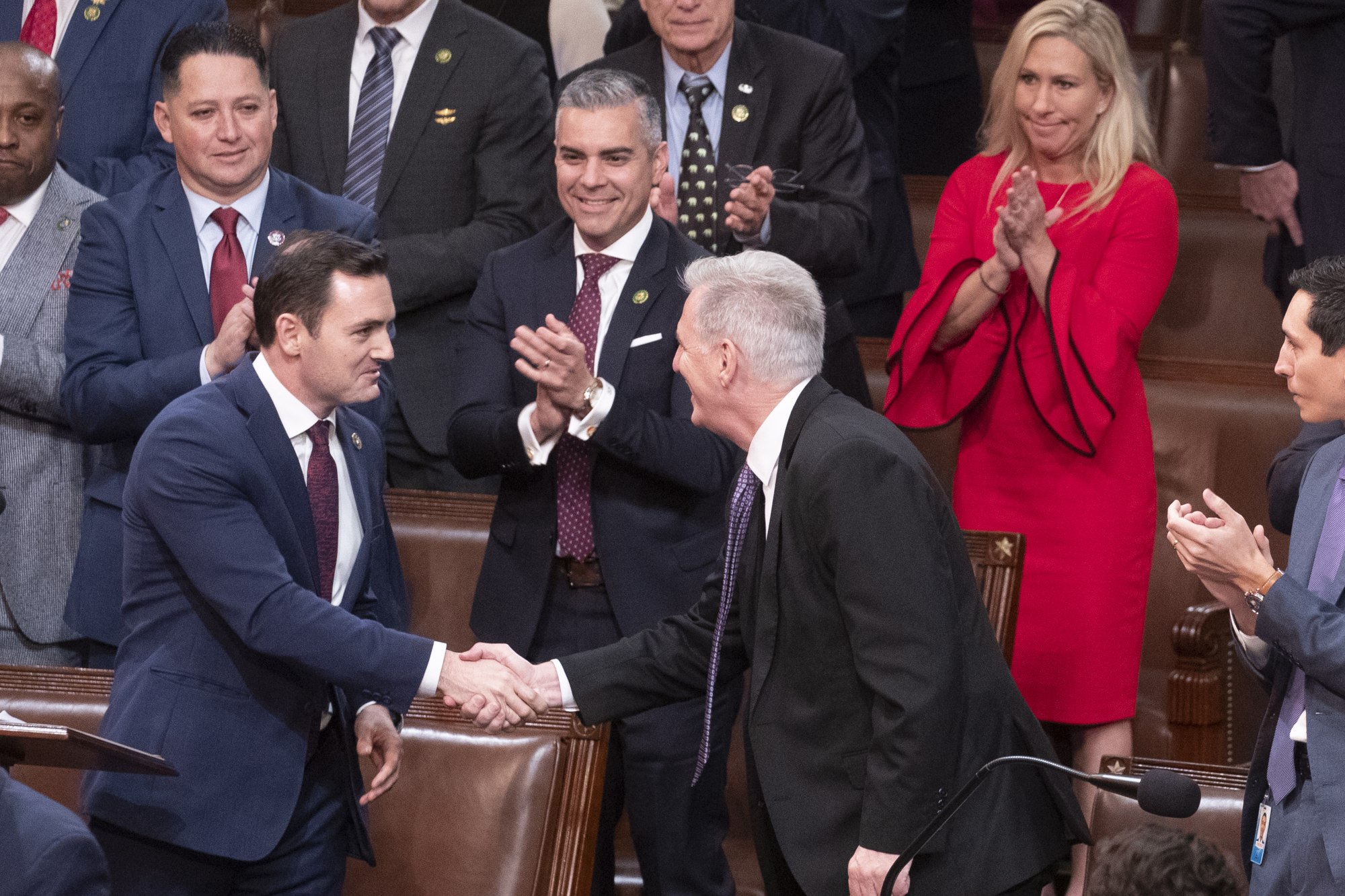 The proposed committee lacks legislative authority, but would have the power to hold public hearings "in connection with any aspect of its investigative functions". Its policy recommendations to standing, or permanent, committees must be submitted by the end of 2023.
House Republicans want the committee to be bipartisan. House Republican leader Steve Scalise said it would comprise 16 members appointed by McCarthy, including nine Republicans and seven Democrats, according to a news release.
Two years ago when they were in the minority, House Republicans proposed the creation of a bipartisan China Task Force, but were unable to get Democrats on board. Democrats did not want to join because they thought the China issue was too politicised, The Washington Post reported in 2020.
Similar efforts to consolidate an approach to China have been supported by both Senate Democrats and US President
Joe Biden
, a Democrat.
The Biden administration's State Department in December created a
"China house"
to coordinate policy within the department, and last fall, the Senate proposed a similar committee with bipartisan cosponsors.
House Democrats who opposed the committee on Tuesday – including Representative Judy Chu of California, chairwoman of the Asian Pacific American Caucus – raised concerns about the committee's potential to fuel xenophobia and violence against Asian-Americans.
Representative James McGovern, a Massachusetts Democrat who ultimately voted to approve the committee, expressed worries that it would focus excessively on ideological competition, military-driven solutions and "pushing Republican conspiracy theories and partisan talking points".
On Tuesday, Representative Pete Aguilar of California, chairman of the Democratic caucus, said that Democrats would participate in "every select committee, every subcommittee that the leadership on the majority side advances".
This follows McCarthy's remarks on Saturday during his first speech as speaker in which he stressed a need to counter the challenge posed by China's Communist Party.
McCarthy said that the select committee would "investigate how to bring back the hundreds of thousands of jobs that went to China". In contrast, new House Democratic leader Hakeem Jeffries of New York did not mention China in his opening speech to the new Congress – though he did vote for the committee on Tuesday.
In July, days before then-House Speaker
Nancy Pelosi's visit to Taiwan
, McCarthy told reporters he would "love" to visit the island as speaker. He has not since publicly addressed such a plan.
However, to secure the support of anti-establishment conservatives in the Republican Party and win the speakership, McCarthy offered concessions – many of which remain unknown – that might jeopardise any future plans.
The most high-profile reported concession restored a rule allowing any member of the House to force a vote to remove the speaker. This puts McCarthy under pressure from the start of his term to cater to members of the Freedom Caucus, a group of Republicans widely regarded as among the most conservative in the House.
McCarthy also reportedly agreed to give Freedom Caucus members a critical three seats on the Rules Committee, which determines the parameters for passing legislation.
Though the committee will have nine Republican members in total – meaning that Freedom Caucus members will be a minority – McCarthy could still be left with little room to avoid alienating the caucus should it mount a leadership challenge.
Another concession was passing a 2024 federal budget capped at levels lower than in 2022. Concerns flared about this leading to a reduction in defence funding for
Taiwan
and
Ukraine
.
But House members who negotiated the deal, like Republican congressman Chip Roy of Texas, argued that the limitations could be met by targeting non-defence discretionary spending.
The last time the formal Defence Department budget was capped, Congress got around the limitations by putting billions of dollars into an overseas contingency operations fund.
Speaking about the select committee on Tuesday before the vote, McCarthy said he wanted it "to last beyond who's in the majority" and for it never to be "a partisan committee".
Anna Ashton of the Washington-based consultancy Eurasia Group said that a bipartisan committee working to address US competitiveness concerns toward China is "much more likely to be productive than anything that either party in the House has done in the last couple of congresses".