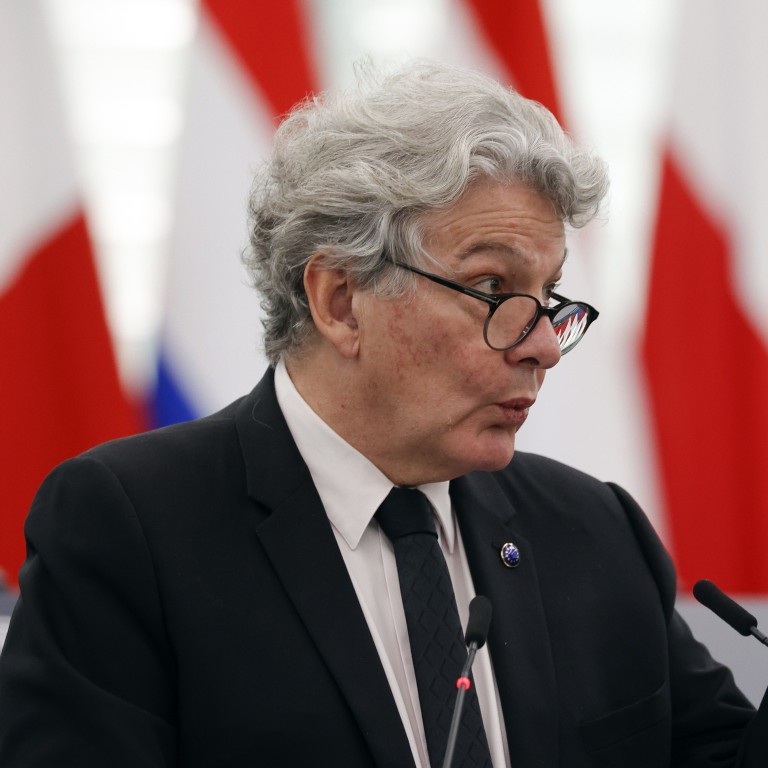 EU tells its members to ban Huawei and ZTE over 'materially higher risks' than other 5G suppliers
Decision to publicly go after blue-chip 5G providers reflects Brussels' frustration with the bloc's slow pace of change in ensuring network security
'We cannot afford to maintain critical dependencies that could become a weapon against our interests,' says EU's internal-market commissioner
The
EU
has told its members to ban Chinese telecoms giants
Huawei Technologies
and
ZTE
from their
5G
networks "ASAP", saying they carry "materially higher risks than other suppliers".
The European Commission, the bloc's secretariat, would also rip Huawei and ZTE equipment out of their premises across the continent, said Thierry Breton, the EU's internal-market commissioner, at a press conference in Brussels on Thursday.
"We will ask our connectivity services to tell suppliers to be free from Huawei and ZTE, and this applies of course for new and existing contracts," Breton said, adding that the commission would recommend that the European Parliament and Council follow suit.
In 2020, Brussels recommended that its 27 members strip "high-risk" suppliers out of their networks, but the public communications were country- and platform-neutral.
Three years later and frustrated by the pace of change, the commission has taken the quantum leap of publicly going after China's two blue-chip 5G providers, which have had market restrictions in 10 out of 27 members so far, with legislation pending in three more.
"This is too slow, and it poses a major security risk and exposes the union's collective security since it creates a major dependency for the EU and serious vulnerabilities," Breton said.
Excluding "Huawei and ZTE from 5G networks is justified and compliant", according to the EU report, which updates the 5G toolbox first revealed in 2020.
"Consistently with such decisions, and on the basis of a broad range of available information, the commission considers that Huawei and ZTE represent in fact materially higher risks than other 5G suppliers," the report continued.
The report said the high-risk vendors in question were likely to be "influenced by specific third countries which have security laws and corporate governance that are a potential risk for the security of the [EU]", and that members should "impose restrictions on high-risk suppliers without delay".
In a statement, Huawei said it "strongly opposed" Breton's comments, which were "clearly not based on a verified, transparent, objective and technical assessment of 5G networks".
"Huawei understands the European Commission's concern to protect cybersecurity within the EU. However, restrictions or exclusions based on discriminatory judgments will pose serious economic and social risks. It would hamper innovation and distort the EU market," the statement said.
Huawei pointed to a report from research house Oxford Economics, which estimated that excluding Huawei from networks in Europe could "increase 5G investment costs by up to tens of billions of euros, and it will have to be paid by European consumers".
ZTE did not respond to a request for comment.
Removing Huawei and ZTE from members' networks could prove challenging, given the sizeable investments European governments have made in the firms' hardware.
Breton on Thursday said protecting Europe's telecoms networks from dependencies on autocratic countries was as important as weaning off their critical commodities.
"The situation with 5G should be no different. We cannot afford to maintain critical dependencies that could become a weapon against our interests."
The European Union's move against Huawei and ZTE came up in Washington on Thursday, during a hearing by the US-China Economic and Security Review Commission, a government advisory body, on the extent to which the EU was aligning with Washington on "de-risking" measures related to China.
Janka Oertel, director of the Asia programme at the European Council on Foreign Relations, said that the order to ban equipment by the Chinese companies would add momentum to what had been mostly a "shaming and naming" exercise to end "corporate inertia" on removal efforts.
In Germany, where Oertel said 65 per cent of 5G telecoms equipment was made by Huawei, "there is the legal basis for a ban, and this is acting on the actual implementation of the legal mechanisms that have already been created".
The new EU ban meant "these things are moving and I wouldn't be surprised if … we will not be talking about this in two years time", she said. "But it's moving slowly."
Additional reporting by Robert Delaney in Washington