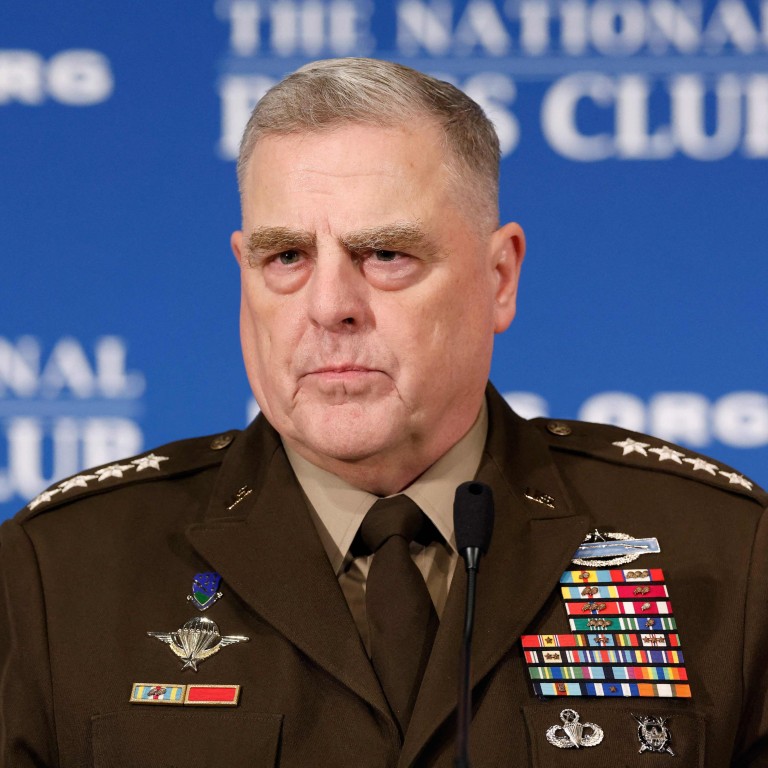 Xi Jinping has yet to decide whether to order Taiwan unification by 2027: top US military adviser
Chinese leader wants PLA to develop capability by then and Pentagon must modernise to deter him, says Joint Chiefs of Staff chairman
General Mark Milley believes optimised use of AI and quantum computing can help US 'maintain our current decisive advantage'
Chinese President
Xi Jinping
has yet to decide whether to order a military unification with
Taiwan
by 2027, according to the US government's top military adviser, who called for an accelerated modernisation of America's armed forces to prevent such a move.
Speaking at a National Press Club event in Washington on Friday, US Joint Chiefs of Staff Chairman General Mark Milley sought to clarify an oft-repeated US government assessment of Beijing's intentions towards the self-ruled island.
Xi "has stated publicly that he has challenged the
People's Liberation Army
to develop the military capability to unify Taiwan with China by 2027. So he didn't say, 'I've decided to attack and invade'", Milley explained.
"He said, you generals, you develop the capability to do that; we'll make the decision later. There's a very subtle distinction there," Milley added.
"The decision-making process will still have to occur, and that's what I'm getting at with the idea of deterrence."
"You want to make sure that every single day President Xi wakes up and says today's not that day, and that decision never comes," Milley said.
"The faster we move [on military modernisation], the faster we can retain military superiority, then I believe … we are more likely than not to deter war … and if war does happen, we will prevail."
US military and government officials have recently offered different time-frame assessments for Beijing's Taiwan reunification plans, predictions that include military capability and actual attack intentions.
"Sun Tzu tells us, see yourself and see the enemy and you win 1,000 battles. Well, artificial intelligence and quantum computing are going to do exactly that," he said.
"The combination of those two technologies alone would spell a tremendous change in the character of war," Milley said.
"So our task … [is] to maintain our current decisive advantage, our lethality and readiness, our competence, by optimising these technologies for the conduct of war. And we do this not to conduct war, but to deter great-power war."
Beijing claims sovereignty over and firmly opposes any form of official exchange with self-ruled Taiwan, which it regards as a renegade province to be reunified with the mainland, by force if necessary.
Most countries, including the US, do not recognise Taiwan as an independent state. Washington, however, opposes any attempt to take the island by force and is legally bound to defend the island.