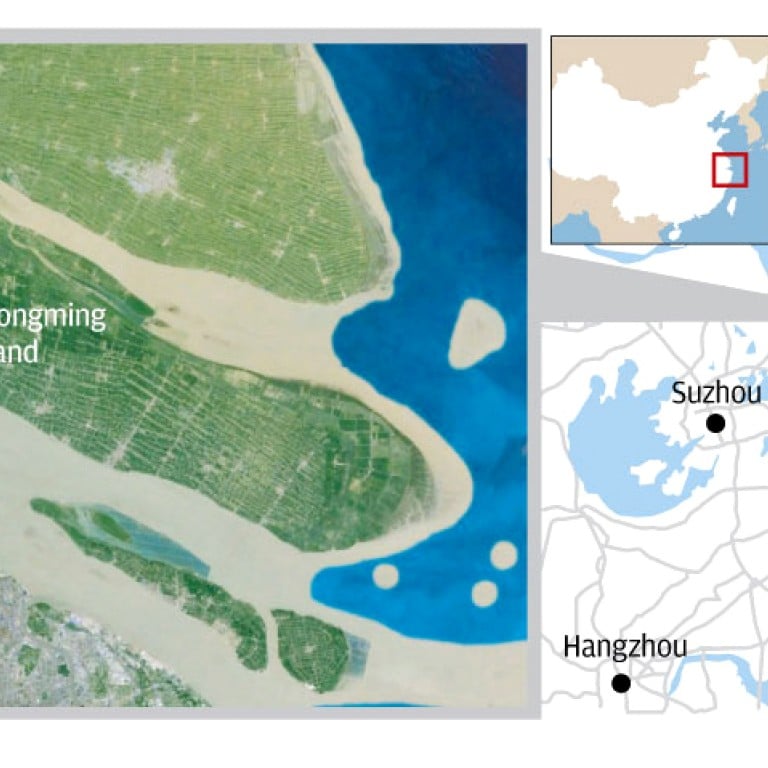 Will Shanghai island be training base for China's aircraft carriers?
Report of military build-up ignites speculation that Chongming Island could be used to prepare crews for naval warships
Construction is under way on a naval training base set to sprawl across more than 160 hectares on the mainland's second-biggest island, according to state media, prompting speculation that the site at the mouth of the Yangtze River could become a training base for aircraft carriers.
reported on Friday that in 2012 the county government overseeing Chongming Island handed over a 167-hectare site to People's Liberation Army naval units stationed on the island.
The report said local authorities also mobilised a range of departments to carry out construction projects, including installation of water and power supplies, barracks, roads, buildings and other infrastructure for the new training base.
Chongming lies in the Yangtze estuary next to Changxing Island, the location of a shipyard belonging to the giant Jiangnan Shipyard Group, one of the companies reportedly involved in construction of China's first locally built aircraft carrier.
Military analysts said the navy was likely to use the base to train crews but not as a home port for the carriers.
Beijing-based naval expert Li Jie said Chongming would probably serve as a naval air force training base and may well be a supply base for warships.
"China already has two aircraft carrier bases. One is in Dalian , in Liaoning province in the north, and the other is in the south in Sanya in Hainan ," Li said.
"Chongming is not an ideal [home] base for a carrier because it is too close to the metropolis of Shanghai, where many flights take off and land."
Chongming covers 1,267 sq km and is the mainland's second-largest island after Hainan. It has a population of 820,000 and has been used as a military bulwark against Japanese invasions over the centuries.
Shanghai-based naval expert Ni Lexiong said the island's strategic location made it a good choice for a training base.
"Chongming was a coastal defence base to counter Japanese invasions in the Ming and Qing dynasties in the 14th to 20th centuries. Its strategic importance was overlooked when China opened up in the 1980s to early 2000s," Ni said.
Early this month, China Central Television reported that the PLA had stationed its main J-10 jet fighters on the island, a move to bolster coastal defences ahead of any potential military confrontation with Japan over the East China Sea.
The island's government said it would make sure that airspace over Chongming was clear for the military, according to a PLA report on Monday.
But that guarantee is likely to mean damage to the island's wildlife.
Chongming Island's massive wetlands are a major habitat for migratory birds and the air clearance means local authorities will have to "displace" the wildlife.
"[We] should immediately solve all problems that might affect the combat strength of our troops," the cited one local official as saying.
Hong Kong-based military observer Leung Kwok-leung said all the signs were that "China is now focusing on developing its navy".
"The latest development of Chongming indicates the PLA Navy's base in Wusongkou in Shanghai has failed to meet increasing demands."
Even before the building of the massive base, Chongming had long served as the PLA's military training ground for its land, navy and air forces as well as armed police. The PLA built a military farm on the island in 1961 and it has been a supply base for both Shanghai and local garrisons since then.
This article appeared in the South China Morning Post print edition as: Is this a new carrier training base?