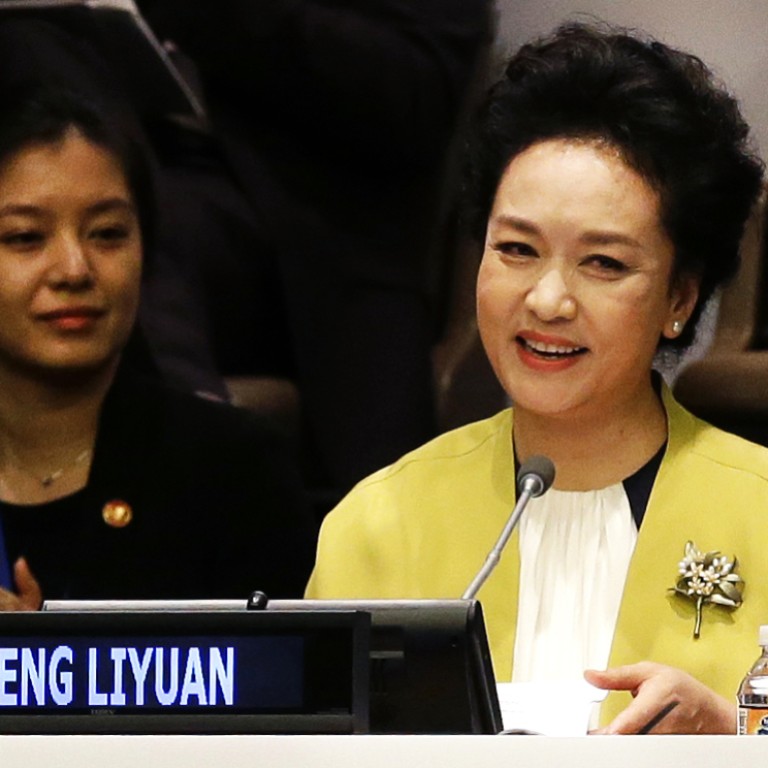 China's first lady Peng Liyuan impresses with fluent English speech at United Nations
After dazzling fans with her easy grace, divine singing voice and elegant fashion sense, China's first lady Peng Liyuan  has shown another talent – fluency in English.
Peng, UNESCO's Special Envoy for the Advancement of Girls' and Women's Education, delivered a speech in English at the Global Education First Initiative event at the United Nations in New York on Saturday.
In a slow but firm voice with distinct pronunciation, Peng shared with the audience how her father established a night school in a small village in China to teach villagers to read newspapers and write their names.
Watch: Peng Liyuan's speech at the United Nations
"As his daughter, I know what education means to the people, especially those without it," said Peng, who said being a beneficiary of China's progress in education had enabled her to become a soprano and professor of music.
"Education is about women and girls. It is important for girls to go to school because they will become their children's first teachers someday. But women still account for over half of the world's poor and 60 per cent of adults who cannot read," said Peng.
"Education is crucial in addressing such inequalities."
Peng, 52, now president of the People's Liberation Army Academy of Art, enlisted as a soldier of literature and arts in Shandong in 1980. She studied at the China Conservatory of Music and graduated with a master's degree in 1990. She has toured the world as China's top soprano to promote Chinese opera and music.
There have been occasional reports praising her fluency in English, but the speech at the UN was the first time her proficiency had been demonstrated to such a large audience.
On September 3 when standing and smiling with her husband in front of the Duanmen Gate of the Forbidden City to welcome foreign leaders for a military parade to mark the 70th anniversary of the end of the second world war, Peng could be heard saying "welcome" and "this way, please" in English on a national television broadcast.
In 2011, when the World Health Organisation appointed Peng a goodwill ambassador for tuberculosis and HIV/AIDS she sang the song We Love You partly in English at a nationally televised gala.
And in June 2013, when Peng joined President Xi Jinping on a visit to Trinidad and Tobago, the country's Prime Minister Kamla Persad-Bissessar not only described her as "very beautiful, very warm" – she also said that chatting with her in English was "very wonderful".
Jin Canrong, Associate Dean with the School of International Studies at Renmin University, told mainland media that year that Xi was able to read English but might have difficulty speaking it, while Peng's English was "excellent and very fluent".
In March last year, when Michelle Obama and her daughters joined Peng for a visit to a Beijing school, mainland media quoted someone in the Obama entourage as saying Peng's English was "excellent" and that she and the Obamas had enjoyed "lots of conversation".