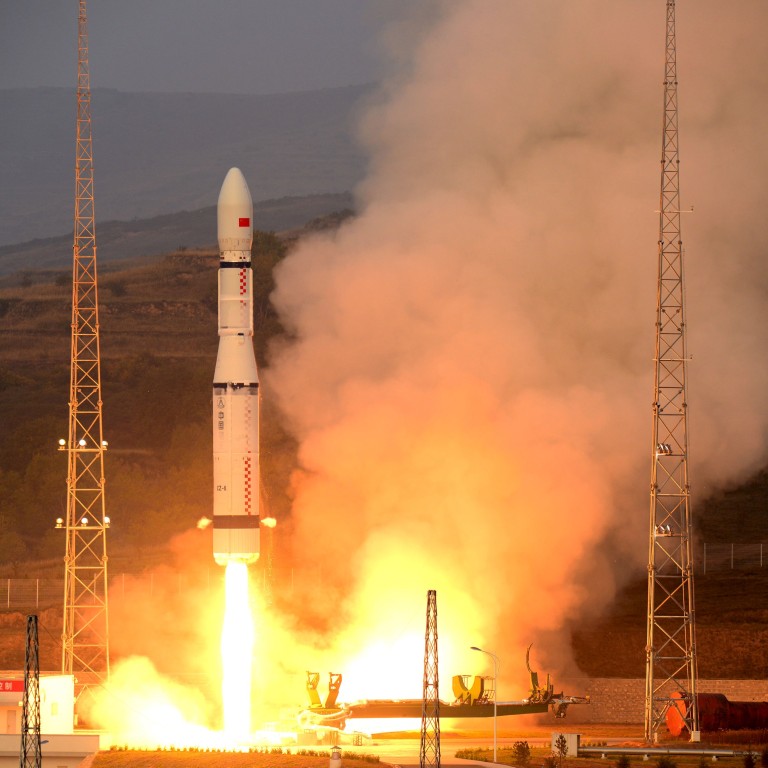 Nuclear space race picks up pace: China unveils rocket capable of firing 20 nukes to defeat US missile shield
Successful debut of the Long March 6 puts President Xi Jinping in a better bargaining position with Washington on security, experts say
China showed the world how far it had come in developing space weapons as it unveiled its new family of space launch vehicles.
The first Long March 6 rocket was successfully launched from the Taiyuan Satellite Launch Centre late last month with a multipayload of 20 small satellites, according to state broadcaster CCTV and the People's Liberation Army's mouthpiece, the PLA Daily.
WATCH: Unmanned US SpaceX rocket destroyed shortly after liftoff
The September 20 launch marked China as the third country with such technology, after Russia and the United States.
About a week later, on September 29, the official Science and Technology Daily reported that a Second Artillery Corps battalion had launched a midnight full-flight test of a strategic missile. The test proved that the strategic missile force could now operate the entire chain of the C4ISR – computerised command, control, communications, intelligence, surveillance and reconnaissance – systems that the US military uses.
"The launch of the Long March 6 will definitely help President Xi Jinping increase his bargaining power on security issues when dealing with US President Barack Obama," said defence policy specialist He Qisong of the Shanghai University of Political Science and Law.
"The launch will send a message to the US that the PLA now is capable of breaking its ballistic missile defence system in Asia, because … the multipayload technology can also be used on the DF-41 [long-range nuclear missile]."
Macau-based military observer Antony Wong Dong said the Long March 6 technology could also be used on the JL-3, China's third-generation nuclear submarine-launched ballistic missile.
The DF-41, which the Pentagon has described as China's most powerful weapon, has an estimated 12,000km range and can carry up to 10 warheads. The DF-41 and JL-3 combined could carry up to 20 warheads, hitting as many different targets.
The PLA has yet to acknowledge the existence of the DF-41, although US media have cited Pentagon sources as saying Beijing has launched at least four full tests of the missile since 2012.
The Long March 6, however, was given extensive coverage by CCTV and the PLA Daily.
Hong Kong-based military expert Liang Guoliang said state media reports suggested the PLA was capable of sending 20 reconnaissance satellites to space.
The Long March 6 is a liquid-propellant, small-load space launch vehicle developed by the Shanghai Academy of Spaceflight Technology and based on the strap-on booster for the Long March 5 family of satellite launch vehicles, which is due to make its first trial flight next year, according to Xinhua.
"The successful launch of the Long March 6 plus the advanced C4ISR operations will enhance China's strategic threats to its enemies," He said.
"This means command systems from the PLA's powerful Central Military Commission … to soldiers at the firing point have all been computerised to support the missile battalion to make all-weather, rapid and accurate shots."
This article appeared in the South China Morning Post print edition as: The Long March to challenging US space power