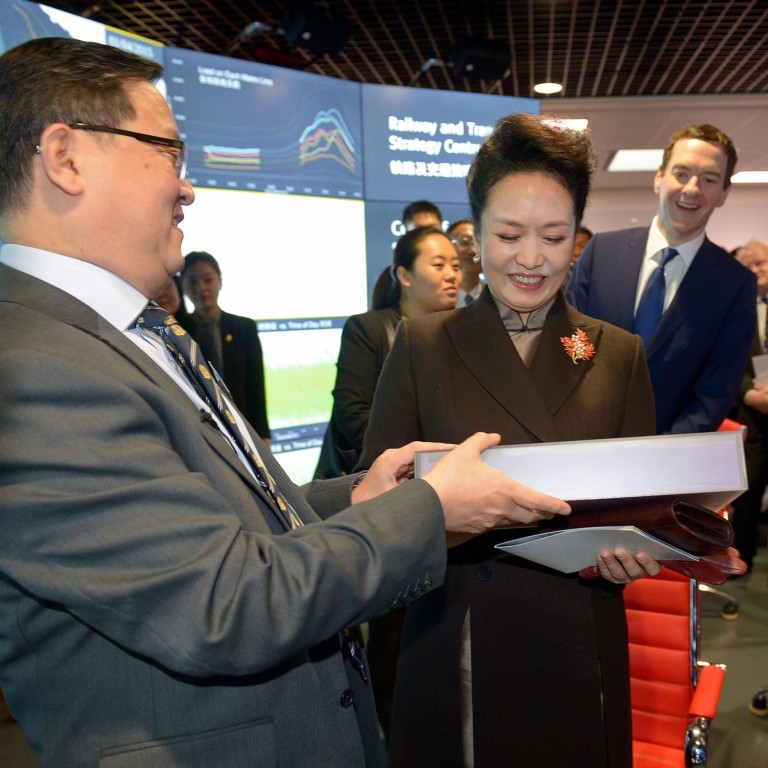 China's first lady all smiles as British scientists give her a computer-designed cape
China's first lady Peng Liyuan was all smiles after she was gifted a cape specially designed and tailored to fit by scientists at Imperial College London and a UK-based Chinese designer on Wednesday.
Even President Xi Jinping cracked a smile as the fashionable cape was given to the first lady by Guo Yike, director of the Data Science Institute, who led a team of data computing scientists to craft the garment with the help of designer Holly Wang. Guo also gave a presentation on the institute's research and the applications of big data during the couple's stay.
Xi and Peng visited the college with George Osborne, Britain's Chancellor of the Exchequer, and Prince Andrew, Duke of York, as part of the Chinese leader's first state visit to Britain.
"We really thought about it hard. The first lady really has very good taste about clothes, and so therefore it's very difficult to design something which fits her well," Guo said. "What's the style, what's the colour – this all needed analysis."
The team analysed 700 photos of the first lady and used 3D modelling technology from computer animation to generate the dimensions that would fit Peng. They also used data analysis to see the frequency of colours and types of clothes Peng wore, and worked with Wang to choose the garment type and colour.
They chose to create a cape because the sizing would be more flexible, meaning there would be a higher chance of the garment fitting well. The analysis also showed that Peng did not own many capes.
"Because it is a computer analysis, it cannot be so accurate," Guo said, adding that the gift was consistent with the type of research the institute conducts. "You can clearly see this is one of the applications of big data."
The grey cape sports a military-style collar and discrete detailing. The colour and checkered pattern were chosen to create a sense of simplicity, and the cut was inspired by traditional British hunting outfits, Guo said.
Jerri Ng, editor-in-chief of Chinese women's style magazine Modern Lady, said the garment represented an intersection of technology and fashion – a big trend coming up next season.
"[Peng] is by far the most fashion forward first lady China has ever had," Ng said, adding that she liked the cape but would have chosen a brighter colour. "I would say it's in line with her style – it's very discreet, there's still a touch of fashion. It's very military, it's very pretty – all these little details just accentuate the look."