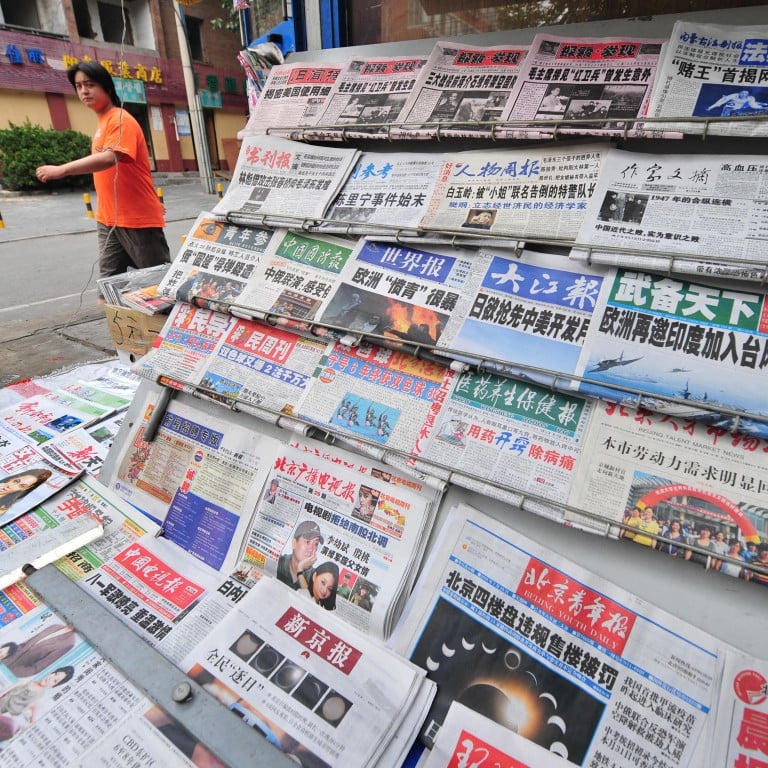 US 'playing with fire': Chinese media's fury after warship sails near disputed South China Sea islands
Mainland newspaper commentaries dub US 'a paper tiger' after actions of USS Lassen and warn it about 'stirring things up where once there was stability, causing the worst kind of harm'
Chinese state media has dubbed the United States a "paper tiger" and says it is "playing with fire" after sending its warship close to China's artificial islands in the disputed South China Sea.
Its actions early on Tuesday morning led to numerous angry commentaries in mainland newspapers.
An opinion piece in Tuesday's overseas edition of People's Daily, the ruling Communist Party mouthpiece, called the US guided-missile destroyer USS Lassen decision to sail within 12 nautical miles of the Mischief and Subi reefs in the Spratly archipelago a dangerous act that was like "playing with fire, with very severe consequences".
It accused the US of "plotting [the act] for a long time", and having its own strategic agenda behind the action, such as serving its strategy to rebalance to the Asia-Pacific region and take the opportunity to tighten its links with its allies in the region.
"It is obvious that, despite the US calling for 'freedom of navigation', it has ulterior motives," it said. "What's ironic is that what has caused the raising tension in the South China Sea and threatened freedom of navigation is not other things, but the US military action itself."
It also reminded the US not to forget the bigger picture of US-Sino relations, in which the two countries should be focusing on mutual beneficial cooperation and solving their differences.
A commentary on the newspaper's WeChat account in its overseas edition called the US Navy's action "a provocation beyond diplomatic means, but one that did not amount to the use of force".
The official People's Liberation Army Daily said in a front page commentary on Wednesday that the United States needed to learn the lessons of the chaos in places such as Iraq and Afghanistan, which it said proved how a US show of force never brought stability.
"Cast-iron facts show that time and again the United States recklessly uses force and starts wars, stirring things up where once there was stability, causing the worst kind of harm to those countries directly involved," it said.
Meanwhile, the Global Times called the US a "paper tiger", and questioned its ability in any showdown with China.
Additional reporting by Reuters