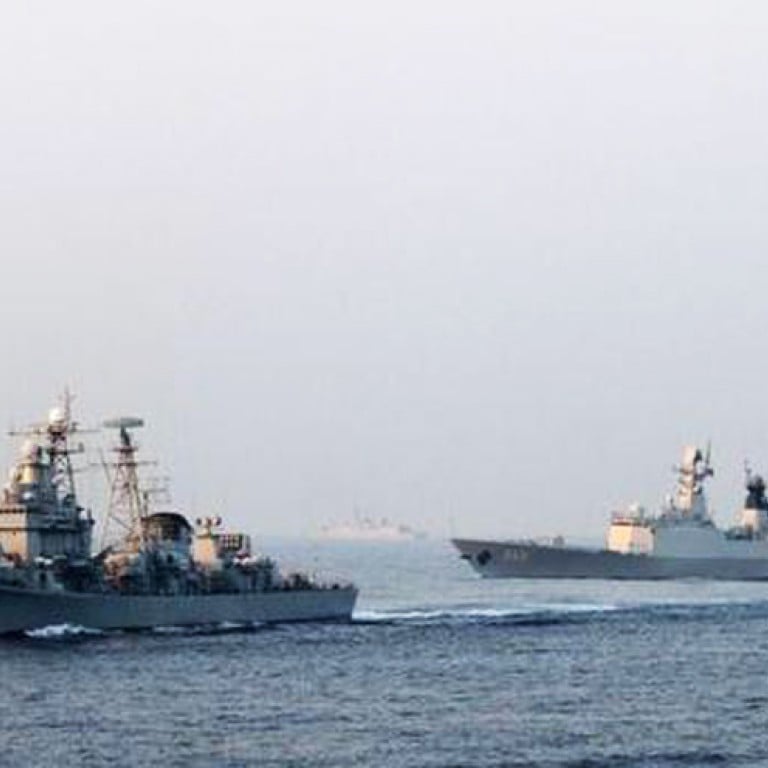 China's navy has edge over US through sheer weight of numbers in dispute over South China Sea, say analysts
When a US Navy guided-missile destroyer sailed near one of Beijing's artificial islands in the disputed South China Sea this week it was operating in a maritime domain bristling with Chinese ships.
While the US Navy is expected to keep its technological edge in Asia for decades, China's potential trump card is sheer weight of numbers, with dozens of naval and coastguard vessels routinely deployed in the South China Sea.
Asian and US naval officers say encounters with Chinese vessels, once relatively rare, are now frequent, even at the outer edges of the controversial nine-dash line Beijing uses to stake its claim to 90 per cent of the waters.
Such encounters will only increase after American officials said the US Navy would conduct regular freedom-of-navigation operations akin to the patrol by the USS Lassen, which penetrated the 12-nautical-mile territorial limit of Subi Reef in the Spratly archipelago on Tuesday.
READ MORE: US, Chinese navies agree to maintain dialogue to avoid clashes in South China Sea after row over American warship patrol
"They are everywhere and are always very keen to let you know they are there," said one US naval officer in Asia, requesting anonymity, referring to the Chinese Navy and coastguard.
"If you're in the South China Sea, you can expect to be shadowed."
In an actual conflict, the US technological advantage could be crucial, but China's numerical superiority had to be taken into account, particularly in any stand-off at sea, security experts said.
Chinese warships followed the USS Lassen as it moved through the Spratlys.
While the vessels kept their distance, China's patience could be tested by repeated challenges to the 12-nautical-mile limits Beijing effectively claims around its seven man-made islands, experts said.
Beijing rebuked Washington over the patrol, calling in the US ambassador to protest. 
US officials have repeatedly said the United States would fly and sail anywhere international law allowed.
Despite the tensions, the two navies held talks on Thursday and a US official said both sides agreed to maintain dialogue and follow protocols to avoid clashes.
READ MORE: Hague court claims jurisdiction over South China Sea dispute in defeat for Beijing
With one airstrip completed and two more under construction, China's man-made islands will give Beijing a springboard to extend power deep into maritime Southeast Asia and beyond. 
Vietnam, the Philippines, Taiwan and Malaysia also hold fortified islands and reefs in the Spratlys.
A Pentagon study published in April showed that China's South Sea Fleet, which deploys in the South China Sea, was the largest of the country's three fleets with 116 vessels.
It said China also had more than 200 coastguard ships over 500 tonnes, including many above 1,000 tonnes. China's coastguard fleet alone dwarves those of Asian rivals combined.
The US Seventh Fleet by comparison operates 55 vessels, including the USS Ronald Reagan aircraft carrier strike group, from its base in Yokosuka, Japan, where it covers the Western Pacific and much of the Indian Ocean.
"China has home-field advantage," said Sam Bateman, a retired Australian naval officer and an adviser to Singapore's S. Rajaratnam School of International Studies.
"At any given time they've got the numbers and quantity not quality can be important in some situations", including confronting perceived intruders, he said.
Bateman and some other regional security analysts believe US warships could find themselves surrounded if China sought to prevent future freedom-of-navigation patrols.
Some Chinese analysts have warned of blocking and ramming operations against US warships, according to reports in China's state media.
Standard rules of engagement mean US vessels would be reluctant to open fire and risk escalation, forcing them to withdraw, Bateman said.
The US Navy declined to comment on the issue, but Navy Secretary Ray Mabus has made increasing the number of ships in the navy a priority in recent years. In many speeches he has said: "Quantity has a quality all its own."
China's presence in the South China Sea has grown steadily, regional naval officers say, reflecting an expansion of the South Sea Fleet and the merging of various law enforcement agencies into a unified coastguard.
READ MORE: China's neighbours wary of taking sides in Sino-US South China Sea dispute
While the coastguard performs many traditional patrolling duties of the navy in the South China Sea, advances in Chinese radar means the navy is never far away, they say.
Analysts and naval officers who have seen satellite images of the South China Sea over the past two years have described Chinese vessels keeping a semi-permanent presence at several disputed locations.
The list includes the Scarborough Shoal and Second Thomas Shoal off the Philippines, several isolated shoals in the Paracel islands to the north of the Spratlys, and the South Luconia Shoals off the Sarawak coast of Malaysia.
The Chinese Navy has also staged high-profile patrols off James Shoal close to Malaysia.
Scott Bentley, a researcher at the Australian Defence Force Academy who has studied the South Luconia situation, said China had rotated coastguard vessels to maintain an almost constant presence there since January 2013.
"China is now for the first time in history not only clearly claiming the entirety of the nine-dash line, but is actively attempting to enforce its expansive claims within that area," he wrote.