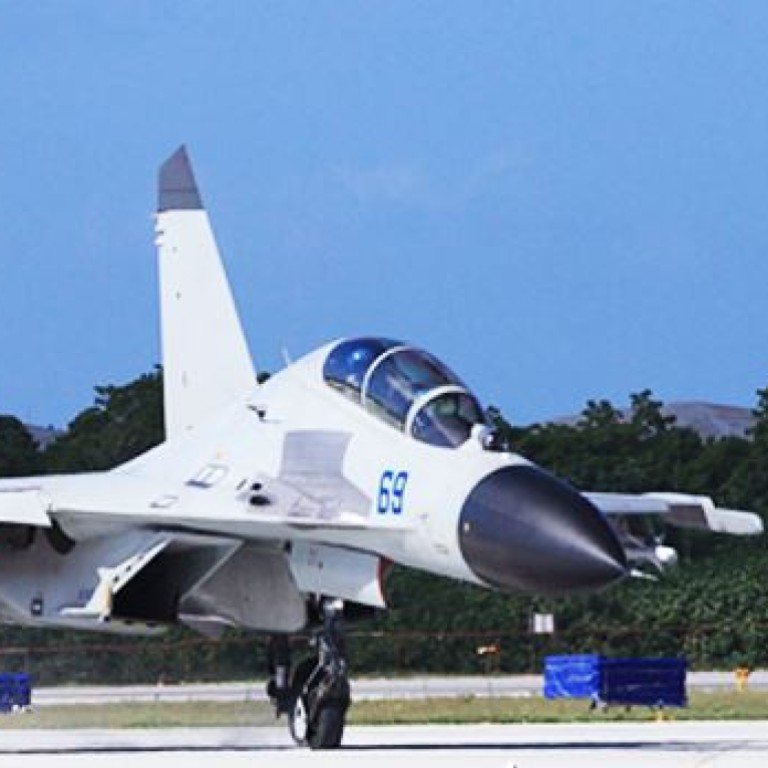 Chinese jets training with missiles fly by disputed South China Sea waters near Vietnam in new response to US warships
China's military releases photos of navy aircraft flying from South China Sea airstrip in the latest response to US warship's Spratlys sail-by
China's military released photos of navy planes training with missiles in the South China Sea, a move experts say is aimed at protesting the patrol of a US warship in waters Beijing claims to have sovereignty over.
The photos, released by the navy's official website on Saturday, showed fighter jets training while armed with missiles. The jets belonged to the South Sea Fleet and the training was carried out from an airstrip in the South China Sea, it said.
The navy did not name the airstrip, but military experts said it was on Woody Island in the Paracels. They also said the exercise was Beijing's latest response to the US guided-missile destroyer USS Lassen sailing within 12 nautical miles of Subi Reef last Tuesday. Subi Reef - located 600km from Woody Island - is one of seven reefs and rocks in the Spratlys chain on which China has built artificial islands.
"Both the defence ministry and foreign ministry have said China would have answers when its sea rights were breached. Such statements need to be followed by real actions," retired Chinese general Xu Guangyu said.
"It's a signal China sent to the US that it is serious about its claims. This is the minimum level of response China should have, or it will fail the expectation of its people."
Xu believed the training was done on Woody Island, since it was the only airstrip ready for use in the South China Sea, despite a handful of runways under construction.
In 2012, China set up the Sansha municipal government on Woody Island, nearly 300km off the coast of Hainan , in a move to further assert its territorial claims in the South China Sea. The municipal government oversees all islands China claims sovereignty over in the region.
"China will spare no effort to make assertive gestures, as long as they don't touch the bottom line of military conflicts," military expert Ni Lexiong said.
"It's also a warning for US allies in the region, including Australia and Japan. They might follow the example set by the US."
US Defence Secretary Ash Carter yesterday said disputes over territory in the South China Sea were causing countries in the region to increase their demand for an American security presence.
"The attention to disputed claims in the South China Sea, the prominence of those disputes, is having the effect of causing many countries in the region to want to intensify their security cooperation with the United States," Carter said as he travelled to South Korea.
Carter said discussions at an upcoming defence summit in Malaysia would include developments in the South China Sea, "the most notable of which in the last year has been the unprecedented rate of dredging and military activity by China".
This article appeared in the South China Morning Post print edition as: Armed jets train over disputed waters