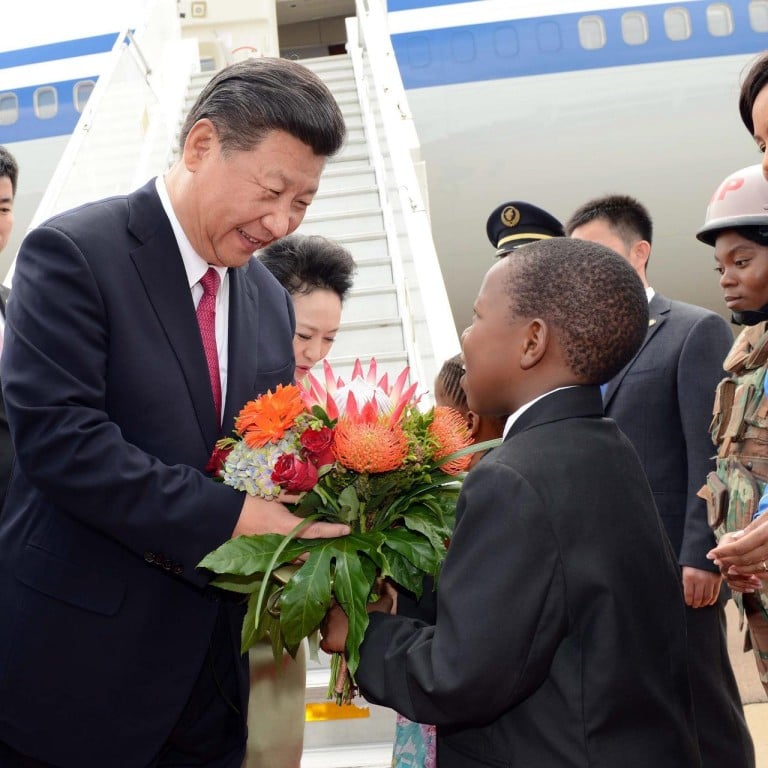 Update
Ties with South Africa have global impact, Xi Jinping says
Two nations have gone beyond the level of bilateral ties and should work closely over world affairs, president says
President Xi Jinping said the relationship between China and South Africa had global significance as he landed in Pretoria yesterday on the second day of his Africa tour, signalling the strategic role of the nation to Beijing's interests in the continent.
He held talks with South African President Jacob Zuma after a 21-gun-salute reception on Wednesday and is scheduled to attend the Forum on China-African Cooperation on Friday.
Xi noted that China and South Africa were "comrades and brothers", and should continue to support each other on issues "concerning the countries' key interests".
The two countries should become "forward-looking strategic partners with strong mutual trust, development partners pursuing equality, mutual benefit and win-win cooperation, friendly partners who understand and learn from each other, and global partners who support and coordinate closely with each other", Xinhua quoted Xi as saying during the summit.
Xi added that Beijing was willing to support the industrialisation of Africa.
In return, Zuma said South Africa would strengthen coordination and cooperation with China within multilateral mechanisms, such as the United Nations and Group of Twenty (G20), and on major global issues including climate change.
He also welcomed more investment from China and hoped the two sides could push for cooperation in such areas as trade, technology, energy, marine products, commercial aviation and financing, Xinhua said.
The two oversaw the signing of a number of deals in areas including ocean economy, health and medical sciences, energy, and human resources development.
Zhang Chun, an expert on Africa at the Shanghai Institute for International Studies, said China had invited South Africa to join the BRICS bloc, which also includes Brazil, Russia and India.
As Zuma chairs the African Union, this added weight to the country's status as a gateway to Africa for the Chinese, he said.
"South Africa is economically the most developed and politically the most stable among the countries in Africa," Zhang said. "Starting from South Africa, China can upgrade the economic cooperation that has been of a low standard and problematic."
Xi - accompanied by his wife Peng Liyuan - first stopped in Zimbabwe, where Chinese projects have helped support an economy plunged into crisis under President Robert Mugabe's rule.
South Africa is China's biggest economic partner on the continent, receiving about US$13 billion in Chinese investment and home to about 400,000 Chinese businesspeople. But not all privately run firms fully complied with regulations on employment, environment, and product quality, said Xu Changbin, chairman of Sino-South Africa Chamber of Commerce.
This article appeared in the South China Morning Post print edition as: China relations with South Africa have global impact, Xi Jinping says ahead of visit