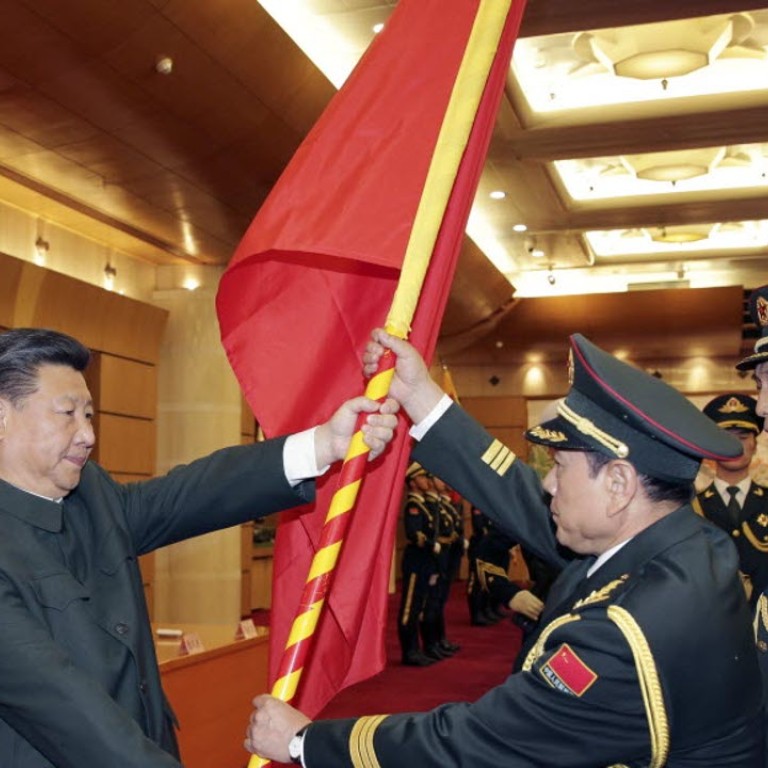 President Xi Jinping lays down the law to the Chinese army in first 'precept' speech since Mao Zedong
President Xi Jinping (習近平) has outlined the direction of the People's Liberation Army in an official speech known as a "precept", becoming only the second person to do so since the founding of the People's Republic of China.
Observers say the development shows Xi is consolidating his authority and demanding loyalty amid his plans for massive military reform.
Xi gave the precept speech, or Xun Ci, which literally translates as "admonishing words", on December 31 to mark the launch of two new wings of the army and the establishment of a separate command for ground units, according to Xuexi Zhongguo, a smartphone app ran by the Central Party School.
The only other leader to have given a precept speech to the military in the 67-year history of the People's Republic of China was Mao Zedong, who did so in 1952 and 1953.
Xi, who is also chairman of the Central Military Commission (CMC), used the speech to call for his military reform plans to be fully implemented.
Xi's ambitious modernisation plan would completely remodel the army, which was established in Mao's era, and would therefore put him on a par with – or even higher than – Mao in terms of his military authority, said Chen Daoyin, an associate professor at Shanghai University of Political Science and Law.
"No other former CMC chairman – Deng Xiaoping (鄧小平), Jiang Zemin (江澤民) or Hu Jintao (胡錦濤) – has given a military precept before, which means Xi's power and authority is even higher than them," said Chen.
Zhang Lifan, a party historian, said the phrase "Xun Ci" suggested a sense of sternness and admonishment towards the lower ranks.
"It also signals Xi's discontent and anxiety over the status of the army – the rampant corruption and the Soviet-style command structures," he said.
Xi was showing assertiveness in the overhaul to remove any resistance from within the army, said Zhang.
.