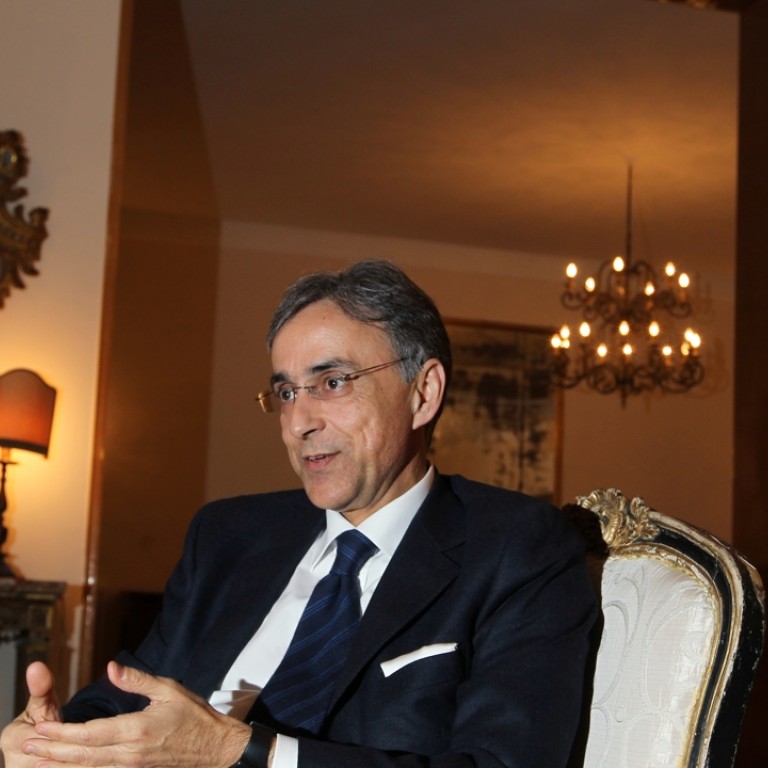 Italy seeks more Chinese help in security and humanitarian crises in Mediterranean and North Africa
Just as Roman Empire connected with China along the Silk Road, Ambassador to China Ettore Sequi says Italy wants to take advantage of One Belt One Road
Italy has called on China to contribute more to the fight against terrorism and help stabilise the Middle East and Northern Africa, as the world's number two economy shows an increasing interest and exposure in the region, its ambassador to Beijing says.
"We expect a growing Chinese presence in the Mediterranean region in the years to come," Ambassador Ettore Sequi told the South China Morning Post. Just as the Roman Empire connected to ancient China via the Silk Road, Italy now wished to take more advantage from President Xi Jinping's (習近平) "One Belt One Road".
Greater flows of trade and investment will bring more Chinese nationals to the region, and with them the exposure of China to the risks that the region has for centuries presented to outside powers that settled there," Sequi said.
China, increasingly aware of the challenges posed by terrorism and extremism at home and abroad, has stepped up security precautions and issued its first counter terrorism law.
On Thursday Foreign Minister Wang Yi (王毅) told Khaled Khoja, the visiting leader of the Western-backed opposition Syrian National Coalition (SNC), that China would continue to play a constructive role in finding a political resolution for Syrian issues and continue to provide humanitarian aid to refugees.
Khoja visited Beijing a fortnight after Syrian foreign minister Walid Muallem as Beijing seeks to bring both sides in the conflict to the negotiating table.
Meanwhile, in a joint statement with Britain on Syria earlier this week, Wang said counter terrorism efforts and a political settlement should be advanced in parallel. China said it too faces a terrorist threat and had a shared interest in defeating all terrorist groups in Syria and Iraq.
"We will continue to support efforts to tackle terrorism and its root causes in the Middle East, North Africa and elsewhere, including the ongoing conflict in Syria," the statement said.
Meanwhile, Europe is dealing with a growing influx of refugees from around the Mediterranean, especially to Germany but also Italy due to its location on the Adriatic Sea and proximity to Libya. Last year, Italy rescued more than 115,000 migrants from the sea, Sequi said.
Germany's ambassador to China last month also asked China to contribute more, while Italy tries to involve China in its own political efforts.
Last month, at the invitation of Rome, Chinese special envoy to the Middle East Gong Xiaosheng took part in multilateral talks on Libya 's transition since the downfall of the Gaddafi regime.
Sequi said that Chinese investment in development, similar to what it was giving to sub-Saharan Africa, would help maintain stability and manage migration.
"Development is crucial to maintain stability," Sequi said.
Turning to bilateral trade and investment, Sequi said that despite the recent difficulties facing the Chinese economy, he "optimistically" believed that matching China's financial strength and mass market with Italian technological innovation would be a sensible approach for the two countries to collaborate successfully.
He said Italian companies in China intended to stay, and more were considering coming.
"The main challenge is not so much the slowing growth rate, but removing market access barriers and opening up of the economy further," Sequi said.
Expanding Chinese consumerism will generate a higher demand for Italy's world famous designer goods, from fashion and cars to high-quality furniture, food and wine, he said.
"But Italy is more than fashion and food," Sequi added. "Italy also has high technology."
During Li Keqiang's visit to Europe in 2014, the prime ministers of the two countries chose five focus sectors of cooperation for the next three years: environment protection and green energy, agriculture and food safety, sustainable urbanisation, medicine and health, and aviation and aerospace.
Some hi-tech cooperative projects such as moon mapping were in the works, Sequi said.
To match China's ambitious 13th five-year plan, Italy could also provide assistance in planned structural reforms of service industries, for instance.
Italy, one of Europe's most popular tourist desinations, attracted 1.4 million Chinese visitors last year. Sequi said Italy offered the fasted the fastest visa approval procedures for Chinese visitors among the Schengen countries, which normally takes only 36 hours.