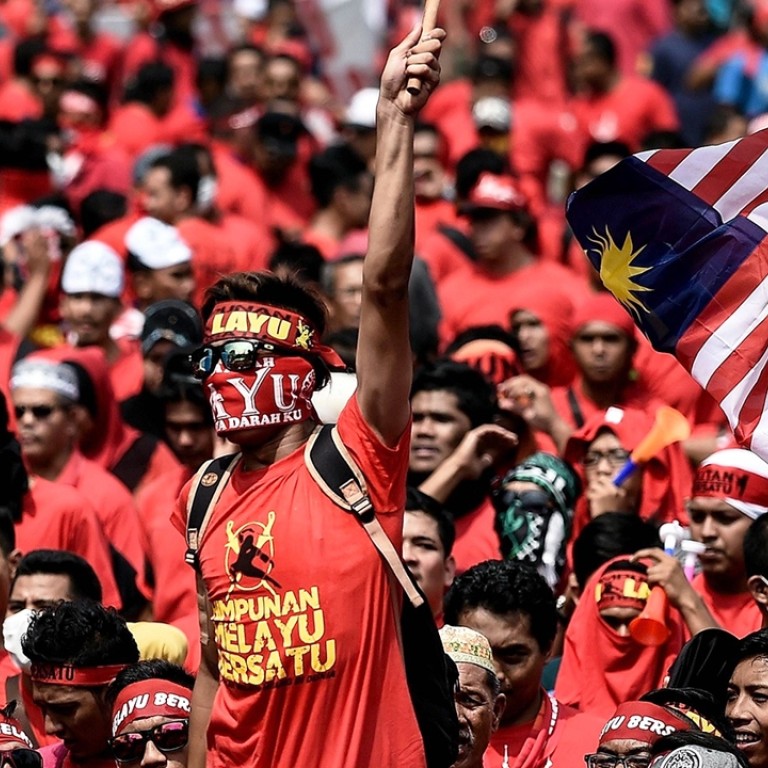 China's investment in embattled 1MDB throw Malaysian Prime Minister a lifeline - but carry a hidden price tag
Purchase of multi-billion-dollar assets also buy China leverage in a country where race relations are in a delicate state
China's investment forays into Southeast Asia, even as it presses on with its South China Sea reclamation works are well-known. But recent acquisitions in Malaysia have taken on an unusually high profile in a country with race relations in a delicate state, and where the Chinese are a significant minority.
In the space of less than two months, China has bought two multi-billion-dollar strategic assets from Malaysia's debt-laden state-owned investment firm, 1Malaysia Development Berhad (IMDB), expanding its influence in the country while throwing a lifeline to embattled Prime Minister Najib Razak.
The investments, analysts said, have geopolitical implications - specifically, regarding territorial disputes in the South China Sea where Malaysia has an overlapping claim with China. "Najib's, and Malaysia's, ability to manoeuvre, vis-à-vis China, is going to be limited after this deal. How far we [Malaysia] will be able to pursue an independent foreign policy after this, is going to be one of the key questions," said Dennis Ignatius, a former Malaysian diplomat who has served in Beijing, Washington and London.
Najib chairs the advisory board of 1MDB which racked up RM42 billion ringgit (US$9.6 billion) in debts in less than five years and almost defaulted on a loan. For months, 1MDB's troubles weighed on Malaysia's sovereign credit rating.
It led to calls for Najib's resignation from former prime minister Dr Mahathir Mohamad and opposition parties, who accused Najib of mismanagement and corruption. 1MDB is currently under investigation by five domestic agencies and authorities in Switzerland. Najib has denied any wrongdoing.
"China's successful bid for 1MDB's power assets and property projects have helped 1MDB decrease its debt burden and resolve 1MDB indebtedness," said Yeah Kim Leng, Dean of the School of Business at the Malaysia University of Science and Technology.
"The assets were sold to the highest bidder. 1MDB got a good price," Yeah added.
In his 2016 New Year's Day address, Najib said 1MDB's debts have now been reduced by RM40.4 billion following the rationalisation of its assets.
China General Nuclear Power Corp, a Chinese state-owned enterprise, paid US$2.3 billion to acquire 1MDB's Edra Global Energy Bhd last November.
Edra is the country's second largest power producer, giving China a major foothold into the energy sector.
In December, China Railway Construction Corp teamed up with Malaysian Iskandar Waterfront Holdings Sdn (IWH) to buy a 60 per cent stake in 1MDB's property project known as Bandar Malaysia for US$1.7 billion in a 40:60 joint venture.
Bandar Malaysia is a mixed-property project on a 196.7-hectare site. The development will also host terminals for a planned Singapore-Kuala Lumpur high-speed rail link.
Analysts said China was now in pole position to win the construction tender for the rail link, one of the country's largest pending infrastructure projects, with an estimated cost of RM70 billion.
The 1MDB acquisitions made China Malaysia's largest foreign investor in 2015, leapfrogging the US, Japan, EU and Singapore.
Ironically, China's acquisitions come at a time when Najib's ruling Umno party has ratcheted up anti-Chinese rhetoric, accusing the ethnic minority of trying to usurp political power from the Malay majority. The rhetoric surged after a rally for good governance last August drew tens of thousands of people, among whom the majority were Chinese.
UMNO supporters responded by holding an overtly anti-Chinese "red-shirt" protest that drew 35,000 people.
In a sign of its growing influence and confidence in its ability to withstand any blowback on bilateral relations, China's ambassador to Kuala Lumpur, Huang Huikang waded into the controversy during a visit to the capital's Chinatown after the red shirt rally. "China rejects any form of extremism and racism, and will not stand by if Chinese interests are at stake," he said at the height of the tensions, in remarks that raised eyebrows in diplomatic circles.
UMNO's youth division accused Huang of interfering in Malaysia's domestic affairs, and Huang was summoned by the Malaysian Foreign Ministry to explain his remarks.
Given this backdrop, the response from the Malay majority to China's purchase of the country's strategic assets has been surprisingly muted.
"His [Najib's] supporters hardly pay attention to geopolitical issues because that is too complicated for them. That is why China's advances into this region hardly register in their radar and no one asks about the impacts of China's investment into the country's strategic assets," said Wan Saiful Wan Jan, chief executive of the Institute for Democracy and Economic Affairs.
According to Wan Saiful, the anti-Chinese rhetoric from Umno has been getting stronger lately as Najib feels compelled to shore up support from his core Malay voters.
"So he dangles the racial card and he does not care the repercussion to the country's harmony. The more divided Malaysia is, the more likely that Najib will remain in power because Umno has always benefitted from a divide-and-rule strategy," said Wan Saiful.
Ignatius, the former Malaysian diplomat, said China's behaviour needed to be watched as its investments increased in the country.
"Malaysia is….very open to foreign investment so there's no intrinsic problem with foreign investment, whether from China or elsewhere. Problems could arise, however, when countries seek to use their investments to exert undue influence over the direction of the country's affairs," Ignatius said.
Ignatius said it was also important for China to be mindful of race relations in Malaysia.
"Given Malaysia's ethnic mix, China will also have to be wary not to get drawn into the whole complex and contentious area of race relations. If China is perceived as showing favouritism to Malaysian Chinese, it would certainly create resentment among the Malays. It would, therefore, have to carefully balance its relations with both communities," said Ignatius.
"As well…if China is seen to be using its economic and political clout to buttress a government that is increasingly unpopular, which it now seems to be doing for its own reasons, that also won't go down well with those of us who want to see more democratic space in Malaysia," Ignatius said.
China's investments reflected Malaysia's importance as a linkage point for China's One Road, One Belt (Obor) initiative, according to Alexious Lee, Head of Industrial Research, China, CLSA Ltd.
"When we talk about Obor, we usually look at two regions, Southeast Asia and Central Asia," said Lee.
"Southeast Asia is more important for commercially inclined projects. And within them, Thailand, Malaysia and Indonesia are three of the most important markets."
According to Lee, Malaysia was important as a point which connects Thailand with Singapore, given its position between the two countries.
The current volatility in China, amid wild swings in the stock market and an economic slowdown, only serves to accelerate the country's overseas investments.
"The domestic business volatility could in fact accelerate the Chinese government's focus to develop their overseas partnerships…building foundations for overseas investments to grow in the next five to 10 years," said Lee
"And Malaysia is one of the overseas countries."