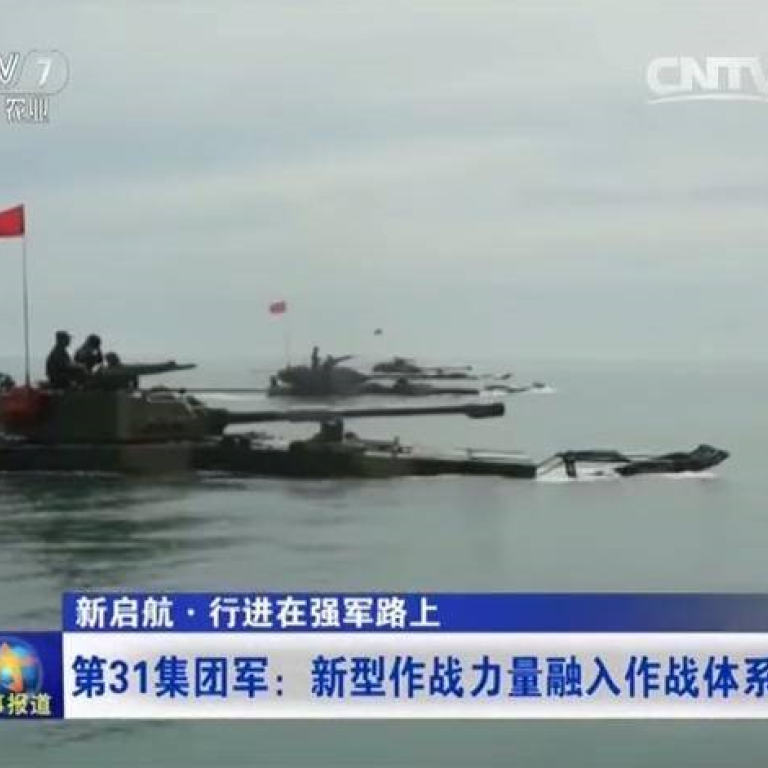 China's PLA forces carry out landing drills near Taiwan outpost days after elections
The People's Liberation Army based in the Fujian provincial city of Xiamen – 10km opposite one of self-ruled Taiwan's outposts – has carried out live-fire exercises and landing drills just days after the pro-independence opposition party won elections in Taiwan.
Military experts said the drills were aimed at sending a "political warning" to Taiwan's president-elect Tsai Ing-wen, chairwoman of Democratic Progressive Party, that Beijing would never give up using "non-peaceful means" to solve cross-strait issues.
In a report late on Wednesday, the China Central Television's military channel said the 31st Group Army, based in southeastern Xiamen, had carried out the drills in "recent days", although it did not give an exact location.
It showed amphibious armoured vehicles ploughing through the sea towards a landing spot, helicopters firing missiles at locations on shore and soldiers parachuting down from helicopters.
The report made no direct mention of Saturday's Taiwan election.
The mainland's Defence Ministry did not immediately respond to a request for comment.
Taiwan's Defence Ministry said it was "aware of the information", but declined to comment further.
Xiamen lies opposite to Quemoy, an island controlled by Taiwan since Kuomintang military forces were defeated by the Communists and fled to Taiwan in 1949.
Until the late 1970s, Quemoy was a place that was regularly shelled by Beijing.
"All military drills have simulated enemies," Li Jie, a Beijing-based naval expert, said.
"The drill not only shows off the 31st army group's progressive combat power in joint operations, but is also a warning to Tsai's future administration that the PLA is ready to use its non-peaceful means, including military force, to solve cross-strait problems."
Arthur Ding Shu-fan, a professor at Taiwan's National Chengchi University, said the PLA's drills were being used as a "political warning" to make Tsai recognise the "1992 consensus" – an understanding the mainland was using to test whether she would abide by the "one China" principle.
"It's just a political warning sent by Beijing to Tsai and her DPP," Ding said.
"I don't think the military drills will have any significant impact on the Taiwanese public as polls in recent years show many Taiwanese, especially the younger generation, don't believe Beijing would use military means to solve Taiwan problem.
"It is because the young generation of Taiwan, who were born in 1990s, didn't experience the Taiwan Strait crisis in 1996."
Beijing carried put a series of missile tests in the Taiwan Strait between July 21, 1995 and March 23, 1996 after then-Taiwanese president Lee Teng-hui raised his "two-state theory", saying that mainland China and Taiwan were separate states.
Despite the missile tests, Lee successfully became Taiwan's first directly elected president on March 23, 1996.
The mainland considers Taiwan a wayward province, which needs to be brought under its control – by force if necessary.
Since Tsai Ing-wen and her DPP won by a landslide in the presidential and parliamentary elections, Beijing has warned against any moves towards independence and said it would defend the country's sovereignty.
Yet in her victory speech Tsai vowed to maintain peace with the mainland, and Beijing's state-run media has also noted her pledges to maintain the "status quo"of the cross-strait relationship.