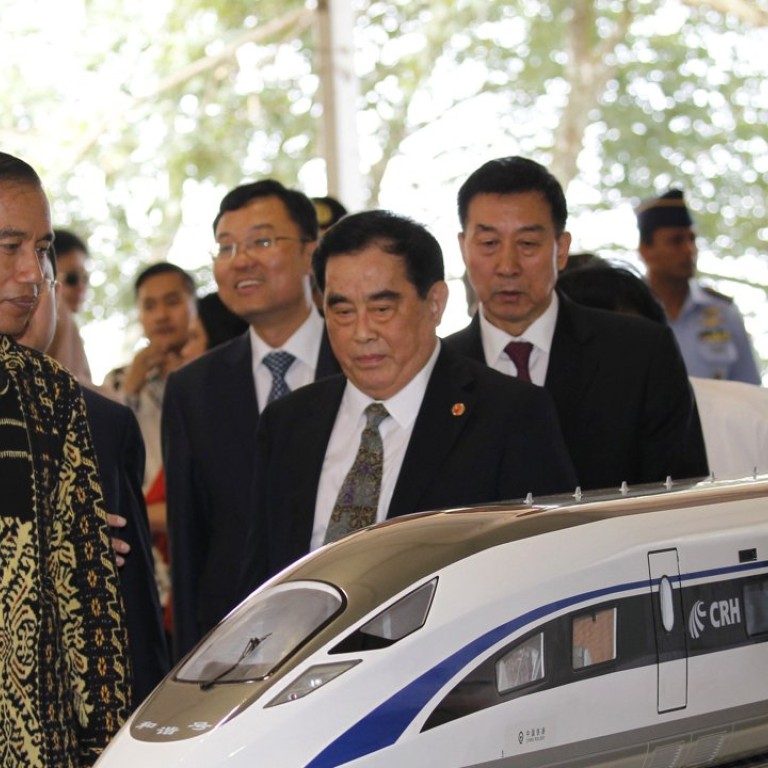 New
China's high-speed railway project in Indonesia suspended over incomplete paperwork
Documents detailing plans for the 142km rail link connecting Jakarta and Bandung have yet to be submitted: Indonesian transport minister
China's joint project to build a high-speed railway in Indonesia has been suspended over unresolved issues and incomplete paperwork, according to the ­Jakarta Post.
The revelation, published on Wednesday, came just six days after Indonesian President Joko Widodo officiated the project's groundbreaking ceremony.
It prompted talk that the latest turn of events could deal another blow to China's global high-speed railway push.
Indonesian transport minister Ignasius Jonan told the House of Representatives on Wednesday that his ministry had yet to issue a permit for the US$5.5 billion railway to go ahead as the company involved had not submitted the required documents.
"We are very strict [on this] because this is the first time we are conducting this kind of project, and we are not done with the evaluation," the Jakarta Post quoted Jonan as saying at a hearing of the House of Representatives.
The railway – being built by PT Kereta Cepat Indonesia China (KCIC), a joint venture between an Indonesian consortium of four state-owned firm and China Railway International – is expected to start running by 2019. China Development Bank covers 75 per cent of the project's loans.
Among the 11 documents required for a construction permit, KCIC failed to submit files detailing the development design, technical illustrations, field data and specifications, according to the newspaper. The firm now holds a permit only for building the first 5km of the railway.
The Chinese embassy in Jakarta was not available for comment.
China won the bid to build the railway just four months ago over Japan, a key competitor in the region's appetite for high-speed rail service.
The link – which will span 142.3km from Jakarta to Bandung – is China's first overseas high-speed project in Premier Li Keqiang's push for more global contracts. It would also be Southeast Asia's first such service upon completion.
Dubbed in China as the "going out" campaign of its high-speed technologies, Beijing's efforts to build such rails abroad has faced a series of challenges and obstacles.
In late 2014, its joint venture to build a high-speed railway in Mexico was called off shortly after China was rewarded the contract. The sudden cancellation was believed to be linked to controversy during the bidding process, although the Mexican government said the change was because of fiscal pressure.
China had also hoped to build a high-speed railway in Thailand but ended up opting for a slower version instead.