Asean
Get more with myNEWS
A personalised news feed of stories that matter to you
Learn more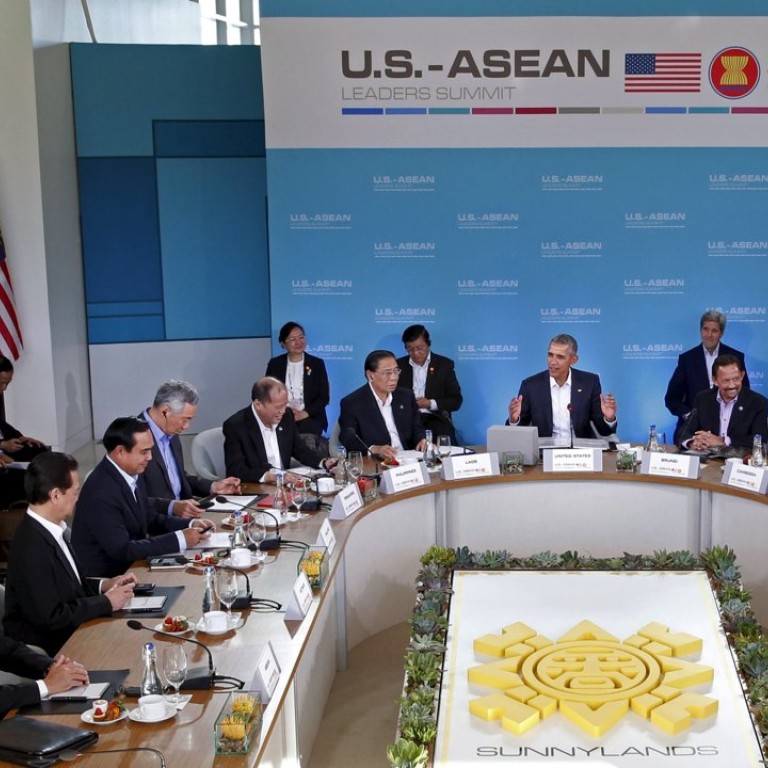 Obama scores victory by hosting Asean in US but breakthroughs unlikely, analysts say
The summit in California comes after US leader's push to re-engage the bloc, but participating nations are expected to stick to their strategy of playing Washington and Beijing off each other
As US President Barack Obama and Southeast Asian leaders conclude a landmark summit on Tuesday, Beijing will be warily eyeing a statement that is likely to touch on the contentious South China Sea disputes.
But analysts said the leaders of the Association of Southeast Asian Nations grouping were unlikely to go beyond the usual boilerplate clauses that Beijing has been hearing over the years. As the curtains are drawn in the California oasis resort of Sunnylands, they will continue to tread carefully between regional great powers while seeking to reap the benefits of playing one off against the other.
The two-day event was the first of its kind to be held in the US between Washington and Asean, a move that analysts said was aimed at cementing Obama's legacy in re-engaging with the region before he leaves office next year.
Speaking to the Asean leaders on Monday, Obama said the decision to host the summit was a reflection of a commitment to a "strong and enduring partnership" with Southeast Asia.
Without referencing the South China Sea disputes, he said America's maritime security assistance had improved the region's capability to "protect lawful commerce".
The Obama administration's "pivot to Asia" has been criticised by Beijing as containing China's rise and fuelling tensions in the region, in particular in the strategically important South China Sea.
Maritime territorial disputes, which have strained China's relations with some of its neighbours in recent years, were among the key issues to be discussed at the summit. The leaders focused on trade and economic cooperation in Monday'smeetings and were to carry on with discussions about the South China Sea yesterday.
While American officials have said the Sunnylands talks were not about China, state media responded with scepticism. Citing "international public opinion," a commentary on Monday carried by the Global Times said the summit demonstrated the US desire to further contain China.
Foreign Ministry spokesman Hong Lei said on Monday that Beijing hoped the summit would be conducive to peace and stability in the region.
Shi Yinghong, a professor at Renmin University, said Beijing would be irritated if the summit produced a statement that touched on the South China Sea. "But as long as it doesn't directly name China, Beijing will just swallow it, this is the new norm," Shi said.
Ian Storey, a senior fellow with the ISEAS Yusof Ishak Institute in Singapore, said the statement would not deviate from previous ones by Asean leaders that had called for a resolution of the dispute without naming China.
"A concern in China will be that they don't want the US in any kind of way to try to persuade Asean to gang up on China. But I think those fears will be misplaced because there are 10 countries with 10 different views," Storey said.
There has been little expectation the meeting would yield any substantial progress, particularly in the South China Sea disputes. A lack of unity and worries over being trampled by big-power rivalries meant Asean states would continue with their careful balancing act, analysts said.
"Everyone sitting around the table in Sunnylands will be trying to avoid black and white competition between the US and China and look for ways to promote a collaborative approach in the region," said Nick Bisley, a professor with La Trobe University in Australia.
The region had increasingly found itself being pulled in different directions by the rivalry between the United States and China, Bisley said.
"Asean has always wanted to avoid being a place where great powers fight, if that happens they end up being squished."
But Storey from ISEAS Yusof Ishak Institute said the competition between Beijing and Washington was far from the point where Asean states would be forced to choose sides and could be a blessing in disguise.
"A little bit of creative competition between China and US is actually good for the region. Because Southeast Asian countries can play one side off against the other in pursuit of economic benefits, and other benefits," Storey said.
While China has been a key economic anchor in Asia over the past decade, many countries still see the US as the region's major security architect. To boost its economic influence, Washington has spearheaded the Trans-Pacific Partnership trade pact, which does not include Beijing.
The region has been courted by many major powers in recent years. In May, a similar summit between Asean and Russia, also the first of its kind, will be held in Sochi.