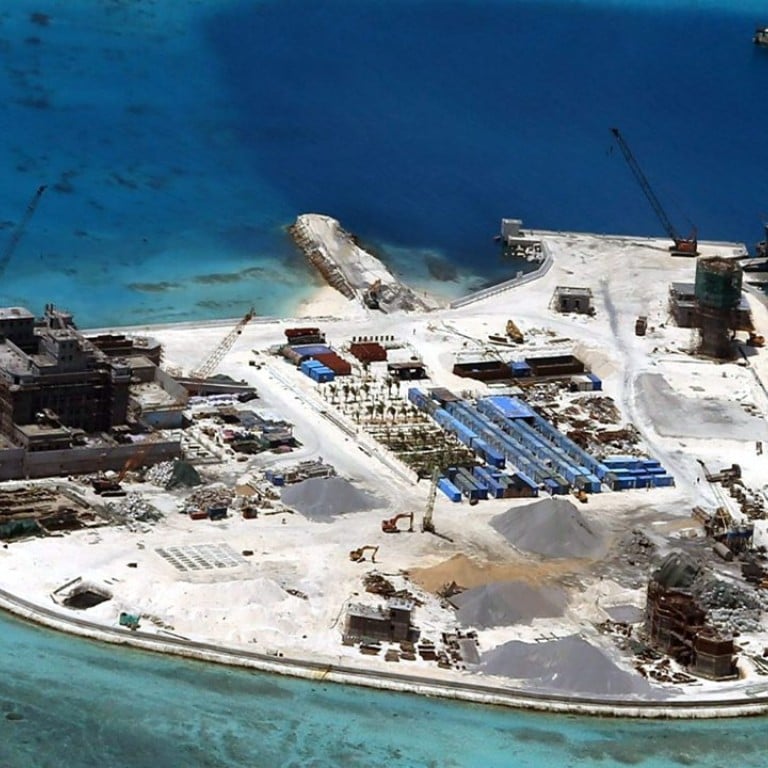 Update

|
Beijing calls reaction to missile deployment 'hype' in defending use of armaments in South China Sea disputed islands
Beijing has defended the deployment of armaments in the South China Sea after the United States and Taiwan said it had installed surface-to-air missiles on a disputed island in the Paracel chain.
Analysts said Beijing's move had been a long time coming and more military facilities would be mounted in the Paracels, where China considers its claims are less disputable than in other parts of the sea.
News about the missile deployment on Woody Island, also known as Yongxing in China, was first reported by Fox News, which cited a US official, and confirmed by Taiwan's defence ministry yesterday.
The mainland defence ministry said defence facilities on "relevant islands and reefs" had been in place for many years to safeguard China's territorial sovereignty, adding that the latest reports about missile deployment were nothing but "hype".
Chinese foreign ministry spokesman Hong Lei said yesterday he was not aware of the specifics of the deployment but that any arms would be used for defence and were not part of a military build-up.
Foreign Minister Wang Yi said news of the deployment had been "created" by certain Western media and they should instead focus on the civilian facilities China had been building in the area.
The Fox News report said it had obtained satellite images indicating that the Hongqi-9 air defence system had been set up on Woody Island, which is controlled by China but also claimed by Tiawan and Vietnam. The system has a range of 200km.
Xu Guangyu, a retired People's Liberation Army general, said the system was commonly used on Chinese islands and would be a normal addition to Woody Island, which houses the municipal government of Sansha city in Hainan. The city was set up in 2012, nominally to administer several island chains in the South China Sea.
The news came as US President Barack Obama called for a halt to reclamation and militarisation in the South China Sea as he concluded a summit with leaders of the Association of Southeast Asian Nations.
Woody Island is not a reclaimed island.
The leaders issued a statement at the end of the two-day event calling for a peaceful resolution of sovereignty disputes in the South China Sea, but they avoided mentioning China by name.
Tensions in the region have increased as Beijing has carried out extensive reclamation work to expand islands in disputed areas of the sea.
The US has twice sent warships to patrol near disputed islands held by China.
The latest mission, dubbed by the Pentagon an operation to exercise the right to freedom of navigation in open seas, took place last month in waters within 12 nautical miles of Triton Island, also part of the Paracels and close to Woody Island.
Jin Canrong, a professor of international relations at Renmin University in Beijing, said China installing the missile system on Woody Island was a direct response to the Triton patrol.
"China's logic is that we have to build up military facilities on those islands for self defence purposes, but to what extent depends on how much of a threat we feel we're under," Jin said.
The first US patrol took place near islands further afield in the Spratlys chain of the South China Sea, but Beijing views the patrol in the Paracels last month as a stronger provocation as they are closer to its shores and under tighter Chinese control.
More military facilities could be deployed, analysts said, depending on Washington's next move.
"The assessment is that security is not ensured and that the existing facilities in the island chains are not effective to protect safety there so China has to enhance its defence capabilities," he said.
Jin said any furthur military deployment would be focused in the Paracels.
"The Spratlys involve more claimants and [moves there] could backfire more severely," Jin said.
But other regional analysts said there had been long been signs of the missile deployment.
"China seems to be putting missiles on a disputed South China Sea island while going slow on negotiating a code of conduct with Asean that would ban precisely this kind of thing. This is a sign that China does not take such diplomacy seriously," said Professor Rory Medcalf with Australia's National Security College.
"If this was meant to be a signal to deter [freedom of navigation operations], I doubt it will succeed."
Admiral Harry Harris, Commander of the US Pacific Command, said a missile deployment would represent militarisation of the disputed region.
"It would be a clear indication of militarisation," Harris said in Tokyo, where his is meeting Japanese defence officials.
Taiwan's president-elect Tsai Ing-wen said tensions were heightened in the South China Sea and all parties should work towards peaceful solutions.