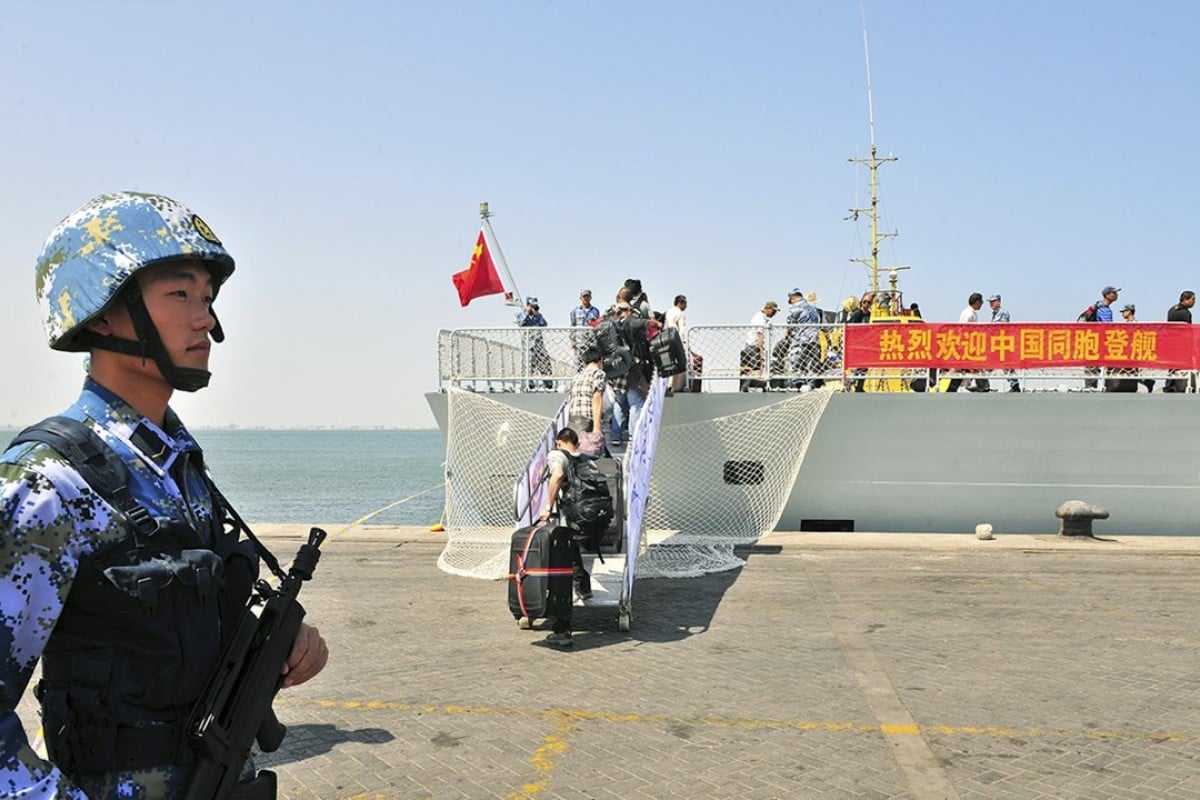 A People's Liberation Army Navy soldier stands guard as Chinese citizens board a Chinese naval ship at a port in Aden last year. Photo: Reuters
INTRODUCTION
China's first overseas naval base – which is under construction in Djibouti – will be concerned chiefly with logistical tasks rather than projecting power, at least for now, mainland analysts say.
The defence ministry on Thursday confirmed construction of the base's infrastructure and facilities had begun.
Analysts say the building of the base shows the ambition of the People's Liberation Army to expand its international presence and influence.
Located where the Red Sea meets the Gulf of Aden, the port at Doraleh, watches over one of the world's busiest waterways, with traffic passing through the area to reach the Suez Canal. The location is seen as ideal for supporting the PLA's operations in the Indian Ocean.
Defence ministry spokesman Wu Qian said workers had been sent to the site, but did not say when construction would be completed.
Military expert Li Jie said: "This depot will play an important role in the 'One Belt, One Road' strategy and enable China to respond rapidly to emergencies in North Africa, the Middle East and South Asia."
While some troops would be stationed at the base for self-defence purposes, the base would be different from the US and French bases in Djibouti, Li said. It would provide a "comprehensive supply point" for Chinese ships in the region, he said.
Chinese naval vessels have been active in the Gulf of Aden since conducting anti-piracy operations in the region in 2008.
The Djibouti port will fulfil multiple purposes, including handling bulk commodities, containers and other goods.
The PLA navy would use one of the berths, Reuters reported this month.
"It will have neither many powerful weapons, offensive or defensive, nor extraterritoriality like the US military bases in Okinawa, where lots of marines and fighter jets are deployed," said Xu Guangyu, senior researcher at the China Arms Control and Disarmament Association.
He said this was because China needed "to take into consideration the host country's concerns as well as China's international image".
Its major facilities would be warehouses of water, oil and food, as well as repair docks and hospitals and its biggest roles would be providing supplies, maintenance and medical services, not combat preparations, Xu said.
China reportedly started negotiations for the base after using Djibouti as a transit port to evacuate nearly 900 people from Yemen in March and April 2015. Beijing confirmed the talks were ongoing last December.
China will fund most of the US$590 billion project.