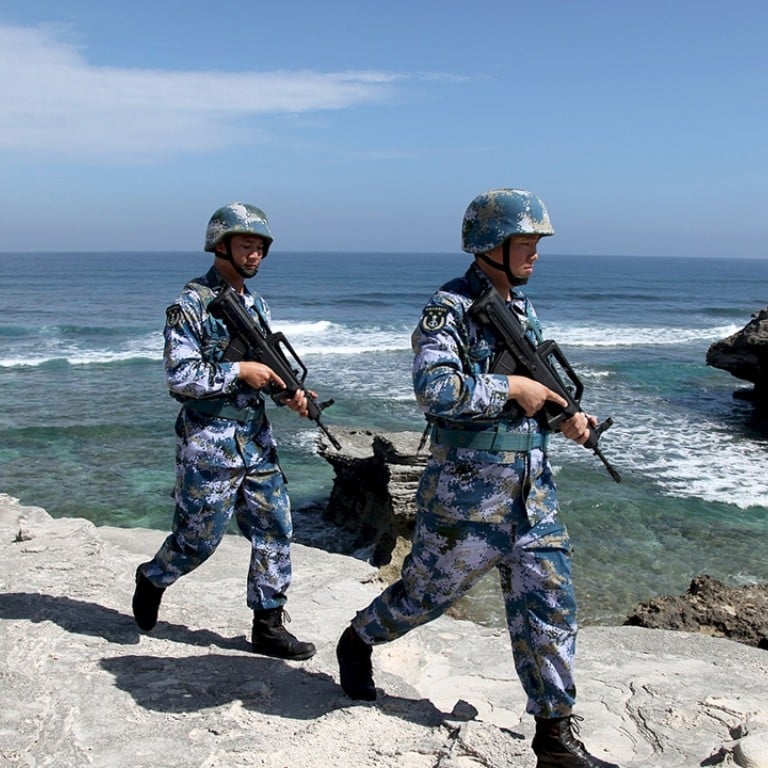 China's military is prepared 'to defend sovereignty' in South China Sea: military chief
China is capable of fighting to defend its sovereignty in the South China Sea, a Chinese military chief has said amid rising tensions in the region.
In his first public remarks as commanding officer of the newly-established Southern Theatre Command of the People's Liberation Army, General Wang Jiaocheng saidthe army would be highly vigilant towards any possible security threat in the disputed waters, People's Daily reported yesterday.
"The military will be capable of dealing with any security threat. No country will be allowed to use any excuse or action to threaten China's sovereignty and safety," Wang said.
Wang, who previously commanded the Shenyang ­region, said his aim was to "ensure security in border controls and maritime defence".
"But the foremost mission is to safeguard rights and interests in the South China Sea," he added.
The South China Sea is at the centre of territorial disputes ­involving China and countries ­including Vietnam, the Philippines and Malaysia.
Wang's remarks were published just days after the US Pacific Fleet Commander Admiral Harry Harris accused China of "militarising" the South China Sea.
Fox News reported recently that China had deployed surface-to-air missiles on Woody Island, also known as Yongxing Island, in the Paracel chain that is claimed by China, Vietnam and Taiwan. The report was backed by US and Taiwanese officials, though ­Foreign Minister Wang Yi dismissed the claims as an attempt by "Western media to create news stories".
General Wang said the PLA had planned for all possible scenarios regarding military risks in the region.
Analysts said such planning was necessary given the complexity of the disputes.
"Any country in China's position would do this, especially now China is building more military facilities and facing more complicated challenges in the region – such as the possibility that more countries, for example India or Japan, might get involved," Shanghai-based military analyst Ni Lexiong said.
General Wang reiterated his "absolute loyalty" to the party, stressed the importance of winning the "information war" and vowed to build an army that was "courageous and able to fight".
As part of President Xi Jinping's efforts to reform the armed forces into a modern, integrated force, the PLA has replaced its seven military regions with five theatre commands.
Wang said the theatre commands were established to deal with the challenges posed by the new international order. The previous system had failed to promote military integration, which had become a "systematic obstacle for the PLA to win wars".