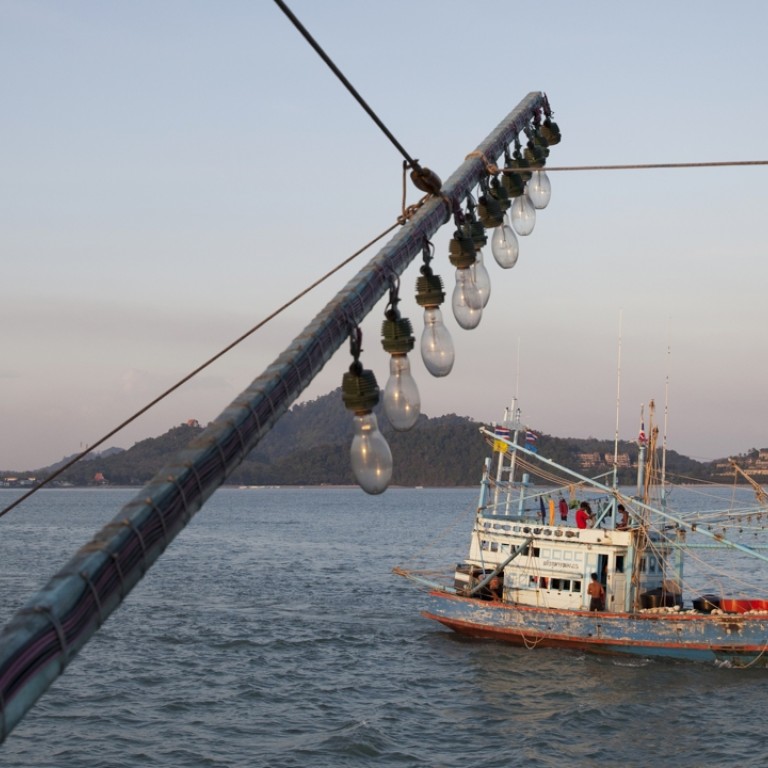 China enlists fishermen's help to protect maritime rights in disputed South China Sea
Beijing is using trawlers to safeguard its claims in the region – but it is not the first country to recognise the influence fishermen can have
China is encouraging its fishermen to venture into the South China Sea by offering subsidies and security training, a government official said ­on Monday.
Luo Baoming, the Communist Party chief of southern province Hainan, said China's rights in the hotly contested body of water were underscored by the traditional activities of Chinese fishermen there.
"Given the current situation in the South China Sea, fishermen have to protect their normal fishing operations in the region, because it is our ancestors' fishing place," Luo said at the annual parliamentary session in Beijing.
There were more than 100,000 fishermen in Hainan, which administers China's vast claims in the sea, Luo said.
The Hainan government had provided resources such as shipbuilding and fuel subsidies to those involved in pelagic fishing, Luo said. It had also provided training in self-defence.
He said some Chinese fishing boats operated in high seas and displaced up to 400-tonnes of water – meaning they were bigger than some naval warships from Southeast Asian countries.
Hainan's fishermen have documented proof of their navigation routes in the South China Sea dating back 600 years.
China has been known to use civilian ships as government proxies, often to harass foreign vessels, especially US naval ships, in the South China Sea.
Last October, when the US destroyer Lassen passed near the newly built artificial island on Subi Reef in the South China Sea, it was escorted by several Chinese naval warships and smaller vessels including merchant ships and fishing vessels. The fishing boats were "provocative", crossing and sailing close to the Lassen's bow, the US military website DefenceNews reported.
Encouraging fishing vessels to take part in protecting maritime rights is very common among other Southeast Asian countries like Vietnam and the Philippines, because it's not banned by international law and the law of sea," said Professor Wang Hanling, of the Chinese Academy of Social Sciences.
He said Chinese authorities had discovered some Vietnamese soldiers had posed as fishermen to collect intelligence near some Chinese controlled islets in the South China Sea.
Beijing-based naval expert Li Jie said that fisherman could play the most influential role in protecting a country's maritime interests because they were the people most knowledgeable about the areas under dispute.
"In peacetime, fisherman can provide first-hand and the most up-to-date intelligence to the navy, while in wartime, they are the best at logistical tasks such as supplying food and water."
China's moves to exert its claims in the South China Sea have come under mounting criticism from neighbours in the region, prompting the United States to send military vessels to the area for regular patrols.
Foreign Minister Wang Yi said on Monday China did not want to see any country showing off their military prowess in the South China Sea.
"The situation in the South China Sea is pretty stable. We certainly don't want some countries coming here to show off their military prowess, as this would not help maintain stability in the area," Wang told reporters on the sidelines of a panel discussion at the National People's Congress in Beijing, China Central Television reported.
Wang's remark came after the US Navy said its aircraft carrier USS John C. Stennis strike group had been closely watched by the Chinese navy when it started operating in the South China Sea last week.
Last month, Admiral Harry Harris, the head of the US Navy's Pacific Command, said that the Pentagon would increase missions in the area to exercise its freedom of navigation in international waters.
Beijing says the operations are a provocation and challenge its territorial sovereignty.
"There is no problem with free navigation in such a large sea area, and not a vessel has so far complained about navigation freedom," Wang said.