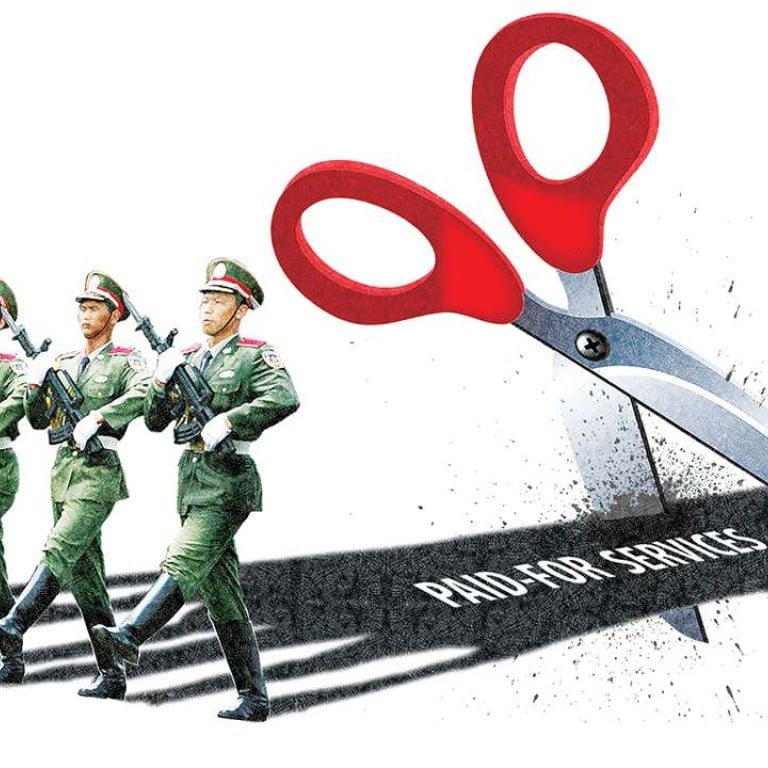 Bringing an end to PLA Inc.
For decades the Chinese military has profited from renting out barracks and taking civilians into its hospitals. But Beijing has given notice: those days are over
A Chinese entrepreneur who made a fortune thanks to a favourable property rental deal with the PLA says he supports the new anti-graft guidelines for the ­military – even though it will cost him millions of yuan.
For the past decade, Henry Lian has built up a successful business selling mosaic tiles for customers around the world, using a converted barracks he leased from the military in Xiamen in southeast Fujian province as his manufacturing base.
"It's very common for new entrepreneurs like me to rent empty barracks or warehouses because we feel more secure when working on military land. In addition, the location of military properties tends to be good as they are easily accessible," Lian said.
"The PLA also offered me cheap rent, which was much lower than the market rate."
But the new rules mean he must move out, forcing him to scrap equipment worth 50 million yuan (HK$7.72 million or HK$60 million) he installed at the 4.5-hectare site.
"I know the new policy is good and will help the nation's army concentrate on soldiering, but for me it is a total nightmare," Lian, 37, said.
He credits the lower rent with helping his company become one of the top three mosaic-tile producers in Fujian. "But now the garrison has ordered me to move out immediately," he said.
Late last month, the powerful Central Military Commission (CMC), chaired by President Xi Jinping, announced that the People's Liberation Army and the armed police must end their so-called paid-for services within three years. Existing contracts should be terminated immediately if possible, while renewing existing deals is banned.
The notice was carried on the front page of the People's Liberation Army Daily.
Ending all paid services was "an important political task" and all members of the military must fully implement the decision, the notice said.
Services that fulfil an important social security function would be allowed to be included under a new "civil-military integration" scheme, it added, a programme the government has given few details about. Xinhua said the change had been introduced "to reduce corruption in the army".
The PLA Daily said in an editorial the military's real focus should be on how to win wars, and seeking profits would only distract them.
"The military's basic function is to fight, and deviating from that core activity will bring endless disaster," it said.
The system of paid-for services dates to the era of Deng Xiaoping, who in the 1980s shifted the nation's budget priorities away from the military and towards economic development.
To offset the reduction in funding, Deng allowed the PLA to set up companies and contracts with outside firms, leading to a vast web of revenue streams.
Military hospitals and hotels took in civilians, barracks and warehouses were rented out, the famed song and dance troupes appeared at outside functions, military construction expertise was opened to bidders and the elite academies and institutions once reserved for cadets and officers threw open their doors to regular students. However, senior officers began to abuse their position and promote their own business interests.
In 1998, then-president Jiang Zemin ordered the PLA to close its commercial subsidiaries and also put some army-run enterprises under the control of local governments. However, the army was permitted some exceptions.
Many military hospitals continued to outsource resources in its specialist departments, such as fertility, gynaecology, cosmetology and plastic surgery to private physicians and sometimes even unlicensed doctors.
In the 1990s, hundreds of people with little or no formal medical training – referred to as "barefoot doctors" – from the city of Putian in Fujian, were found to be working in the medical departments of military hospitals, where they sold home-made remedies and fake medicine to patients at high prices.
"Military hospitals have always been able to earn a lot of money because of the long-standing traditional view among Chinese people that military physicians are professional and more likely to be virtuous than a doctor at a public hospital," said Chen Daoyin, a Shanghai-based political commentator.
"But the public never expected that military hospitals would outsource specialist departments to outsiders like these unlicensed physicians. It was simply a way of swindling innocent patients."
According to a report by the Beijing Times, many military hospitals have been operating with up to 90 per cent of their patients being fee-paying civilians.
In a regular briefing last month, Defence Ministry spokesman Yang Yujun said military hospitals would be able to provide services to the public only if and when they had fulfilled all their obligations to the military.
He said the PLA was still trying to draw up new plans to ensure the treatment of both PLA and civilian patients was combined efficiently under a single health-care system.
However, Yang failed to provide details about whether the army would continue to outsource its medical services.
Zeng Zhiping, a military law expert at the Nanchang Institute of Technology in Jiangxi province, said that in the past, military businesses had been able to take advantage of their privileged positions.
"Military companies have never been allowed to lose money – their official bank accounts are not permitted to show deficits, so they have never had to share the same responsibilities as their business partners if a partnership failed," said Zeng, who served as a legal adviser in the army.
Chen said many instances had been found of "immoral business behaviour". "Xi wants to rebuild the army's public image by cutting out these for-profit services," he said.
Zeng stressed that the CMC needed to draw up a comprehensive military property law, which would make a clear distinction between defence facilities and other military properties that could be potentially handed over to the local government.
Since the first PLA forces entered urban areas across the mainland after the Kuomintang fled to Taiwan in 1949, the army has occupied many properties and areas in the nation's prime locations. These buildings and sites became the army's "goose that laid the golden eggs".
"As many empty barracks owned by local garrisons are in prime locations in city centres, it is essential to separate those facilities that need to be retained for the benefit of national security from those that can be taken over by local government for urban renewal or other useful purposes," Zeng said.
The building that houses Lian's factory was one of 275 military barracks and warehouses in Xiamen that in November were found to have been improperly leased out after the CMC launched a nationwide inventory of military land use in June, a report by the city's official television station said.
In Beijing's Chaoyang district, more than 20 shops near Guanghua Road's Xiushui Market were ordered to shut in February. Shopkeepers were told the military owned the premises.
Lian, meanwhile, is struggling to raise the 200 million yuan needed to set up a new factory in the neighbouring city of Zhangzhou and resume production.
Lian initially signed a three-year deal to rent the barracks and renewed it twice.
But he's now learned the arrangement was never approved by the general logistics department – one of the four headquarters under the CMC, which took care of military properties, but has since been dissolved under the PLA's structural overhaul.
"I totally trusted the army," Lian said. "I never expected they would deliberately break the law and drag me into trouble."