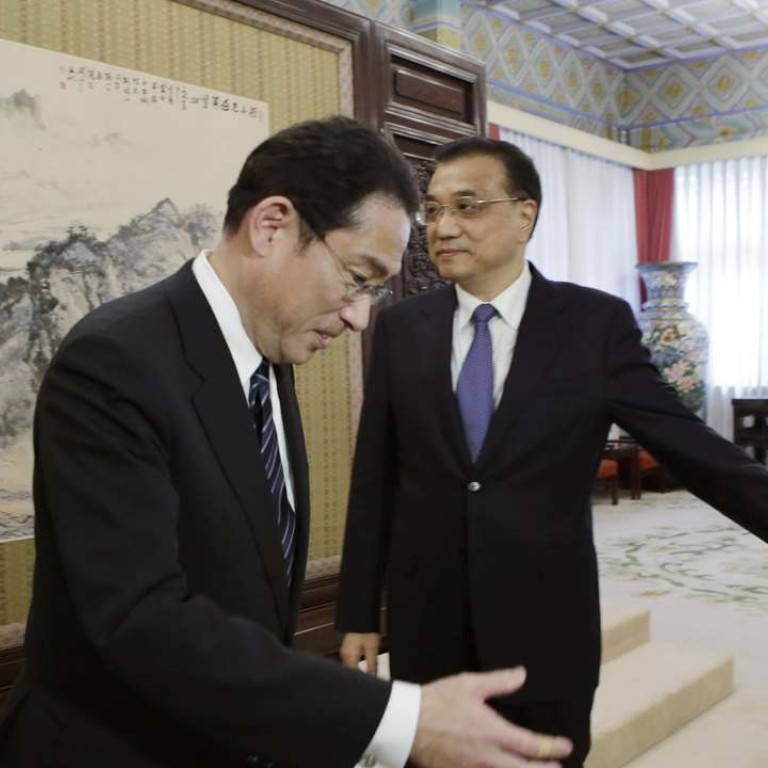 Summit between Chinese and Japanese leaders more likely after smooth envoy visit but mistrust remains, say analysts
A summit between Chinese President Xi Jinping and Japanese Prime Minister Shinzo Abe ­appears more likely following the visit to China by Japanese envoy Fumio Kishida, but areas of mistrust remain, observers say.
In the three-day visit that ended on Sunday, both nations showed they were on track to stabilise ties, with Kishida given a high-level reception and a meeting with Premier Li Keqiang.
Kishida's Chinese counterpart, Wang Yi, might visit Japan – which would be the first such trip by a Chinese foreign minister since November 2009 – paving the way for further high-level exchanges between the two nations, observers said.
Japanese Defence Minister Gen Nakatani was exploring the possibility of visiting Beijing to hold talks with his counterpart Chang Wanquan this summer, but China remained cautious, Kyodo reported, citing sources familiar with bilateral ­relations.
Kishida said the visit was a positive gesture on both sides and had helped bilateral ties. He called for collaboration with China on areas such as finance, energy, tourism and disaster relief, Japanese officials said following his talks with Li, Wang and State Councillor Yang Jiechi.
His trip came after a series of confrontations between the two countries, with the latest one seeing Beijing deliver a strongly worded response to a G7 meeting in Japan after the bloc issued a statement expressing concern over recent developments in the East and South China seas.
Analysts said the two sides, which share US$300 billion in annual trade, had an interest in maintaining high-level dialogue amid slowing economic growth.
But the frosty dynamics between the two nations was not going to change any time soon, Benjamin Herscovitch, research manager at advisory group China Policy, said. It was important for both sides to improve dialogue even as they "talk up" their international image as responsible global citizens, he said.
A trilateral summit between China, Japan and South Korea will be held in Tokyo, and Beijing is preparing to host a G20 summit in Hangzhou, Zhejiang province, in September.
Liu Jiangyong, an international relations professor at Tsinghua University, said it was likely Wang would visit Japan to lay the groundwork before Li attended the trilateral summit in Japan.
"After China, Kishida is visiting four Southeast Asian nations and China will see whether Japan releases constructive messages or drums up more nations to challenge China on South China Sea territorial disputes," Liu said.
Lian Degui, a Japanese studies professor at Shanghai International Studies University, said a Xi-Abe summit could come in September. "The high-level reception given to Kishida shows Beijing's sincerity in improving the relationship and is a signal to nudge Tokyo to refrain from blaming Beijing next time bilateral ties are strained again."
But areas of mistrust between the two neighbours remained, according to the analysts. In his talks with Kishida on Saturday, Wang said Japan should avoid saying that China presented a threat.
Bhubhindar Singh, an associate professor and coordinator of the regional security architecture programme at the S. Rajaratnam School of International Studies in Singapore, said the talks between Kishida and Wang were important to continue the positive steps taken by both nations to improve relations.
"If direct substantive interaction between the two leaders is not taking place, it is good that it is happening at the foreign ministers level," he said. "The meeting is good for both states to clarify their positions on various issues."
But he added that significant problems still remain, especially on issues over maritime disputes and international laws.